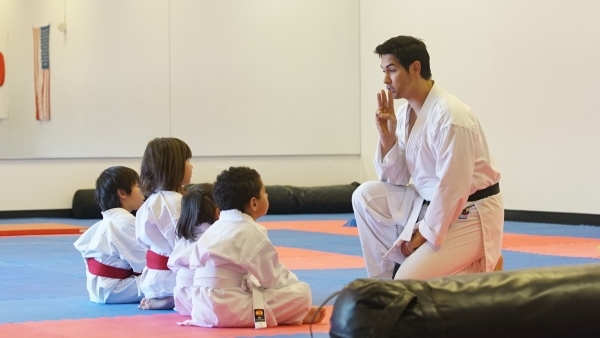 Hiroshi Allen, owner of Hiro Karate in Las Vegas, is featured in the Small Business Revolution documentary project.
The Small Business Revolution, which also features "Shark Tank" star Robert Herjavec, is a yearlong campaign that celebrates the vibrancy, variety and community impact of small businesses across the country. Hiro Karate is one of 100 profiles of inspiring small businesses that will debut throughout 2015 at SmallBusinessRevolution.org.
Allen, who began practicing karate at age 4 and has multiple world championships, initially started teaching karate to pay his way through college. After witnessing the effect karate had on children's lives, he launched Hiro Karate in Las Vegas to teach structure, discipline and self-defense skills.
In the documentary from Deluxe Corp., Allen discusses his karate career, what it takes to run a successful small business and how he uses karate as a tool for bettering his local community. The video also features individual families and students who have benefited from Hiro Karate's classes.
"The hands-on customer service, the entrepreneurial spirit and the deep community involvement people find in the small businesses they frequent make all the difference," Amanda Brinkman, chief brand and communications officer for Deluxe Corp, said in a statement. "€œTelling these moving, inspirational stories and putting a spotlight on these owners is our way of celebrating the best parts of American business."
Small Business Revolution will award $25,000 to one small business later this year.
Concierge credential
The International School of Hospitality in Las Vegas and the American Hotel & Lodging Educational Institute have created the Certified Hotel Concierge credential to establish a global professional standard for hotel concierges.
The announcement was made during Les Clefs d'Or USA's 2015 National Congress, an annual conference of concierges that includes an educational symposium, highlights of destination cities to promote travel and tourism and networking for concierges, nationally and globally.
"This is a hallmark moment for one of the most high-profile fields in the hospitality industry, and it's intended to promote a standard for delivering the highest-level of guest services,"€ TISOH Executive Director Timothy M. Lam said in a statement. "Despite a plethora of guides and manuals for aspiring and working concierge professionals, no current standards exist. Meanwhile, the hospitality industry itself is seeing the value of concierge services more than ever, with increasing demands for top-notch concierge services."€
The certification training takes into account trends shaping the profession, from the use of technology and the Internet to growing demand for personalized service, expectations of global and cultural awareness and the need for diversity and multilingual talent. It also sets standards for ethics and risk management.
It will be offered worldwide online and in a live seminar format that will be available within weeks.
Bizz Awards
On July 31 and Aug. 1, Las Vegas will host the second edition of The Bizz Awards 2015 at Caesars Palace.
The event recognizes leading businesses from different regions that contribute to the daily growth of their local economy and the world economy. It was created by World Confederation of Businesses to offer to the global business community a range of benefits that further their development.
WORLDCOB was founded in 2004 in Houston and boasts approximately 3,000 members from more than 100 countries. Its primary mission is to promote business development worldwide as well as recognize and boost the growth of leading businesses and businesspeople in every country.
WORLDCOB has decided to include EXPOBIZZ, a business convention, in this event. It will include companies discussing their products and services in detail and private business appointments allowing attendees to generate business directly.