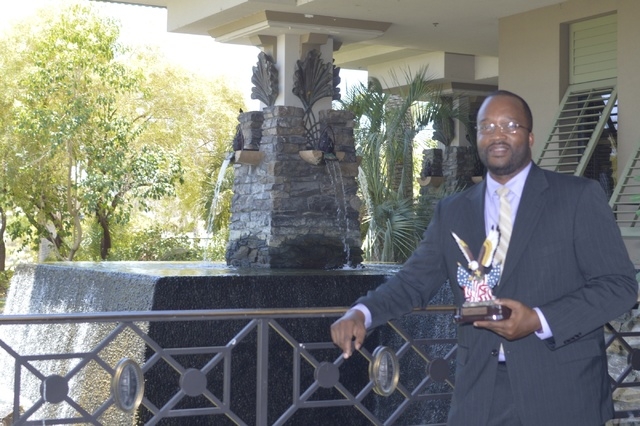 Kenneth Evans was recognized by the Small Business Administration as the 2015 Minority Small Business Champion of the Year for his work with the Urban Chamber of Commerce, where he serves as president.
He is a retired Air Force lieutenant colonel, who served in both the Iraq and Afghanistan wars. He graduated from the Air Force Academy with a bachelor's degree is in civil engineering.
Evans was recently appointed to the Workforce Connections Board; he is a member of the Nevada STEM (Science, Technology, Engineering, and Mathematics) Coalition Board, and he also sits on the Uplift Foundation of Nevada board. Evans is a member of the Omega Psi Phi Fraternity, which grants scholarships and mentors young people, especially African-American men.
When Evans opened his first business as a real estate development consultant, he named the company MTE Enterprises LLC after his mother — Mattie Thompson Evans. She raised three boys in California and emphasized education.
"Long story short, I'm an engineer, I have a twin brother that's an engineer, and I have a younger brother that's an engineer; as well as two of us have graduate degrees in management."
Evans also was part owner of a second business, The Movement, which promoted special events both on and off the strip.
The Urban Chamber of Commerce has monthly luncheons and breakfasts along with periodic mixers. Although the luncheons are focused on members, the breakfasts are open to everyone and aim to provide information.
"We're plan to go to Africa this year in conjunction with the Governor's Office of Economic Development. We've been working extensively with the international trade director so we anticipate participating in a trade mission to Africa."
Evans says there are other trade missions around the globe.
"(As a chamber), we want our members to be part of those trade missions and ultimately part of the global economy," he says.
Evans said the Urban Chamber of Commerce recently signed a 10-year lease deal with the city for its office location at 1951 Stella Lane. The deal includes an option for another 10-year lease.
Q. As president, what is your goal for the Urban Chamber of Commerce?
A. Our goal here is to take our small or smaller businesses and if they haven't reached the million-dollar revenue state yet … we want to do what we can as a chamber to help them get there. If they're already at a million dollar revenue status, we want them to be a multi-million dollar revenue-sized company.
Everything is tied to the global economy now. It would be great to have some of our members make the leap, make the journey, to be a multinational billion-dollar-revenue company.
Those are the types of goals that we're trying to achieve as a chamber.
Q. What are your responsibilities as president?
A. Advocacy is something I'm responsible for as the president. Facilitation is something that I'm responsible for, and then, last but not least, I'm responsible for communicating a vision, a mission for the organization, and making sure I work with my board. I work with my staff, my volunteers, and, last but not least, the members themselves.
I provide the senior leadership; no different than when I was running large organizations in Iraq or Afghanistan or just the military in general.
Q. How do you advocate for members?
A. A lot of our smaller businesses, especially our African-American-owned businesses, need someone to be an advocate for them. They need someone to represent their interests … find procurement opportunities, business development opportunities … and then on the back end … they need access to capital, maybe they need additional training … identify tools, workshops, or other things … to help them increase their financial, their organizational, and their technical capacity as a small-business owner. Advocacy is a very big part of what we do.
Q. What is the main service available through the Urban Chamber of Commerce?
A. We have two key components. First, we have a business incubator … for new and emerging businesses; and we actually have space if people are interested.
The second component … is a business resource center. We have a consortium of partners staring with SCORE, the Nevada Small Business Development Center, College of Southern Nevada, UNLV, plus we have some microlenders that are involved.
And we pull all those partners together so regardless of where people are in the business cycle, they can come see us. We'll take them through an intake process and then we'll refer them to resources to help them again grow their capacity, whether it's financial, organizational, or technical.
Q. What resources or services are in the highest demand?
A. Access to capital. People come to us and they want introductions to banks. We have ACCION, which is a microlender; they're new to this market. We've provided them with a presence here at our Urban Chamber.
The next thing I would say that's important is your capacity to operate your business and that's one of the things we provide here, too. We have SCORE counselors … they understand the things you need to do to improve your capacity. Getting a business plan done, reviewing it, updating it.
Q. How is the Urban Chamber of Commerce funded?
A. Membership is the lifeblood of our organization. Membership comes in two key categories: We have general members, which are smaller members. They can be microbusinesses with 10 or 11 employees. And then we have corporate members which could be businesses that have 50 or more employees if not hundreds or even thousands. We also have some governmental agencies or quasi-governmental agencies like the Regional Transportation Commission, McCarran Airport. They're members as well.