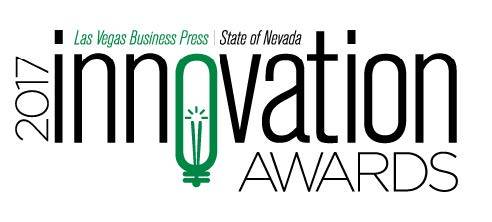 This year, the Las Vegas Business Press staff has chosen to hold one big awards ceremony, inviting all industries to come together to celebrate the burgeoning innovation of our state.
Entries were accepted from Nevada companies Feb. 20 through March 31. Companies had the option of submitting different entries in multiple industry categories. Entries were judged solely on the information provided in the online entry and each entry was evaluated by three judges who scored each entry independently. The judges were: Raj Tumber, SCORE Las Vegas mentor; Bob Cooper, certified economic development professional/consultant; and Lynn Ingham, digital talent guide and president of LVIMA. Honorees were selected by the highest total score for each entry.
The May 20 event will be held 6:30 p.m. at the Enclave, 5810 S. Eastern Ave.
The 2017 Innovation Award winners are:
CONSERVATION AND SUSTAINABILITY
■ Eagle Promotions
■ MGM Resorts International
■ Valley Electric Association
EDUCATION
■ Advanced Technologies Academy
■ RedFlint
■ The Smith Center for the Performing Arts
■ WVC
HEALTH CARE
■ Cleveland Clinic Lou Ruvo Center for Brain Health
■ Foundation for Positively Kids, Inc.
■ Southwest Medical Associates
MANUFACTURING
■ Eagle Promotions
■ Nine Elms Executive Development LLC
NONPROFIT
■ Grant a Gift Autism Foundation
■ National Council of Juvenile and Family Court Judges
■ The Smith Center for the Performing Arts
■ United Citizens Foundation
■ WVC
PUBLIC SECTOR
■ City of Las Vegas
■ Information Technology
Division — City of Las Vegas
REAL ESTATE
■ Berkshire Hathaway
HomeServices Nevada Properties
■ Downtown Project
RESEARCH
■ Comprehensive Cancer Centers of Nevada
SCIENCE AND TECHNOLOGY
■ City of Las Vegas
■ Hyperloop One
■ RTC of Southern Nevada
TOURISM
■ Allegiant