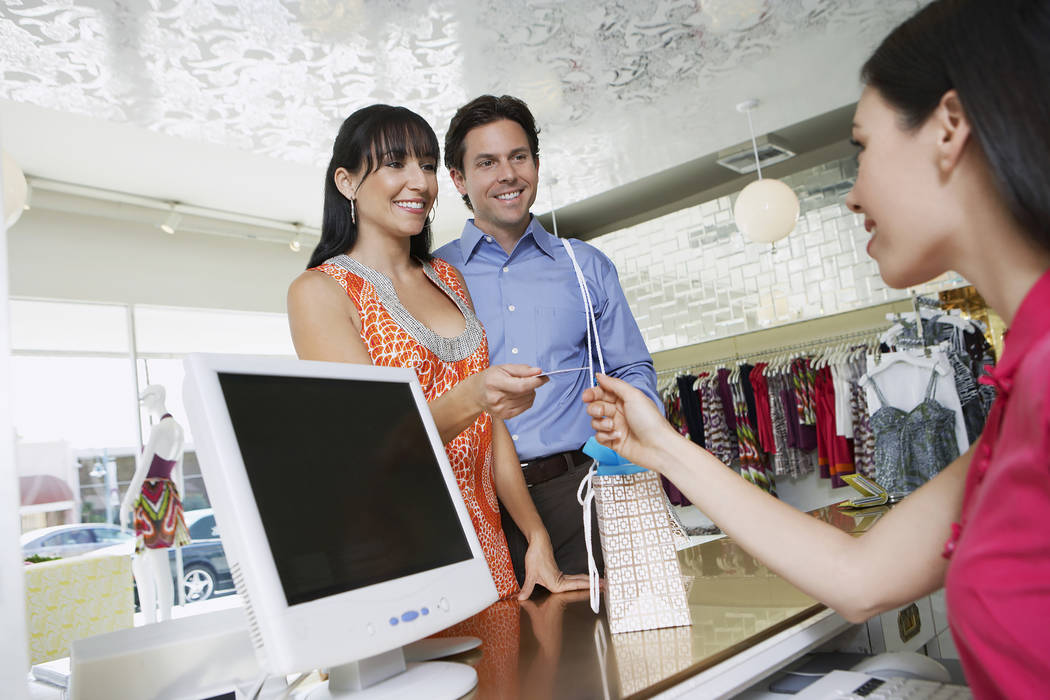 Southern Nevada retail brokers and analysts said the public shouldn't allow some lingering foreclosures and national retailers shuttering stores to dictate their view of the marketplace.
The message is the Las Vegas retail sector is recovering and even thriving despite growing online competition. It's even in the midst of a transformation that in some way will strengthen it, analysts said.
Alarm bells went off for some observers this year when such retailers including J.C. Penney and Macy's closed stories in Boulevard Mall. Kmart and Save-A-Lot announced store closings in the valley. In recent years, bankruptcies shuttered Sports Authority Sport Chalet stores as did grocery chain Haggen. Albertsons, Food 4 Less and Fresh & Easy among others.
In August, the 34-acre Cheyenne Commons strip mall at the southwest corner of Rainbow Boulevard and Cheyenne Avenue was repossessed as part of a foreclosure.
Despite those weak points in the retail market, analysts said there's plenty of reason for optimism.
Las Vegas research firm Applied Analysis in its most recent report cited a strong retail performance during the second quarter. The vacancy rate fell to 8.1 percent at the end of June. That's a drop of 0.7 percent points compared to June 2016.
The retail market in the Las Vegas Valley "appears to be gaining momentum" in recent quarters as vacancies continue to fall, said Applied Analysis Principal Brian Gordon. He said the vacancy rate is the lowest it has been when it was 11.4 percent in 2010. Rents, although below pre-recession levels, continue to rise as well, depicting demand.
Developers and retailers aren't shying away from bringing on new space and adding more outlets.
The first phase of Mountain's Edge Marketplace in on Blue Diamond Road in the southwest was completed. The center added 75,600 square feet to the market, which included a 59,300-square-foot Albertsons grocery store. The company now has 31 stores in the Las Vegas Valley, according to Applied Analysis.
Leasing was strong with nearly 200,000 square feet absorbed in the second quarter compared to just over 100,000 square feet in the second quarter of 2006. That filled some of the empty space left from store closures, according to Applied Analysis.
The Burlington Coat Factory leased 48,900 square feet at Sahara Center at the northeast corner of Sahara Avenue and Hualapai Way, according to Applied Analysis. In addition, Seafood City leased 42,600 square feet in the former Sport Chalet's space at The Arroyo Market Square at 7230 Arroyo Crossing Parkway on the southwest corner of Rainbow Boulevard and Interstate 215.
Other transactions include Marshalls taking 21,000 square feet of space at Best in the West at 2050 N. Rainbow Blvd. and Planet Fitness expanded to The A Mall by leasing a 17,800-square-foot space at 1205 East Sahara Ave., Applied Analysis reported.
There was 374,800 square feet of construction, which is down slightly from the second quarter of 2016, but work continues on a Walmart Supercenter at the southwest corner of Blue Diamond Road and Rainbow Boulevard that's schedule to open in the fall, the firm reported.
In August, Sprint announced plans to open seven new retail centers in Las Vegas and Henderson by the end of the year.
A national retail analyst who travels to Southern Nevada conferences said what's happening in marketplaces such as Las Vegas shows people shouldn't be writing the obituary for retail despite the growth in online shopping. Brian Andrus, president of the Florida Gulfcoast Commercial Association of Realtors, said what's happening to retail "isn't extinction, but change."
Online shopping has decreased store traffic but studies show online sales make up 8.4 percent of total retail volume, Andrus said. Some 95 percent of retail sales are captured by retailers with a store presence and two-thirds of consumers who purchase online use the store before or after the transaction, Andrus said.
"That's not exactly a vanquishment of brick-and-mortar activity," said Andrus who acknowledges online sales will continue to increase. "What online doesn't do is get people together. They want to have conversations."
Andrus said the national chains closing, including in Las Vegas, are dealing with problems that are decades old. Their brands didn't change to meet the needs of buyers, he said. Retailers such as Dollar General and T.J. Maxx, for example, are opening new stores across the country, and the industry is placing an even greater emphasis on service to lure customers.
"There's no question that the way in which people buy goods is shifting," Gordon said. "While online activity has become ingrained in the consumer's spending profile and shopping experience, physical retail stores remain in demand."
For many retailers, a physical presence offers their customers an opportunity to touch and feel products before making the purchase. Retail storefronts also can provide a convenient solution for returns to potentially mitigate multiple shipping charges, analysts said.
"While the way in which business is conducted within the retail sector is changing, it's unreasonable to believe that the 50-million-plus square feet of retail inventory in Southern Nevada will be obsolete any time soon," Gordon said. "Space may be used in different and more creative ways going forward."
Retail analysts said the glut of new space constructed during the boom last decade made some aging space less attractive and led to vacancies. That could prompt some retail property space to be converted to other uses such as call centers or medical offices, and in some cases demolished so they can be redeveloped into other uses.
At Boulevard Mall, which lost tenants Macy's and J.C. Penney, TeleTech opened a call center for customers of Dish Network and Sling.
Shopping centers, meanwhile, are working to attract customers by bringing in a different mix of retailers, restaurants and other attractions, analysts said.
Boulevard Mall, for example, added an aquarium. It's also adding mini-golf and a movie theater.
In other example, Downtown Summerlin has outdoor movies in the summer, yoga classes and a farmer's market. It featured the valley's first opening of Dave & Busters, an arcade and restaurant.
Analysts said what happened to Cheyenne Commons' foreclosure isn't a reflection of the overall market but more of a case of what happened a decade ago. Ten-year loans made prior to the recession have come due.
A year ago, a $55 million note of Kimco Realty Corp., which acquired the 361,000 square-foot retail center in 2006, was transferred into special servicing for "imminent monetary default," according to Trepp LLC, the New York-based analytics firms that monitors the CMBS (Commercial Mortgage Backed Securities) marketplace. It reported a decline in occupancy rates that hurt cash flow for debt payments. It once had a 97 percent occupancy rate in 2011 but recently had an occupancy rate about 70 percent.
"There are some properties that are going to be almost impossible to refinance because the debt on them is too high and the demand for that property type is too low," said Kyle Nagy, director of CommCap Advisors, a Las Vegas-based commercial mortgage banking firm. "But we have made our way through most of the 2017 maturities. They have either been refinanced, sold or somehow been managed by the owner to a better situation."
Trepp reports Las Vegas has 158 CMBS retail loans outstanding, of which 21 or 6.75 percent are delinquent. That's $327 million out of $4.8 billion in debt, Trepp reported. The delinquency rate was 3.3 percent two years ago, but the number of delinquencies had held steady.
"Much of the recent climb can be attributed to loans nationwide reaching maturity without refinancing, because the pace of new issuance can't match up to the glut of debt coming due," said Trepp analyst Sean Barrie. "The problem might not be age or situation of the properties, but simply a circumstance of the market."
Nagy said some of the larger retailers are struggling to compete with the online presence of Amazon, but some of that concern is overblown. With Amazon acquiring Whole Foods, some fear more people will buy groceries online instead of in a store.
"At the end of the day, I think people have a certain desire to shop for product," Nagy said. "You want to go the grocery store to get an idea of what you want to cook."
When it comes to shopping for non-food items, retailers are trying to compete by matching their prices when customers point it out, Nagy said.
"I don't think its doomsday and every retailer will close," Nagy said. "I think smart retailers have turned shopping into an experience where they go for joy and excitement. There will always be a shopping experience people want."
Retail projects continue to be financed by lenders in Southern Nevada, Nagy said. The difference is they are more selective on what the project entails and the tenant mix, he said.
Nearly 3.8 million square feet is planned and actively being marketed for future development in Southern Nevada, according to Applied Analysis.
The outlook of the Las Vegas retail market took center stage at the August breakfast meeting of Southern Nevada chapter of NAIOP, the Commercial Real Estate Development Association.
Dan Hubbard, a senior director of retail services at Cushman & Wakefield Commerce, one of the participants in the forum, paints a positive picture of the retail market going forward and how outside investors are buying top-line properties for record prices.
"We're healthy if you look at the market," Hubbard said. "Look at Burlington Coat Factory, to see them do two stores in the marketplace in the past two years speaks volumes for the market and in particular Summerlin. Look at the grocery sector, Sprouts is about to open a store at Farm and Durango and another that will start construction at Silverado and Maryland and a third at Rainbow and Warm Springs. Albertsons announced a new development at Deer Springs at Hualapai in the northwest."
Hubbard said there's plenty of empty big box space yet to be filled but centers such as Boca Park are finding tenants to fill empty space. Others will take two years or longer to fill, he said.
"It's easy to get caught up in the doom and gloom of the some of the things with seen with closures and box vacancies that we have, but I try to zero in what else is going on and look under the hood," Hubbard said. "We're very positive right now in growth."
Hubbard said tenants have plenty of options and if retail center owners don't maintain their aging properties, they risk losing them to newer developments.
"The tenants are gravitating towards the A properties right now," Hubbard said. "The newer retail centers and the five or six sought after trade areas is who's seeing all the action right now."
Those properties that have gone through foreclosures means the new owners have the opportunity to be creative and make deals because they have a lower debt level, Hubbard said.
"Take a look at Cheyenne Commons as an example," Hubbard said. "They were highly leveraged on the property and couldn't be responsive to market deals with a lender breathing down your back. A new guy can put some capital into the property and make it look fresh and turn that property around."
Investors and owners are "a lot smarter today than they were pre-recession with the build-it-and-they-will-come mentality," Hubbard said. That concept is no longer working and instead developers have tenants in tow, especially trendy ones, he said.
The quick-service restaurants are changing the landscape of retail and driving up rents. It's not only restaurants but there are new "hipster" coffee concepts opening as well, Hubbard said.
"The Chick-fil-As of the world and Blaze Pizzas are out doing deals as is Corner Bakery Café and any of these cool concepts out there like SkinnyFats," Hubbard said. "Owners are rolling out the red carpet for these uses because the restaurants and the quick-service restaurants are becoming the new anchors in shopping centers. If you are smart developer and landlord, you are taking advantage of restaurant gravity that you have the latest and greatest concepts and pulling them to your property. After those people are done eating, they are going to go shopping in those stores."
Some developers are considering opening food halls in their planned shopping centers and current landlords are considering them to fill empty spaces. There isn't one in Las Vegas yet but they are some in other markets like London and New York City, Hubbard said.
"It's like a giant food court but a little more upscale," Hubbard said. "This will be a great concept (with) a smaller-scale grab-and-go but with a central dining areas where everybody eats. You might find your favorite restaurant that's normally a 5,000 or 6,000 square-foot concept that has 600 or 700 square foot in a food hall pumping out three of their best dishes on a quick-serve basis."
Online isn't going to crush stores and put them out of business, Hubbard said. Those who will be successful will offer the "best of both worlds" between stores and online, and that's happening with speed of delivery to match Amazon, he said.
The biggest online impact is that retail square footages, however, will shrink because stores don't need 200,000 square feet unless they are Walmart or Costco, Hubbard said.
"When you think of J.C. Penney and Sears and stores like that that we grew up on as kids, no one wants to see them go away. The bottom line is they have not adapted to who their customer is today and the customer today is a very online conscious shopper. The younger crowd buys in a different way than Sears, J.C. Penney or Macy's can deliver. These stores are figuring out how to reinvent themselves. Everybody can point the finger that Amazon is the three-headed monster but all Amazon has done is respond to demand. There's going to be a different way of doing business."