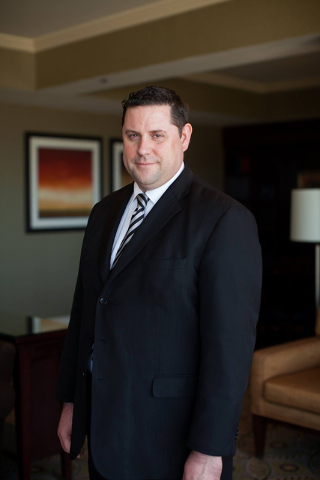 Tony Drexel Smith has turned his knowledge that helped him open a restaurant in Southern California more than 20 years ago into a career of helping businesses, especially startups, obtain financing.
After serving in the Marine Corps during Operation Desert Storm, Smith owned a French and Hungarian restaurant while pursuing a business degree.
"I needed to get a loan and learned how to write a business plan and as it turned I did a pretty good job with that and started getting referrals from people," said Smith, who authored "The Essential Handbook for Small Businesses" published in 2011. "Those referrals turned into referrals and the next thing you know I sold my restaurant and started writing business plans. Business plans turned into learning about how pro forma works and how you do financial forecasting."
Smith, the CEO of Blue Moon Advisors, moved to Las Vegas in May 2014, and in January 2015, opened an office on Sunset Road. He now he has 17 full-time employees and works with more than 100 independent contractors nationwide.
Blue Moon Advisors, a network that helps match clients to alternative funding sources, has more than 80 clients nationwide.
His company does business finance documentation, helping people figure out the best type of capital for their business, he said. The recession altered to rules of capitalization and created openings for businesses like his, he said.
"Companies that are less than 3 years old or startups and growth companies typically have challenges in gaining access to capital," he said. "They most often need speculative or alternative financing. The restrictions and oversight (are) getting less onerous today than it was three years ago. I think in 2009, 2010, 2011, 2012 and 2013 were very tough and lean years for entrepreneurs to get a hold of capital."
Nondisclosure agreements, Smith says, prevent him from naming many local clients; he said he's working with an audio eyewear company and medical device company in Las Vegas.
Nontraditional capital funding sources are emerging, such as crowdfunding, Smith said.
During the internet era, crowdfunding became easier, and there's household names like Kickstarter, Indiegogo and GoFundMe. None of those involve equity, debt or securities, Smith said.
Also, the Securities and Exchange Commission allows companies to sell securities through crowdfunding.
Companies have begun using portals to sell securities advertised with a corporate video and backed up by financial documentation and a business plan, Smith said. An escrow company is involved and documentation is done online for transactions to be audited, he said.
People earning less than $100,000 a year can invest only $2,000 a year. People earning more than $100,000 can invest up to 10 percent of their annual income, and it's limited to 10 percent of a person's net worth, he said.
The new crowdfunding option is an exciting prospect for businesses because Small Business Administration loans may not meet their needs or even be an option, Smith said. Companies may choose to get financing of $100,000, $500,000 or $1 million in the portals, but Blue Moon does not engage clients seeking less than $500,000, Smith said.
"If (your company is) less than 3 years old, it's very difficult to get money from a bank," Smith said. "To get a small amount of money from a bank can be done if you have a strong credit score and some assets or collateral.
"We write documentation for SBAs, but the SBA is limited is limited in how much money they can do and if you're talking about medical device companies, they need (millions of dollars). The SBA doesn't do the type of deal for a whole bunch of inventory and hiring new employees. That's why you end up doing equity. That's why you have investors. It's a speculative investment."
Historically, startup business operators have turned to family and friends to donate, Smith said. If they needed $500,000, they could get $10,000 each from 50 people they know. That can still happen with the new crowdfunding portals, but it will be done professionally, Smith said.
"The problem is what documentation was there to support what was being done in the past," Smith said. "What happens if things don't go well or what happens if things do go well? Was all of that documented in the proper way and disclosures provided and was there an escrow account and was there accountability? The answer is no.
"What equity crowdfunding does as much as anything is it organizes and legitimizes and brings to compliance to a process that was otherwise disorganized and lacked cohesiveness."
Social media and marketing are driving people to invest, he said. That means Blue Moon Advisors will be busier, he said.
"A busy year for me four years ago was 50 clients or completing one project a week on average," Smith said. "This year we will probably complete four times that."