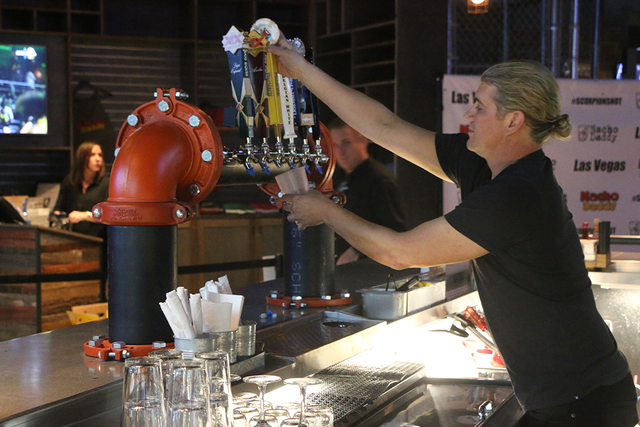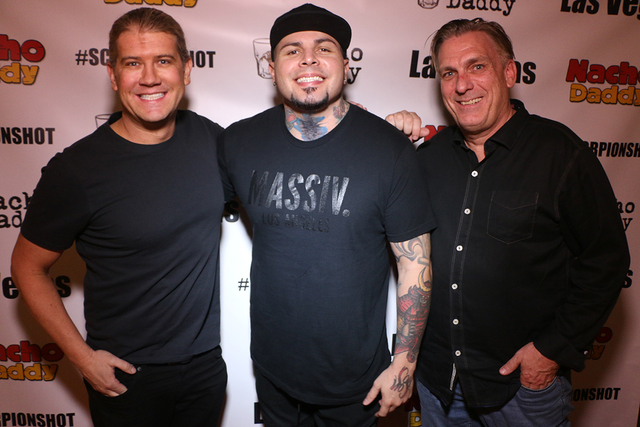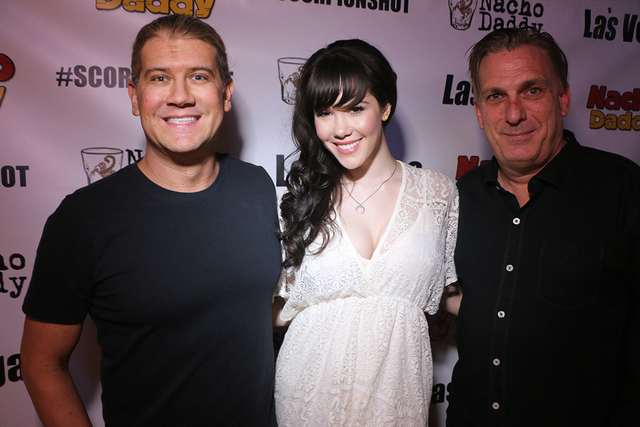 In a market full of Mexican restaurants, Nacho Daddy has carefully carved out its niche with Las Vegans as a dining experience that caters to casual family diners and young millennials looking for a high-energy, late-night restaurant in a social environment. With its Aug. 17 grand opening, two years after expanding to downtown Las Vegas, the Nacho Daddy brand made the ultimate leap to the Strip.
"Our downtown location is a 50-50 blend of tourists and locals, so there are many lessons we learned from downtown that we have brought to our new location," said Paul Hymas, president and managing partner of Nacho Daddy, about the company's new location at the Miracle Mile Shops at Planet Hollywood with direct access to the Strip.
"We earned our reputation on word-of-mouth from locals, but now we are in the middle of the Strip trying to capture tourists who are here for three or four days at a time. It is a different ballgame."
For Nacho Daddy, which opened its first restaurant in Henderson in late 2010, this is a new challenge. The company hopes to benefit from its relative proximity to the new T-Mobile Arena, which will drive foot traffic and visibility to tourists unfamiliar with the brand or its unique menu. To accompany the anticipated automobile traffic for events at T-Mobile Arena and tourists on the Strip, Nacho Daddy is offering valet service for guests, a rarity for restaurants on or near Las Vegas Boulevard.
"We will have two distinct vibes at the restaurant," Hymas said. "Before events, when it is more of a fun, restaurant ambiance and you can feel the anticipation for that night's event, and after the event when it becomes a younger, nightlife-type crowd with high energy and music videos playing throughout the venue."
The Nacho Daddy restaurant is open until 2 a.m. on weekdays and 3 a.m. on weekends. And in recognition of East Coast tourists and early-risers looking for breakfast options, it will open at 8 a.m. and serves breakfast all day.
"We have the flexibility with our venue and our menu to serve the important family demographic an early dinner from 5 p.m. to 7 p.m.," said Mark Evensvold, director of operations of Nacho Daddy, who established his industry reputation by helping build the P.F. Chang's brand two decades ago. "We can serve couples from 7 to 10 p.m. and then grab the attention of the late-night millennial crowd from 10 p.m. until close."
This staggered approach is part of the growing flexibility the local brand, which counts on downtown Las Vegas tourists taking pictures in front of its eye-catching sign for free marketing and publicity, even though many never actually step through the door of the restaurant. To add to the brand's relevance on a national level, when a Pittsburgh Pirates fan spilled nachos on himself attempting to catch a foul ball during a Major League Baseball game, resulting in a video clip that went viral nationwide, Nacho Daddy offered the unlucky fan a year of free nachos.
"I learned a lot about how to integrate marketing and publicity with sports simply from being a student at UNLV in the early 1990s, during the heyday of the legendary basketball teams," said Hymas, who began attending UNLV in 1990.
Hymas and the entire Nacho Daddy staff learned firsthand the value of viral marketing last year when the restaurant appeared in a 30-minute segment of the top-rated Food Network show "Mystery Diners." The episode featured the Scorpion Shot from the restaurant's bar. Soon, many guests from across the country and the globe started requesting the drink. The new location even features a tribute to the Scorpion Shot near the entry, further enhancing the relevance of its brand to guests familiar with the show.
The strong reaction to the show by tourists from the Midwest, South and East Coast has encouraged expansion into markets outside of the Pacific and Mountain time zones. Although many have suggested to Hymas he expand the brand to Arizona and California, where there are already a large number of Mexican-themed restaurants, Nacho Daddy senior management has its eyes set on more distinct national markets like Nashville and the New York City metropolitan area.
"We are all about our reputation as a warm and friendly place with top-quality food so that experience can transfer anywhere," said Evensfold, who oversees a new staff trainer hired specifically for the new location on the Strip, who will soon work with all restaurants. "If we continue to provide that same experience every hour, every shift and every day, the rest will take care of itself."
Amid all the publicity and visibility of the new location and other expansion considerations, Nacho Daddy management is making sure that its unique menu and strong customer service are still the foundation of its success. Nacho Daddy has a commissary in Las Vegas that continuously delivers fresh ingredients to their restaurants throughout the day. By upgrading ingredients, like using filet mignon in their street tacos, adding lobster to the menu and offering a popular vegan nacho, Hymas and Evensfold want to make sure Nacho Daddy continues to emphasize substance over style.
"It is in our DNA to provide high-quality food, and our menu development has proven that over the years," Hymas said. "We want to be humble, but if you keep everything a secret, nobody will ever know about our menu upgrades. We do some amazing things with our menu that locals know about and now is our chance to spread the word to tourists on the Strip."