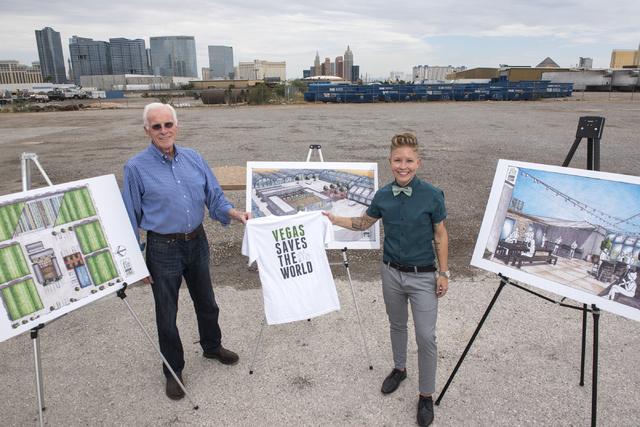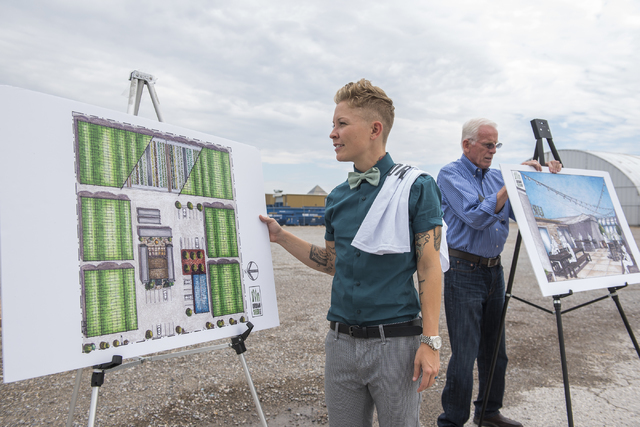 A nearly 2.5 acre plot of land off Wynn Road will be glowing green by year's end.
Urban Seed Inc., an indoor farming company, broke ground on its new facility July 29. The company will sustainably grow non-GMO produce for restaurants throughout the Las Vegas Valley using 90 percent less water than traditional farming.
Four greenhouses are expected to debut in the first phase by Christmas. Seven greenhouses, which will be illuminated green at night, will be on the property once the project is completed.
"We're going to have food on the Christmas table for sure, maybe sooner," Chief Executive Officer Tom Winn said. "We'll also have more than 300 employees over the next five years."
Urban Seed President and Chief Operating Officer Keith Bell got the idea for the company after attending a conference about hydroponics, the process of growing plants without soil in sand, gravel or liquid.
"We've been in an evolutionary state and rapidly evolving, so now is the right time and the right place," Winn said. "People have the right mindset now and are becoming more and more interested in how and where their food was grown."
Winn added, "Billions of dollars of produce is brought here on a weekly basis and there are millions of people visiting and those who live here so this is an ideal place to start."
Rachel Wenman, vice president and co-chairman of Urban Seed's business advisory board, said the company's location on 4770 Wynn Road will be its showcase property.
"It'll have a production studio with a commercial kitchen and tasting room, complete with filming capabilities in order to develop content for chefs," she said. "We're working with about eight local and national chefs, so they can become the face of the product."
Wenman added, "Who cares about the taste, nutrition, and flavor profiles and honors food more than the chef community?"
Local chefs include Mary Sue Milliken and Susan Feniger of Border Grill, Geno Bernardo of Herringbone at Aria, and Bryce Krausman of DW Bistro, among others.
Chefs will also create a list of produce they want Urban Seed to grow.
"We'll have 23 different varieties from strawberries to beets including different spinach and lettuce varieties and white strawberries that taste like pineapples," Wenman said. "It's a great opportunity that we offer the chef communities to work with our growers and create things for their menus."
Winn said food grown at Urban Seed could be picked and on the table in as little as two hours.
Once all seven greenhouses are open, Urban Seed will keep working toward its goal of having 100 greenhouses operating across the Las Vegas Valley.
"I see us going to Southern California and Arizona, too," he said. "This concept works well everywhere, so we'd like to see this concept replicated and partnerships formed to help us expand elsewhere."
Wenman said she sees Urban Seed making an impact on the Las Vegas community for years to come.
"We're offering something really positive that hits a lot of different areas, not just the chef community," she said. "It falls into education and job creation and there's a lot of excitement around it because we're putting food at the forefront."