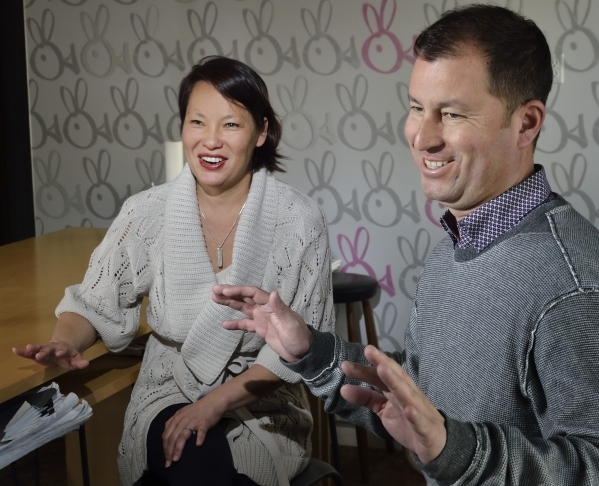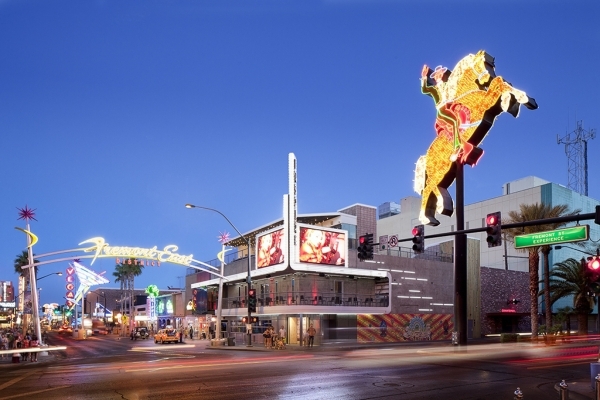 The transformation of Downtown Las Vegas has spurred growth in tech startups, brought passionate artists together and new outlets for entertainment have been born. A key element to this type of reinvention is the design firms that help bring it together.
Local architecture firm Bunnyfish Studio — owned by Tina Wichmann and Craig Sean Palacios — has been doing just that.
The brand came together on the heels of the Downtown Project's beginnings. Bunnyfish has helped adaptively reuse several buildings in the Downtown area — including its own headquarters at the John E. Carson Building at South Sixth Street and East Carson Avenue. The building was once a 64-unit, men-only, extended-stay motel and several small tenant commercial spaces.
"We were very lucky, especially here in Las Vegas. We were given the opportunity to be the architect and designers for buildings that were already in existence," said Wichmann. "Instead of knocking them down, we were able to adaptively reuse them."
Today, the Carson building is filled with restaurants, a donut shop and a yoga studio on the ground floor. And micro offices, a large commercial office space for a local tech startup company, along with Bunnyfish.
This type of reuse is part of Bunnyfish's redesign schematics, which draws its context from what's in existence already.
"You take the building, the heritage and the spirit of what it was, the neighborhood context, your client and who they are," said Wichmann. "And you allow all those things to become the driver for the design."
The firm recently received a reason to gloat about its projects.
Bunnyfish won the 2015 firm of the year award from the Nevada Chapter of the American Institute of Architects.
Bunnyfish started not far from its current location. Just a few years back, Wichmann and Palacios were operating at the counter of the Beat Coffeehouse, eventually renting an office in the same building — the Emergency Arts building.
Both Wichmann and Palacios earned their master's degrees in architecture from UNLV. Palacios is a Las Vegas native and, on top of working in the field, has also spent time as an instructor at UNLV.
Wichmann, who is from California's Orange County, got her bachelor's in psychology from UCLA. She spent several years working in medical research before making architecture her second career.
"I always wanted to be an architect," said Wichmann. "I just didn't get there when I was young."
Both of them faced a bad economy after graduation. Wichmann said architecture was hit especially hard by the recession. But they both managed to find their way into a career before venturing off on their own in 2011. That was before the Downtown Project initiated major growth and development.
Today, the firm is being hailed as a perfect match for the Downtown district.
"Craig, Tina and team have been downtown for a long time and bring a unique perspective when it comes to the architectural landscape of Downtown Las Vegas," said Don Welch, manager of the small business investment fund for Downtown Project. "As such, they were a perfect fit for many projects as they truly understood the value of the existing architecture of the area."
Welch was especially pleased with Bunnyfish's work on the Carson building.
"The historical integrity of any area is always critical. Preserving Downtown Las Vegas' most unique structures has always been important to Downtown Project," said Welch. "The John E. Carson is personally one of my favorite buildings downtown and provides a truly unique experience both inside and outside its four walls."
One of Bunnyfish's most memorable designs was its work on the Inspire Theater in Downtown Las Vegas at Fremont Street and Las Vegas Boulevard.
The original structure was from the '50s, said Wichmann, and was previously a 7-Eleven. The structure was single story, but it had a high floor-to-ceiling volume, added Wichmann. The building had huge wood trusses that expanded up to 60 feet, she said.
That became an integral element in what was asked of them by Tony Hsieh. The 5,000-square-foot space was to be transformed into a theater. But the job also included packing in a coffee shop, bars, along with other requests.
Wichmann said they were able to put a three-story design into the original building, all while preserving much of the building's original structure including its exterior walls, original trusses and its eyebrow. Wichmann described the eyebrow as a horizontal shading structure that sticks out from the building — a common element of buildings from the era.
On top of that, Wichmann and Palacios said they were able to use the old structure and bring in things like glass and metal and contemporary finishes.
"That's our style, and that gives you sort of an example of how you would take apart a building and bring it into 2016," said Wichmann.
That project was done in the firm's early years. Bunnyfish has since moved into projects around Las Vegas, and, just recently, has gotten a project in the Reno area. The firm has also worked on projects on the Strip and in Henderson and is working with the RTC on fashioning a mass-transit connection from McCarran International Airport to Downtown Las Vegas. Palacios said Bunnyfish is not the project lead, but it is part of the process.
The team said they see a bright future with several years of growth ahead for Downtown and the Las Vegas Valley.