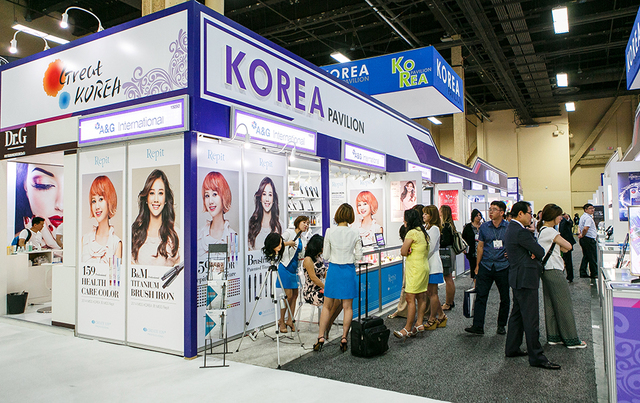 Cosmoprof North America, one of the largest trade shows in the U.S., was held at the Mandalay Bay Convention Center July 24-26 as part of its Professional Beauty Association Week.
Attracting more than 30,000 attendees, Cosmoprof North America has a staunch business-to-business platform as it is for beauty industry professionals only and is not open to the general public. The success of the trade show is based on the commerce and interaction of distributors, manufacturers and buyers of professional beauty products.
"We are the ideal showcase for major retail buyers of beauty products from chain stores like CVS and Walgreens to more specialty buyers like Sephora," said Daniela Ciocan, spokesperson for Cosmoprof North America. "Our show is filled with key decision makers in the industry who buy for salons and spas, too."
With such a focus on the buyer, it is not surprising that the programming for buyers has dramatically expanded in the last decade. This year's show included a Domestic Buyer Program to help buyers identify brands in foreign markets, an International Buyers Program for valuable foreign contacts and even an International Business Forum.
To cover the entire spectrum of the buying experience, Cosmoprof North America serves independent beauty retailers and the over-the-counter retail community by offering a special program for qualified attendees. For exhibitors who think their products are ready to be sold on television, Cosmoprof North America's TV Shopping Program hosts key merchants from QVC and The Home Shopping Channel for an open casting call to review beauty product brands and even potential on-air talent.
"We have three days to educate over 30,000 attendees, and we find many ways to get the job done," said Ciocan, who has worked with the show for over 10 years, and is recognized as an industry leader in marketing. "We create unique programs that make our attendees better business people."
To help accomplish that goal, Cosmoprof North America offers an 'Entrepreneur Academy' that emphasizes financial literacy, legal resources, business pitching tips and strategies, as well as access to various subject matter experts. Like many highly visible or 'glamorous' industries, the business side of operations often gets overlooked.
Its importance is not lost on Tyra Paylor, longtime salon owner and professional in the Las Vegas and Washington, D.C. markets. She now manages an Images salon in the Boulevard Mall.
"Everything changes so fast in this industry so it is very beneficial to have Cosmoprof North America in our own backyard every year," Paylor said. "My goal in attending is always to find the best products to serve the customer along with any service and educational tips."
To celebrate the entrepreneurial spirit that is common within the industry, Cosmoprof North America hosts "INSPIRE: A Night Celebrating Beauty Entrepreneurs." Along with a reception and dinner, the highlight of the evening is its Beauty Pitch 2016 event.
Beauty Pitch 2016 is a "Shark Tank"-type event where three business startups and three established businesses with annual revenue over $5 million, pitch their companies for investment to celebrities and industry legends that include Kevin Harrington from the original "Shark Tank" and John Paul Mitchell from the famous Paul Mitchell line of hair care and beauty products.
"The winners receive a cash prize from a private equity group and an opportunity to get their product into beauty stores nationwide," Ciocan said. "We have 1,147 exhibitors attending from 37 different countries, so we have to cover the entire spectrum for the best and most well-rounded experience."
It is an experience that includes strong recognition and value of foreign markets and the trends that they often bring to the U.S. To help these foreign markets stand out individually, Cosmoprof North America hosts different country "pavilions" throughout the convention floor. These pavilions give each country the ability to not only showcase new hairstyles but other complementary products that may not even be available yet in the U.S.
Brazil, China, Italy, Morocco, Peru, South Korea and Spain are all represented with their own country pavilions. However, other countries not as associated with the beauty and salon industry are also represented, including New Zealand, Pakistan and Turkey.
"South Korea is extremely hot in the beauty industry right now so we have a lot of domestic and foreign attendees that are interested to see what they are doing now," Ciocan said. "Each country brings its own flavor to the show and dramatically adds to the entire experience and value of Cosmoprof North America."
Cosmoprof North America is an experience that also comes with a competitive side. They host the North American Hairstyling Awards, a fiercely contested competition that emphasizes style, technique and innovation. The competition even has a red carpet reception. Special artistic presentations, live entertainment and special guest appearances are all part of the awards ceremony.
"We have so much talent and experience all around that it remains the ultimate professional development opportunity for our industry," Ciocan said. "We are not afraid to roll up our sleeves and get down to the nitty-gritty of our business while giving people an opportunity to shine on our industry's biggest stage."
Along with the current professionals, Cosmoprof North America pays due to the nation's best current cosmetology students with educational and networking opportunities through its Beacon program. In its Beacon program students attend specialized classes taught by industry leaders, get up close and personal experiences with the finalists of the North American Hairstyling Awards and get several opportunities to increase their business acumen.
Paylor sees the value in integrating current cosmetology students in recruitment efforts as she has spent the spring and summer conducting outreach to recent high school graduates to identify prospective students and employees.
"We talk to students and help show them all the benefits of working in our industry," Paylor said. "If we can show them the structure and financial stability our industry provides, we will continue to attract high-quality candidates, which literally makes Las Vegas look even better."