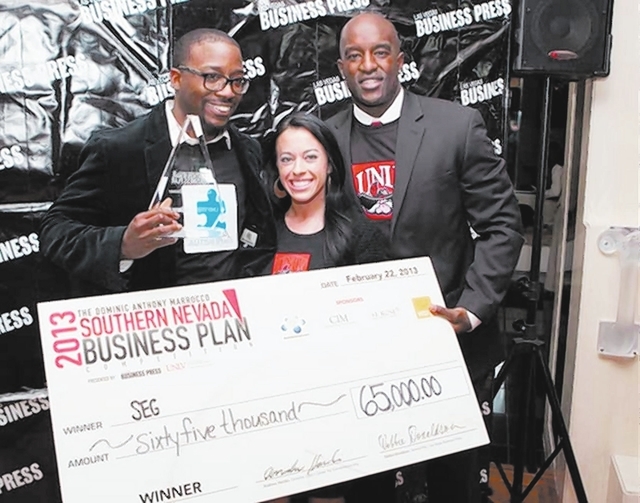 Five finalists were chosen out of 24 in the Dominic Anthony Marrocco Southern Nevada Business Plan Competition.
The sixth annual competition, which is run by the University of Nevada, Las Vegas Center for Entrepreneurship and the Las Vegas Business Press, seeks to find people with entrepreneurial spirit to come up with the best business plan to benefit Southern Nevada.
The competition is underwritten by Dominic Anthony Marrocco, an Honorary Fellow of UNLV's College of Engineering.
Marrocco, who was born in Leeds, England, left home and dropped out of school at age 15. A year later, he began earning money by selling refurbished electronics out of a kiosk. At 18, Marrocco opened a consignment store and sold video games and computer equipment. The business was budding, so he opened six more locations. Marrocco became a millionaire at 21.
Marrocco is also an integral part of the telecommunications industry with the launch of his first Internet service provider in the United Kingdom in 1996.
Last year's grand prize winner of the Dominic Anthony Marrocco Southern Nevada Business Plan Competition was Skyworks Aerial Systems.
The Henderson-based company offers aerial robotics products including Qua.R.K., a quadcopter research kit, and an Unmanned Aerial Vehicle, which can fly through narrow corridors and standard-size doors.
Runners-up from last year's competition were Prostem Solutions Inc., Smartstart, Webraind Corp. and GovernSocial, which connects people with elected representatives at the federal, state, and local government levels.
Finalists are judged on their executive summary and business plan, which is between three and five pages in length, as well as their oral presentation and bottom line.
Judges must determine which group is most likely to have the greatest economic impact on Southern Nevada.
One winning team will receive more than $80,000 in cash and prizes to help launch their new business. The winner was announced March 20 after the Business Press deadline. A story about the winning team will appear in the March 30 edition.