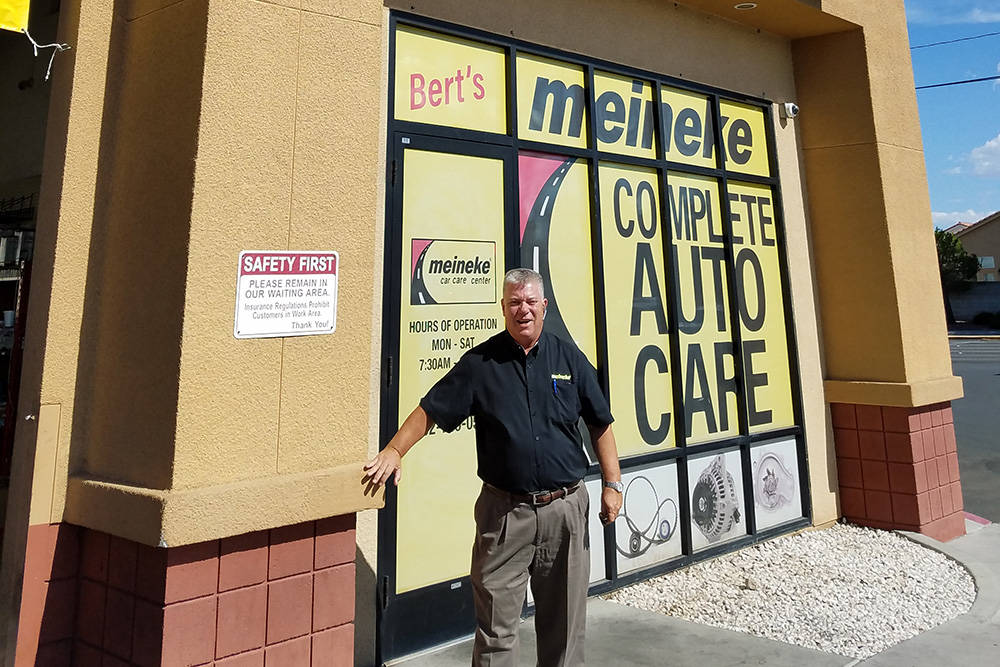 From pizza to cars, Bert Figearo literally switched gears on his future in his mid-50s and it's auto repair franchises.
Bert first gained his experience with Las Vegas franchises by delivering for Domino's Pizza after he moved to Southern Nevada in the late 1980s.
The 61-year-old California native worked his way up the Domino's corporate structure in the U.S. and abroad. He left the pizza industry and bided his time until he saw the right opportunity to buy a business.
Bert and his wife, Irina, bought a Meineke auto repair shop on Serene Avenue near the Henderson border in 2013, and have since added 15 more franchises in the valley, including two this year.
It's a success story. Bert Figearo spent 10 years in an orphanage at the Masonic Children's Home before going off to college on a scholarship to Pacific University.
Bert worked in the jewelry business for 10 years, which ultimately brought him to Las Vegas in 1987, but after a divorce he wanted to do something else.
"I needed to pay the mortgage, and so I started delivering pizzas with Domino's Pizza," Bert said. "I became an assistant manager, manager and district manager and moved to California and ran shops there before I joined their international team."
He moved to Europe and opened Domino's franchises in Poland, German and The Netherlands before getting promoted to head operations "for a quarter of the world" that included the Middle East, South Africa, Scandinavian countries and Russia.
Once Sept. 11, 2001 hit with the terroristic attacks on the U.S., Figearo said he decided to move back to Las Vegas with his daughter. He did odd jobs before he returned to Poland to work for a company that he had invested in. It hosted commercial real estate awards banquets and industry magazines in Europe. When the company wanted to expand to Asia, he moved to Hong Kong to set up operations for China 2007. He was later joined by Irina, who was finishing up her college studies and was launching her career in finance and banking.
The Great Recession hit worldwide and altered the couple's plans and he switched jobs and worked for the Pacific Coffee Co. that sold coffee franchises in China. That company was bought out by a Chinese conglomerate and Figearo didn't have any more work. Irina was working on the trading floor for HSBC.
He told her he would like to move back to the U.S. to start a business, and they sold their home in Hong Kong to help finance their first transaction.
Figearo said he did a scouting trip and looked at various auto repair franchises before deciding on Meineke, which today has more than 900 franchises across the country, and adding 55 this year.
"I have been in franchises my whole life, and swore I would never buy a franchise when it came to putting my own money into it."
He said it's risky anytime you put money into starting a business, especially when you reach middle age and put what you've saved at risk. He decided to take a chance and bet on Las Vegas.
Figearo said he understood the closure rates of new restaurants and pizza places and decided he needed to a pick a business that was going to be around and had a sound future.
"The average ticket for a pizza you are dealing with $20, and the automotive repair average ticket is $200 for the repair of a car," Bert said. "That's a good business. It's the same work but a better business for what I wanted to do."
The store Bert and Irina Figearo bought had been open since 2003 and was doing a $1 million in sales a year. They bought it for $600,000 and never looked back.
"I had to learn the business," Bert said. "I didn't know anything about automotive. I needed to buy a shop that was profitable, and why I bought Meineke. I liked the owner and the people who worked for him liked him. I needed that being new to the business. I walked into a situation that had a cash flow and established team so I could take the time to learn the business. I spent the first year-and-a-half bugging everybody everyday learning about cars and how this business really works.
Ironically, the owner he bought it from, Frank Lee, went into the pizza business and opened Dom DiMarco's Pizzeria & Bar in Summerlin.
While Figearo said he didn't know car repairs at first, business is business and a model is predicated on overhead, cost of goods sold and labor. The store didn't do as well in the first months after a manager left, but Figearo said it quickly got on track.
"We have done very well, and it's profitable," he said. "When we bought the store, it was a $1 million store, and it's probably $1.7 million in revenue today."
One store wasn't enough, however, for the couple, who took advantage of an opportunity in July 2014 when a Henderson store on Sunridge Heights Parkway became available. Someone was acquiring the store as part of a deal to convert several Auto Tech repair shops to Meineke, Figearo said. Since the store was three miles from his shop, he was given the first opportunity from Meineke to buy it for about $400,000.
He said he developed a relationship with the Auto Tech owner and eventually bought his six Meineke franchises in increments in 2015 and 2016.
Today, there are 21 Meineke franchises in the valley, 16 owned by Bert and Irina Figearo and five others owned by five other people.
Figearo, who said Meineke franchises cost about $35,000 for the public, plans to open two more stores in early 2019 and possibly two more in the future. His stores cover all parts of the valley from the north valley to Henderson. Franchise owners pay a royalty and pay into a marketing fund as part of their deal with Meineke whose shops do all repairs except paint and body, he said.
"I started thinking about getting more when I got my second store in 2014, but I didn't aspire or think I might own most of the stores in the valley," he said.
The reason he became a Meineke franchise king of Las Vegas was what he saw in the city when he moved here in the late 1980s and how it dealt with recession. Las Vegas and other parts of the world were damaged by the Great Recession, but it's a resilient market and has a great future, he added.
"I know what is going to happen in Vegas, and now, you start to see cranes and commercial sites developed, and all of the homes and apartments in full swing," Figearo said. "My goal four years ago was to open as many shops as I could before the boom really took off."
That's because real estate prices and leases are becoming more expensive with a limited amount of land, he added.
The future is bright because Las Vegas has a shortage of workers and expects to see "an influx of labor coming into this market like happened before and drove up our population to 2 million," he said. "I see us going to 3 million to 4 million with the Raiders coming in. Vegas is a juggernaut on the upswing where the momentum will carry. We will have a run of 15 to 20 years for sure. I'm trying to set ourselves up to take advantage of the influx of the new population."
The typical vehicle is 13 years old and when people move into the market they bring their cars with them rather than buy a vehicle right away, he said. Even with the future of electric and self-driving cars, all vehicles have moving parts and wheels and need repair, Bert said.
"I foresee a boom with laborers coming in to build the arena and build homes and all of the new commercial development," he said. "That's how I see our part fitting into the economy."
As for advice for people looking to start out in business and be successful, Figearo said making plans is the easy part. Getting to know the business and getting enough capital to hold out long enough is vital.
He said he relied on the sale of his home and loans from the Small Business Administration. People have the option of tapping family and friends or getting loans from their 401(k) to fund a business.
The business has a 15 to 20 percent return before taxes, and he said the couple has made sacrifices and didn't buy a home until recently. It plowed the income into acquiring more franchises, he said.
"We have grown organically," Figearo said. "Our own profits have sustained our growth."
Figearo has 82 employees and part of his job as owner is taking the advice from Domino's Pizza founder Tom Monaghan and going out to see what's happening in the 16 shops.
Every Thursday, Bert drive about 100 miles and hands out checks to employees and see's what's happening with cleanliness, safety and security and production.
"Tom Monaghan was a big believer when you're in any market to go visit your stores and meet the people and understand what is going on in your organization," Figearo said. "I learn more in those visits that some of the people who work for me. Fresh eyes helps."
He said he has no plans to retire or sell and jokes that people die when they stop working. For now, he's just enjoying the success.
When he was coming up with a name for his corporate entity, he came up with RAI, which is a saying he learned from his mom before he went to the orphanage at the age of 8 — rise above it.
"Irina told me that means heaven in Romanian, and that's all I needed to pick that name."