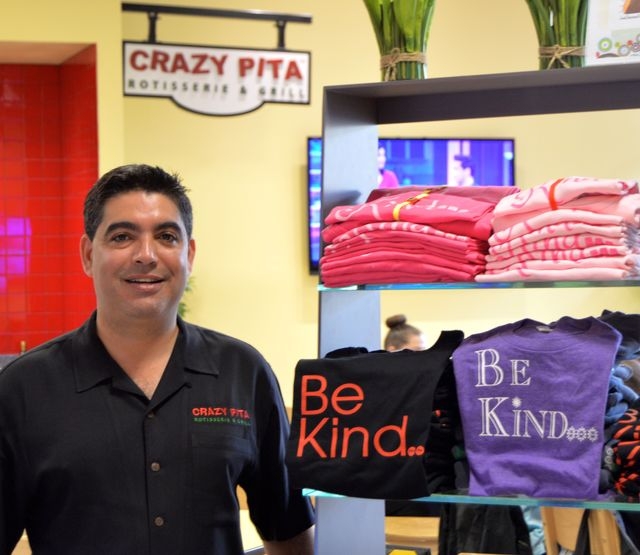 Crazy Pita owner Mehdi Zarhloul humbly says "I'm just a pita maker." However, his story is the all-American dream.
He came from downtown Casablanca, Morocco, at age 16 with $30 in his pocket. He landed in Washington, D.C., where he became a member of the service industry working in restaurants. He attended Montgomery College in Rockville, Md., for a short time before moving to Los Angeles.
There he spent 20 years working his way up to managing a fine-dining restaurant at the Four Seasons Hotel.
Zarhloul moved to Las Vegas nine years ago and started his first restaurant. Today, his TBMZ Enterprises — lovingly named using his initials and his wife's — oversees the growing business empire.
Zarhloul said that opening day of Crazy Pita in Henderson in August 2006 was a dream come true.
Now, they have three locations; Town Square, The District at Green Valley Ranch in Henderson and Downtown Summerlin.
Q. What was your inspiration?
A. Since I came to this country when I was 16, I worked in restaurants. There was a pizzeria and we made Mediterranean; it was so busy and my inspiration was connecting with the people themselves. It's a great experience, it's a great feeling to see people; you're serving them and their happy. The best thing about it is they give you money before they leave.
Q. Contract Guru attorney Kristie Fischer says, "It's great!" What do you think it is that's so special? What makes people keep coming back?
A. It's a number of things. First, we base our food on consistency … it's the same, we haven't changed a thing. Community, in Henderson, it's a small family drive area. We're not just a counter were you place the order, we take your money and you leave. Most of our customers, they kind of carry on a conversation with you. They talk to you about their kid's soccer team and their baseball … so it's more community-driven. (The interview was interrupted as he carried on a pleasant exchange in French with a customer walking out the door.)
Q. What is the most popular menu item?
A. The chicken skewers are very popular. They come in several ways. You can have them as a pita sandwich, or as a main course plate, or as a salad. The lamb does well. The lamb we introduced about six years ago and we weren't sure a lot of people were into that and when we put it in the menu it just took off.
Q. How did you handle the recession?
A. Henderson, we opened in 2006 and the economy hit in 2008 so we … had to ride the wave. We were scared. What were we thinking? Opening in the recession. We thought, "Is this going to work?" (We were) just very nervous.
Q. How did that affect opening new locations in Town Square and Downtown Summerlin?
A. We waited because we wanted the right locations and we waited for another almost eight years.
Q. What is the Josh Stevens Foundation and how did you become involved? (Josh Stevens was killed in a golf cart accident.)
A. Sometimes it's hard for me to talk about the foundation. I have a very close personal connection with the foundation because I knew Josh and his family since we opened Crazy Pita in the District at Green Valley Ranch. They would come in all the time and Josh would hang out and help cleaning tables and be kind to the customers. After the tragedy of losing Josh, I was there for his family when they started the foundation and was involved since day one. We celebrate Josh's birthday every year at Crazy Pita with a big party, and all the proceeds of his favorite pita, the Kefta pita, go directly to support the organization (which promotes kindness).
Q. What do you remember most about Josh?
A. I remember him as a kid who would come to my restaurant and he would run to me always 'hey Mehdi' and tell me stories what happened that day. I can see him going and grabbing plates; he would help you, he would help his mother, brother, or sister. He would go and hold doors for people. He was just a natural, so I kind of connected with him. When we started the foundation that's what we based it on, him, sharing kindness. At each Crazy Pita location, they have a Josh Stevens Foundation retail display and all the proceeds go to the foundation.