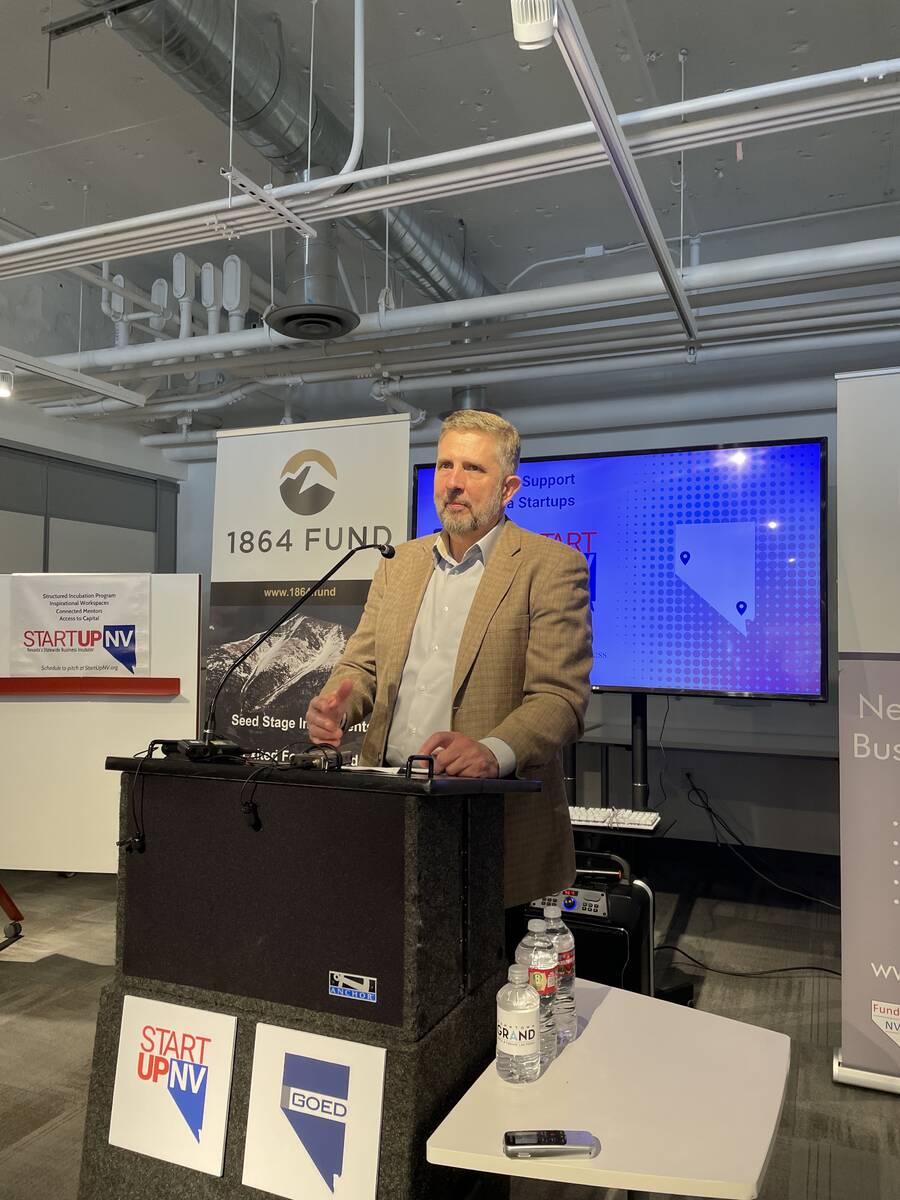 Startup companies will be eligible for funding as part of a state program to help businesses grow and thrive.
Nevada State Treasurer Zach Conine has announced that through Nevada's State Small Business Credit Initiative (SSBCI) more than 40 Nevada-based companies that participate in StartUpNV will be eligible for funding administered by the Governor's Office of Economic Development. StartUpNV is a nonprofit statewide incubator and accelerator for startup companies.
The SSBCI funds, subject to federal approval, will be invested in 10 Nevada companies at a pre-seed stage (less than $500,000 in revenue) and another 30 companies at the seed stage ($500,000 to $2 million in revenue) over a three-year period.
The SSBCI funding will match investments made by StartUpNV's affiliated venture funds, including AngelNV, a $200,000 annual conference fund; FundNV, a $1 million pre-seed fund; and a newly formed $10 million seed fund.
All 40 companies receiving investments will have participated in StartUpNV programs, including its AngelNV education boot camp or its business accelerator.
In five years, StartUpNV has helped hundreds of founders, supported the launch of dozens of companies, and built a robust network of angel investors in Nevada, according to StartUpNV Executive Director Jeff Saling. When he came to Nevada in 2009, he said he realized there was a serious lack of capital for home-grown startups and began StartUpNV in 2017 to address it.
The SSBCI program further helps deal with that problem of startups finding outside investment beyond friends and family, he said. Over the last five years, they've heard from more than 1,000 companies seeking capital, and 33 came through the program that includes mentorship and access to angel investors, Saling said. Through those investors and other funds, about $3 million has been invested since 2021, and that will grow by $10 million with the new fund, he said.
"This program is going to benefit our local startup community," Saling said during a recent press conference. "StartUpNV's investment funds together with this federal funding and state partnership will significantly expand our programs' reach to support more startups — enabling them to start here and stay here, thanks to new investment capital. I'm proud of the success StartUpNV has had in developing an ecosystem and to grow the startup communities in Nevada."
Those 33 companies have gone on to raise $76.6 million more than what StartUpNV invested, Saling said. The concern is that most of that money came from outside Nevada, and Nevadans need to do better to support its startups and diversify the economy, he said.
"We can work on some legislative and regulatory reforms to encourage additional private capital to be put to work in Nevada," Saling said. "While it's great to have outside help and outside money, as Nevadans we can and should do more to help ourselves by investing in our local startups and founders."
Saling said it's also important to support entrepreneurship in underserved communities. They have a more difficult time raising capital, and helping to bridge that gap is a priority, he said.
"Since our founding, almost 52 percent of our participating entrepreneurs have come from traditionally underserved communities, and what we're announcing will help us achieve these goals and further diversify our economy in partnership in private capital."
SSBCI is a federal program created in 2010 and operated by Nevada Governor;s Office of Economic Development (GOED). The American Rescue Plan Act of 2021 reauthorized and expanded the SSBCI program with $10 billion to increase equitable access to capital for small businesses emerging from the pandemic, build ecosystems of opportunity and entrepreneurship while also creating high-quality jobs.
"StartUpNV has a proven track record of success in investing and mentoring Nevada-based startups, and this partnership will enable it to expand their efforts and support more businesses at various cycles of development with the necessary capital to succeed," Conine said. "By investing in our homegrown startups, Nevada is investing in its own future to create a more resilient and diverse economy to benefit generations to come. This is a ground-breaking next step in the evolution of Nevada's State Venture Capital Program under the federal SSBCI program."
The availability of the capital will allow new and innovative ideas not only to start in Nevada but continue to grow, Conine said.
"This is a problem Nevada has always had," Conine said. "The companies can't get started here because the money is not here, and then they can't stay here because the money is not here. They root somewhere else and hire and grow somewhere else and then we have to spend a lot of money to try and encourage them to come once they are mature companies. For the first time with this money and these efforts, Nevada will grow its own and create our own."
Speaking on behalf of those seeking funding, Ed Zabrotzky, CEO of See ID, said StartUpNV has been important to his startup's success and that the investment funding through SSBCI will be critical for others looking to expand in Nevada.
SEE ID, a telematics vendor, tracks assets and equipment using unique identification of equipment, personnel and high-value items. It also controls security clearances and monitors personnel access with mapping technology.
"That early stage is where the root begins," Zabrotzky said. "We have a lot of pressure developing technologies, developing customer bases and getting the funnel ready. We are scrambling to make that happen and in the early stage raising money becomes an all-encompassing activity trying to build those relationships and get your business started."
Zabrotzky said states that participate in that early formation of a company stand the best chance of keeping them. The company grows into a business that any state would want, he added. His company has booked its first million dollars in revenue and will finish the year about $4 million. It has grown to 20 employees.
The AngelNV Entrepreneur Bootcamp has opened for registration for its free three-month program for founders and entrepreneurs.
In its third year, the AngelNV program teaches startup founders the fundamentals of attracting venture capital, including perfecting their pitch, conducting market research and developing a deck to attract investors. This year, the curriculum will also include more topics related to business model development, go-to-market considerations, and common legal issues for startups, Saling said.
The Entrepreneur Bootcamp sessions begin Oct. 11 and will be held in-person in downtown Las Vegas at the International Innovation Center @Vegas or virtually via Zoom on Tuesdays at 5:30 p.m.
Founders/business owners interested in the boot camp can sign up online at startupnv.org/bootcamp-
application. Entrepreneurs can sign up throughout the course of the boot camp as the sessions will be archived online for viewing.
After completing the bootcamp, entrepreneurs can apply for AngelNV funding (separate registration and application fee is required). Accredited angel investors who invest in the AngelNV Conference Fund will again award at least one AngelNV startup with a $200,000 investment on April 29, 2023, at a Shark Tank-style event. Last year, more than 250 founders participated in the AngelNV Entrepreneur Bootcamp, which culminated with 45 investors awarding a total of $375,000 in investment to two Nevada-based startups, Saling said.
StartUpNV launched AngelNV in 2020 to foster an angel investment network for Nevada-based startups and attract to the state scalable startup businesses and entrepreneurs with big ideas to build a more diversified and resilient economy. AngelNV is building a bridge between entrepreneurs and angel investors by teaching startups how to raise venture capital and teaching accredited investors how to invest wisely in startups. For more information on AngelNV, visit angelnv.com.