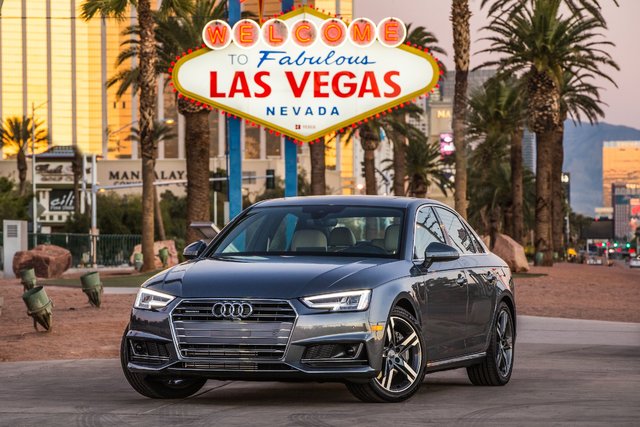 Audi is the first manufacturer to launch V2I technology in the U.S. in select 2017 Audi A4, Q7 and all-road models. It starts in Las Vegas this month.
"The Regional Transportation Commission of Southern Nevada is proud to be the first in the nation to connect our traffic signal network to vehicles through our collaboration with Audi," said Tina Quigley, RTC general manager. "This vehicle-to-infrastructure technology will help reduce congestion and enhance mobility on our already crowded roadways. Beyond the glitz and glamour of the Las Vegas Strip, Southern Nevada continues to lead the way in transportation technology creating smart cities and communities for our residents and visitors."
In addition, traffic light information is the first step in connecting a vehicle to its surrounding infrastructure. Las Vegas was one of the first cities to connect a traffic signal network to vehicles.
"The launch of this technology is another in a long list of firsts for Audi that have positioned us as the industry leader in connectivity solutions," said Audi of America President Scott Keogh. "V2I applications and services like Traffic Light Information are essential components as we continue to move toward an autonomous future. We applaud the innovative approach of Las Vegas in working with us on V2I as well as on our various piloted driving demonstrations over the past years."
Traffic light information, an Audi connect PRIME feature, enables the car to communicate with the infrastructure in select cities and metropolitan areas across the U.S. The car receives real-time signal information from the advanced traffic management system that monitors traffic lights via the onboard 4G LTE data connection.
Nevada issued autonomous vehicle licenses for Audi to drive from California to Las Vegas three years ago.
Leadership Henderson announces 2017 Class members
Leadership Henderson has announced its class of 2017, the 17th graduating class of the program offered by the Henderson Chamber of Commerce Foundation. The 26 community and business leaders will receive more than 30 hours of professional leadership development training, which began with a kickoff event Oct. 13 and will continue through May. During the next seven months, participants will meet with Southern Nevada's decision-makers and learn about Henderson's key topics and infrastructure. The majority of the participants have been recruited by alumni of the program and all were chosen through a selective application and interview process.
Class participants include Warren Rich, manager of facilities, Regional Transportation Commission of Southern Nevada; Billie Williams, real estate agent, iProperties International; Jeremy Golar, financial representative, Country Financial; Camaran Lewis, community manager, Tech Impact; Lauren Davis, director of sales, Sunset Station; Cynthia Hensel, program director, Spread the Word Nevada; Joanna Myers, attorney, Dickinson Wright; Brian Dickson, director of marketing, McDonald Carano; Leah Martin, managing attorney, Leah Martin Law; Kurt Trombetti, president, Enviro Safe Pest Control; Wade Gochnour, partner/attorney at law, Howard and Howard Attorneys; Robert Tillman, director of DC operations, Levi Strauss; Teressa Conley, chief operating officer/CEO, St. Rose Dominican Hospitals; Laurie Mann, senior director, marketing, United Way of Southern Nevada; Robert Ostrea, community relations manager, WGU Nevada; Robert Ostrea, community relations manager, WGU Nevada; Christina Moon, director of programs and development, Miracle Flights; Diane Welch, assistant general counsel, College of Southern Nevada; Kevin Butler, vice president of finance and business operations, Nevada State College; Bethany Lafferty, assistant manager/youth services department head, Henderson Libraries; Kelly Hahn, corporate banking relationship manager vice president, Nevada State Bank; Paola Gonzalez, vice president, business development officer, Nevada State Development Corp.; Grace Gamsky, vice president of human resources, Opportunity Village; Aaron Delsignore, vice president, senior financial advisor, Merrill Lynch; Daniel Edwards, CEO, Pact-One Solutions; and Mindy Kermes, vice president, senior business relationship manager, Wells Fargo.
Participants will choose a local organization to partner with as part of their service to the community. Thousands of dollars have gone back into the community by way of the projects that have developed out of the Leadership Henderson program. For more information, visit hendersonchamber.com.
Hainan Airlines launches Beijing-Vegas flight
The maiden voyage of Hainan Airlines' new nonstop service took off from Beijing and landed at McCarran International Airport in Las Vegas at 11 a.m. Dec. 2, following a 12-hour journey.
The flight, serviced by a Boeing 787 with a Kung Fu Panda motif adorning the plane's cabins, served as the announcement of Hainan Airlines' formal launch of nonstop service between Beijing and Las Vegas. Hainan Airlines is the sole Chinese airline providing nonstop service between the two cities.
Federal data shows that close to 7.3 million Chinese tourists are projected to travel to the U.S between now and 2021.
Since the launch of the Beijing-Seattle service in 2008, Hainan Airlines has continued to expand its flight services to the U.S.
Nonprofit group receives Wells Fargo grant
Accion was awarded $2.725 million in lending and grant capital by the Wells Fargo Works for Small Business: Diverse Community Capital program, the nonprofit organization announced.
Accion received a $300,000 grant from Wells Fargo's Diverse Community Capital program.
Accion will use the grant money to support increased outreach to Native American and African American entrepreneurs across New Mexico and in Dallas and Las Vegas. Additionally, Wells Fargo has increased its lending capital investment in Accion to a total of $2.425 million, which will be utilized to fund small business loans for underserved entrepreneurs.
The goal, according to Anne Haines, president and CEO for Accion in New Mexico, Texas, Nevada, Arizona and Colorado, is to improve access to capital for diverse entrepreneurs in the targeted communities and empower those small business owners to be catalysts for positive change in their local economies.
The Diverse Community Capital program is a three-year, $75 million effort by Wells Fargo to direct funds to community development financial institutions, or CDFIs, which serve small businesses.
The program seeks to address the challenges that diverse small business owners face when starting or growing their businesses.
Founded in 1994 and serving the five-state region of Arizona, Colorado Nevada, New Mexico and Texas, Accion has provided over 10,221 loans totaling over $97.3 million to fuel the growth of 6,624 businesses in our region.
These businesses support an estimated 13,210 jobs. For more information visit www.us.accion.org or call 1-800-508-7624.