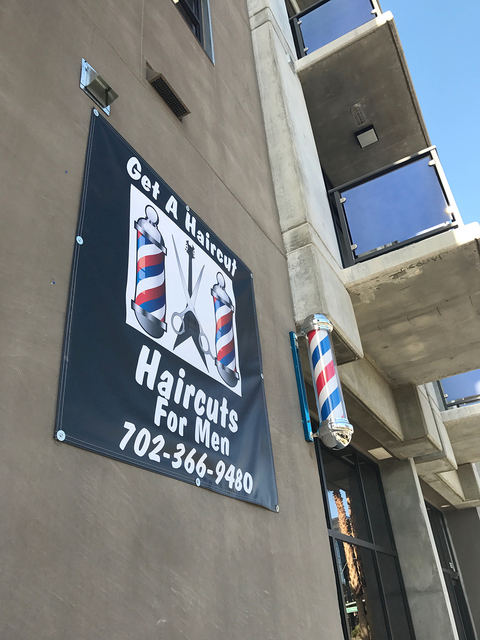 California-based Get a Haircut, a men's barber shop that combines classic haircuts with classic rock n' roll, is now open at The Promenade at Juhl, the 20,000-square-foot ground-level retail component at Juhl, a 344-residence, multibuilding community that spans an entire city block in downtown Las Vegas. The Promenade at Juhl opened in November.
"We are delighted to welcome Get a Haircut to Las Vegas and The Promenade at Juhl," said Uri Vaknin, a partner at KRE Capital LLC, whose company, in partnership with Dune Real Estate Partners, purchased Juhl in 2013 as DK Las Vegas. "This is a fun, hip place that has done very well in California, and we expect it to be equally popular here. While downtown Las Vegas has great beauty lounges like Bombshell, Get a Haircut fills a void by bringing a quality and reputable men's hair salon to the area. Now all the attorneys and other professionals who work in the area have a great place to get their hair cut."
The Corner Market, a community convenience store, is planned to open in the high-rise later this year.
Legacy traditional schools break ground in North Las Vegas
Legacy Traditional Schools has started construction at 5024 Valley Drive in North Las Vegas. The new North Las Vegas campus will be Legacy's 13th school and will be the first facility outside of Arizona. Once construction has been completed, the facility will serve approximately 1,260 students in grades K-8. It will have 41 classrooms, offices, a gym, athletic fields, playgrounds, a kitchen, a cafeteria and more than 90 parking spaces. Its two stories will include 80,717 square feet of space.
Plans for the school were approved in October by the North Las Vegas City Council. Las Vegas-based Burke Construction has been awarded the contract for the $20 million project.
Legacy Traditional Schools was founded in 2007. Campuses in Arizona are located in Avondale, Casa Grande, Chandler, Gilbert, Glendale, Laveen, Maricopa, North Chandler, Peoria, Queen Creek, Northwest Tucson and Surprise.
CREW Las Vegas announces 2017 board members
Commercial Real Estate Women Las Vegas announced the addition of new members to the board of directors for 2017.
■ Carol Cline-Ong will step into the role of vice president of membership. Cline-Ong is the CEO of the MDL Group, a real estate services provider that specializes in property management, facilities management, brokerage and leasing, real estate investment advisory, construction management and development services.
■ Natalie Allred will become vice president of sponsorship. Allred is a vice president and broker for The Equity Group. Before The Equity Group, Allred worked with brokerage and property management for multiple organizations in the Las Vegas Valley.
■ Dan Palmeri, senior director at Cushman Wakefield Commerce will take over the role of vice president of programs. This role plays a crucial part in the planning and execution of the monthly luncheon speakers and other programs. Dan has been with Cushman Wakefield for 14 years and is also a member of SIOR, the Society of Industrial and Office Realtors.
■ Leslie Becker, of Lawyer Trane, the incumbent president, will retain the role for the first six months of the year.
■ President-elect Natalie Wainwright of Cushman Wakefield Commerce will take over the top post mid-year. Wainwright also will serve as the Commercial Alliance advisory member. Other CREW members joining Becker and Wainwright on the board are Mindy Kermes, vice president, senior business relationship manager at Wells Fargo Bank, as vice president of finance and Kelly Connery, Orbis Solutions, as secretary. Marketing and public relations will be headed by Judi Hanf of NewMarket Advisors, and Gina Tarantino of Wells Fargo Bank will continue in the role of immediate past president.
Two new positions added to the board include community outreach, chaired by Alicia Syverson, business development manager with Steamatic Restoration of Southern Nevada, and special events, which will be headed by Melissa Campanella of Logic Commercial Real Estate.
For more information visit www.crewlv.org.
Mutual of Omaha Mortgage opens Henderson office
Mutual of Omaha Mortgage expanded to Nevada, establishing a branch office in Henderson, President Terry Connealy announced.
Mortgage industry veteran Darren Riley has been named Nevada branch manager. Based out of offices in the Mutual of Omaha Bank building at 2360 Corporate Circle in Henderson, Riley will be responsible for all Mutual of Omaha Mortgage retail branches in the state.
Previously, Riley oversaw Mutual of Omaha Bank's west region mortgage division. With more than 20 years of experience in the mortgage industry, Riley also held various management positions with Wells Fargo Home Mortgage and Bank of America.
For more information, visit www.mutualmortgage.com.