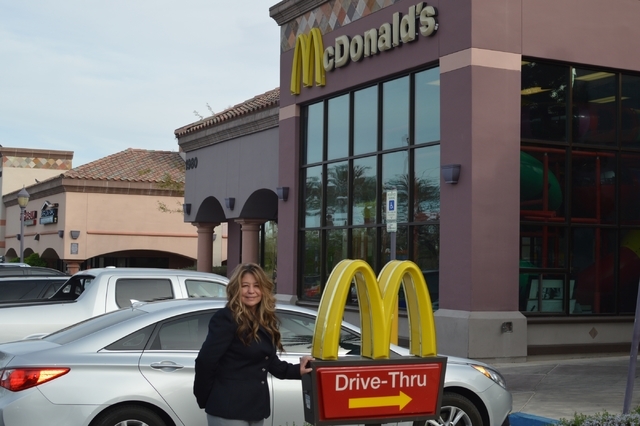 Patricia Navarro-Issel is a walking advertisement for the power of McDonald's training program.
She is the only Hispanic female restaurant McDonald's owner-operator in Las Vegas.
It's been a long climb from the front counter.
Navarro-Issel was born in Guadalajara, Mexico. She is unsure at what age she arrived in the U.S. saying "it depends on who tells the story… it was either 3 months or 3 years old."
While she was growing up, Navarro-Issel's parents did not speak English. She acted as the family translator and would attend appointments, speaking to doctors and landlords on behalf of her parents. The experience, Navarro-Issel says, "taught me a lot of responsibility."
As a child in Los Angeles, Navarro-Issel was placed in a gifted program. She was unable to complete the last few months of her senior year, though she had enough credits, because of her family moving to Fresno.
She had been working at McDonald's and was able to transfer locations from Southgate to Fresno before eventually landing in Las Vegas.
She took advantage of McDonald's Hamburger University to learn everything from operations to management to interpersonal skills.
Through McDonald's, she has received training through Archways to Opportunity, an educational program McDonald's offers its employees, managers, and owner-operators.
"Everything I know about business today, everything, I've learned at McDonald's," Navarro-Issel says.
Perhaps the greatest lesson came in the form of some advice from a mentor: hold on to those stock options that were flowing to key employees.
Navarro-Issel did and when she cashed them in, she had enough money to buy a home in California. Selling it ultimately provided the seed money to buy her first two franchises in Las Vegas in 2008 at the height of the Great Recession.
The wife and mother of three now owns four McDonald's franchises across Las Vegas and plans to soon open a fifth.
For the next generation, the path is getting easier.
One perk of working part-time, Navarro-Issel said, is that "McDonald's actually gives you money to go to school." The process is not difficult and there's "no GPA requirements." Any crew member who works 20 hours a week or manager who works 30 hours a week can qualify. Crew members can receive up to $700 and managers can receive up to $1,050 for attending school every quarter.
McDonald's served as the sole sponsor of the Hispanic Baccalaureate at the Thomas and Mack Center on June 3, 2015. It is a popular graduation event for Hispanic students across Southern Nevada that attracts more than 10,000 attendees each year. The ceremony included a presentation by Navarro-Issel as the keynote speaker. The event also included a presentation honoring approximately 40 local Hispanic students who received scholarships from the Ronald McDonald House Charities program.
Q. What challenges are unique to you as a woman, as an immigrant, and as the only female Hispanic McDonald's owner-operator in Las Vegas?
A. Just the way you're raised as Hispanic. I think sometimes you kind of feel like you're not up to par with other people and the way they were brought up or raised. It makes it kind of difficult because the language that you learn, even though it's English, is really different than what an educated person might perceive learning English. Even now, if you listen to how I speak, I probably sound OK but growing up I really was unable to communicate very well.
Q. You bought into McDonald's in 2008 at the beginning of the Great Recession and survived it. How did the recession affect your business plan and choices?
A. I always think back to that because they always said there were two companies that survived the recession — McDonalds and Walmart. I think some of the things McDonalds teaches you — take care of the customers with fast service, quality, a nice place to eat — that's really what I have always done. When we bought the restaurant, one of the restaurants was doing I think about $2 million to $2.2 million in sales, and so those first couple of years I was able to increase the sales by $300,000. The Walmart (franchise) was doing about $900,000 in sales and we were able to increase that store to almost $ 1 million, too. We benefited, or we saw a gain. The recession wasn't a really big factor for us.
Q. What is the Hispanic baccalaureate ceremony and how did you get McDonald's involved?
A. Basically, what they do here in Las Vegas is they have a second graduation for Hispanics. There is a ceremony each school does for all the graduating students. The Hispanic Educators Association, they've been doing this for, I think, 30 years. Every year it's increasing the amount of Hispanics graduating. I found out about this because my son, when he graduated, said, "Mom, did you know there's a second graduation for Hispanics?" So, we went to his graduation and after that I made a point to go talk to the person in charge of it. She explained to me how the whole program started and she said there's been a couple years where they didn't have enough money to keep the program going; but, somehow they got $50 here and $20 there … until they had enough money to keep the program going. So, I actually went back to the McDonalds owner-operators and talked to them about this and asked them if we could sponsor it.
Q. Having worked as a crew member and manager for a number of years before becoming an owner-operator, you're in a unique position to answer the question how would a raise in the minimum wage affect you as a business owner and do you support efforts to raise the minimum wage to $15 an hour?
A. We actually pay our employees a dollar over minimum wage. So, I think it's important to be able to pay employees appropriately. I think back to myself and the reason I was able to get ahead, and promote myself, and keep working, was because I wanted to be financially stable. I didn't want somebody to just raise minimum wage because it wasn't going to help me. Minimum wage is always going to be minimum wage. If you really want to get ahead in life, you can't just depend on minimum wage to go up; you gotta look at the other opportunities around and see if you can move up, get promoted. … If you need to get a degree, then go to school and get a degree but I still think minimum wage is always going to be at the bottom. Even though it keeps going up, you're always going to be at the bottom.