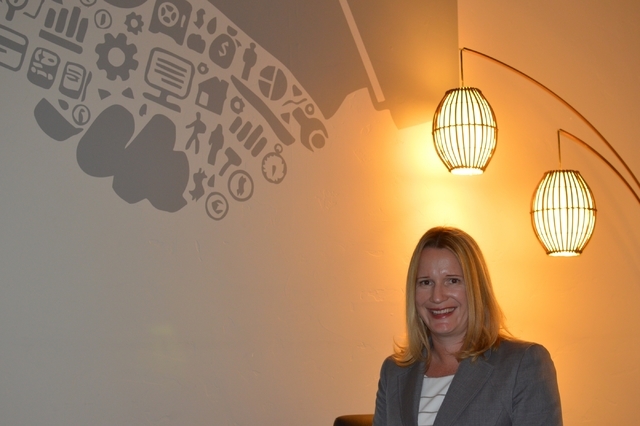 Global marketing messages and the fate of Spanish-speaking criminal defendants depend on the language skills of a small business operating out of an office in Downtown Las Vegas.
Judy Jenner, together with her identical twin Dagmar Jenner, owns Twin Translations.
Judy Jenner works out of her downtown office on 6th Street while sister Dagmar works in an office in Vienna.
Judy Jenner was born in Austria and raised in Mexico City, which makes her truly multicultural and multilingual. The Jenners have two native languages, Spanish and German.
Judy Jenner has spent about 20 years living in Las Vegas. She graduated from the honors college at UNLV with a bachelor's in management and an MBA in marketing. Along with the translation business, Judy Jenner is one of only a few federally certified Spanish court interpreters in Southern Nevada.
Q. What is the difference between translation and interpreting?
A. It's actually really simple. Translation is anytime a text is converted into another language; that's translation. So books would be translated; websites would be translated; brochures would be translated; apps would be translated; the label on the bottle that's been imported from Paris — that would be translated because that's in writing.
Interpreting is only the spoken word. So, for example, if I go to court and one of the defendants is a Spanish speaker, he will get assigned a federally certified interpreter. That's either myself or one of three others here in Southern Nevada. We'll interpret for this defendant whatever's happening in the courtroom.
They are two separate professions. They require completely different skills.
Q. How did you start your company?
A. Well, we had to define a need. Translation is a global industry that's so big and nobody ever really thinks about it. I'll give you some estimates — I think it's about a $40 billion a year industry. Nobody really thinks about it unless you are trying to read a book that's only come out in Swedish and not English, or you're on some website trying to book travel to Thailand and they don't have an English site.
We knew that we wanted to do mainly some marketing translation and some tourism translation. That's kind of what our market was first. Because translation is a super broad field, you can translate anything from wine labels to the import/export documentation, to greeting cards, to literature to doing subtitling in videos and movies.
(My sister's) background is mostly in romance languages and mine is in business. Here in the U.S., you can't really study translation as easily as in Europe. So we thought we'd combine all of that and start our little business and compete in this global marketplace.
It's both easier and harder than you think. We'd started by going after small and medium-sized businesses. Because there's only a limited number of people who do this in the world, we ended up getting very big clients like Sony.
Q. What is your main focus area with Twin Translations?
A. We do translation and interpreting. Translation is in writing and interpreting is spoken. It's an important distinction. So on the translation side we focus on a relatively limited number of languages. A lot of big companies, they would do all languages in the world, which isn't really possible because there's like 7,000 of them.
We focus on the main European languages —English, German, Spanish, French, Portuguese, Italian — and occasionally we focus on some other languages. We don't have an in-house team; the in-house team is the two of us. We contract out every day whatever we need for our clients. That's the translation side.
On the interpreting side, which is the spoken word, we also have teams of people who work with us on a contract basis but I do a lot of interpreting myself, especially in the courts, because here in the United States we have some language access rules in courts for criminal matters. I'm a federally certified court interpreter for Spanish. There are only four of us in Southern Nevada. I do conferences, some medical interpreting, but mainly courts and conferences.
It's about 70 percent translation, which is very location independent; we can do it from anywhere. The interpreting side is a little more localized. I do a lot of it in Nevada and I travel occasionally for the federal courts when they need me.
Q. What's the trend? More Spanish? Chinese?
A. A lot of people already know what languages we do so we don't get a lot of requests for languages we don't work in because our website, it's pretty specific, but Spanish is definitely the number one language as you would expect, especially here in the Southwest. So we do most of our work for American clients, into Spanish, and they mostly request Mexican Spanish, which makes sense because the vast majority of the population is of Mexican descent. In Nevada the second most popular, most widely spoken language is actually Tagalog; it's one of the languages of the Philippines.
Q. What are the toughest languages to find?
A. Occasionally, we get requests for languages that we just can't find anybody for, at least in here in the U.S. For example, Zulu, a language that's spoken in Africa, or Tagalog is actually a really tough one. There are a lot of Tagalog speakers in the U.S. but there's not a lot of trained translators; there are a few interpreters but finding translators is very difficult. We recently had a project in Tagalog for one of our clients and it was very difficult to find someone for that; but, some languages are very small. There are some languages that may have only 100,000 native speakers. And there are indigenous languages in Mexico that are very difficult to find — Mixtec for example.
Q. How's business? Are you seeing growth as Vegas targets more international business?
A. Our business has always done great. I think there's a lot of demand for our services. It's a very competitive industry but it's a growing industry. So, regardless of what Nevada does — I think it is fantastic there's more international things going on — our business is pretty strong and our clients are all over the world; they're not just in Nevada. We really love working with global companies, especially companies here in the downtown area. I take great pride in keeping a lot of these services inside the state. Business is good and if Nevada is even more international than it is now, that would of course be better for us. But I haven't directly seen an impact recently.
Q. How competitive is your business?
A. It's hard to compare to other industries; but it's highly competitive for a couple of reasons. The main one is that there's absolutely no barrier to entry; anybody can say that they're a translator. On the interpreting side there are some government certifications; on the translation side there are not. There are a lot of people who get into the industry very easily but what they find difficult is finding clients because this is a professional service that operates on very tight deadlines and oftentimes unrealistic expectations. It's very competitive; I think in this industry we need to work a little bit on solidarity.