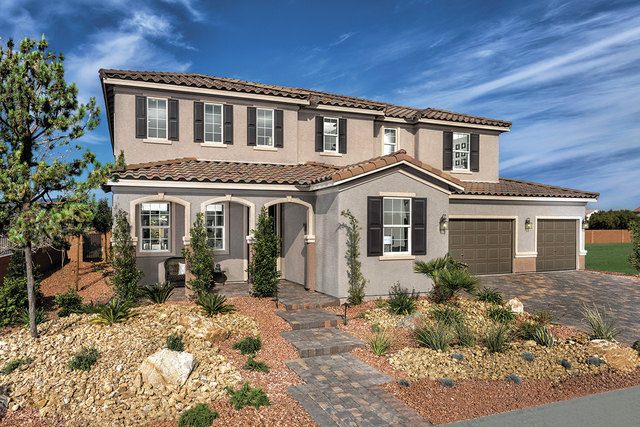 Rob McGibney was named president of KB Home's Las Vegas division in 2012, however, his homebuilding career started in 2000 when he was in charge of analyzing financials for land acquisitions.
As president, he oversees all aspects of the builder's operations throughout the Las Vegas Valley, including land acquisitions, forward planning, land development, purchasing, studio, sales, marketing, construction, customer service and finance.
KB Home offers an array of home designs and communities from condominium-style homes and townhomes to traditional single-family homes.
The homebuilder won the 2016 Silver Nugget Green Builder of the Year Award this spring. The trade competition is coordinated by the Southern Nevada Home Builders Association and the Las Vegas Review-Journal.
Q: What does it mean to you to have won that particular Silver Nugget Award?
A: It is an honor. KB Home's sustainability journey began over a decade ago, and since then our commitment to residential energy-efficiency and innovative building practices has only grown stronger. Each year we've challenged ourselves to build homes that conserve natural resources and help lower utility bills for our homeowners, and KB Home is extremely proud of the accomplishments we've achieved thus far.
Q: What are the company's green practices?
A: KB Home's sustainability principles have been a significant focus of our business for many years. We take a holistic approach to evaluating sustainability opportunities throughout our business. We seek to minimize our carbon footprint by conserving natural resources, reducing waste in our construction processes, and building energy- and resource-efficient new homes. This approach minimizes our own impact on the environment and, in turn, should reduce the carbon footprint for our homeowners.
As an Energy Star builder, a federal Environmental Protect Agency program in which KB Home voluntarily participates, KB homes are designed to be 15 percent more energy-efficient than current code. Our homes feature high-efficiency heating and cooling systems, a complete thermal enclosure system, efficient lighting and appliances, a water-protection system and each new KB home is independently inspected and tested by a third-party rater.
Q: What challenges does the company face with implementing green practices?
A: KB Home is proud to be a leader in our industry when it comes to the important matter of environmental sustainability, however, we also recognize that there is always more work to be done. KB Home's is a balanced approach that is grounded in maintaining affordability while increasing environmental performance in the production home market. Through our size and scale, we are able to challenge ourselves and our trade partners to provide increasingly efficient products, without increasing the price of our homes.
Q: What's next for the company in regards to its green practices?
A: KB Home focuses on four key areas of sustainability: energy Efficiency, Water Wise, Smart Systems and Healthy Home. We will continue to increase the energy and water-efficiency of our homes, however, we are also focused on making smart home technology available and attainable for our buyers. For example, lights and appliances that can be controlled remotely from a smartphone.
Q: Why is it important for the company to have green practices in place?
A: We believe that KB Home's use of sustainable building practices is the right thing to do for our homeowners, for our business, and for the planet. Because our homes are designed to reduce energy consumption, it helps lessen our homeowners' carbon footprint, as well as lower their ongoing cost of homeownership in the form of reduced utility bills.
Q: How do you see the future of green practices in the homebuilding industry?
A: As buyers continue to learn about the potential financial and environmental benefits sustainability can provide, advanced energy- and water-efficient technologies will become more accessible and more mainstream. Again, KB Home has already incorporated sustainable building practices into our business and we will continue to challenge ourselves and our partners to deliver ever higher-performing homes to our buyers.