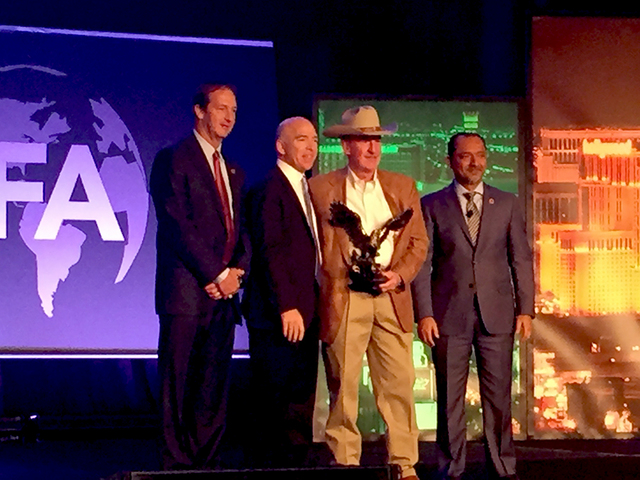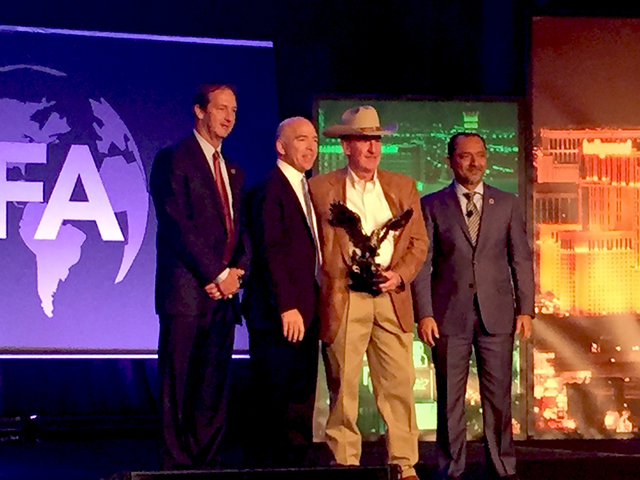 Franchise companies from around the world marketed their brands during the International Franchise Association convention Jan. 29-Feb. 1 at Mandalay Bay.
Although the franchises are owned by large corporations, most of the franchisees are small business owners who came to the convention with high expectations for a growing economy in 2017, fueled by President Donald Trump's campaign promises to help small businesses. Coincidentally, on Jan. 30, Trump signed an executive order pledging to repeal two existing business regulations for every new one that is enacted.
During the convention, the IFA's Franchise Education and Research Foundation released a report, prepared by HIS Markit Economics, on the growth of franchise businesses and projections for 2017.
While the report does not identify specific franchise expansion plans, it does report that Nevada is expected to see an influx of 6,318 more franchises in 2017, creating 77,187 more jobs and a payroll of $3.1 million.
With the popularity of celebrity restaurants along the Las Vegas Strip and tremendous growth in the number and variety of food options available for residents throughout the valley, the report also had positive news for restaurant franchise owners.
"As overall consumer spending at restaurants is expected to maintain its high growth pace in 2017, the outlook for both the Quick Service Restaurant and Table/Full-Service Restaurants business lines is strong. They rank first and second in employment growth in 2017 with the growth of 4.0 percent and 3.9 percentrespectively," the report said.
A chart showing the "Top 10 States for Franchise Growth: 2017" lists Nevada as third in growth at 4.4 percent, behind Utah in the No. 2 spot, and Arizona at the top with 4.7 percent. The chart also shows Nevada in the No. 1 spot at 7.4 percent for GDP output.
The report explains that economic growth in the South and West regions of the U.S. has benefited greatly in recent years from renewed flows of domestic migration. In addition to the strong growth of population and personal income in the Sun Belt regions, tourism is an important driver for franchise-related growth, since the lodging and restaurant industries are among the franchise-intensive business lines.
Other key findings include:
■ Franchise employment grew 3.5 percent in 2016 and is expected to continue growing by another 3.3 percent in 2017, adding nearly 250,000 new jobs.
■ Franchise establishments grew 1.7 percent in 2016 and are expected to grow 1.6 percent in 2017, an expected increase of more than 11,500.
■ In 2017, U.S. GDP is projected to grow by 4.7 percent in nominal dollars, while the franchise sector is expected to outpace that at 5.2 percent, growing to $426 billion. The franchise sector will continue to account for about 3 percent of U.S. private GDP.
■ Franchise output was up 5.8 percent in 2016 and will continue to grow another 5.3 percent in 2017, surpassing $700 billion.
■ Within the franchise community, the number of establishments is expected to grow fastest in personal services, at 2.3 percent, followed closely by quick service and full-service restaurants, each projected to grow at 1.9 percent in 2017. The two restaurant business lines will continue to lead in employment and output growth.
But despite the positive growth that is expected, the report is cautious in its optimism, stating: "New leadership at the Department of Labor and a Republican-led Congress will likely result in changes in the regulatory environment for labor issues that have negatively affected franchise business operations, but the administration's immigration policy could pose a threat to employment growth generally and especially to certain franchise-intensive industries."
One of the highlights of the convention was the announcement of the Entrepreneur of the Year Award, which this year was awarded to Gordon Logan, founder, and CEO of Sport Clips Haircuts. While Sport Clips does franchise its brand, each of the 12 locations in Las Vegas are company-owned and serve as a training and testing ground for new products and corporate innovations.
"Gordon's work to consistently develop not only his entrepreneurial business efforts but also those of others, demonstrates his role as a model of leadership within the franchise industry," said IFA Chairman Aziz Hashim, founder and managing partner of NRD Capital.
"Las Vegas has been a great market for Sport Clips. Our 12 stores here have outperformed the rest of our system consistently the past five years, and we have been extremely pleased with the quality of our team in Las Vegas. Last year we opened two prototype salons for our new dry bar salon concept, Vent Blotique – one in Summerlin Town Center and one in Green Valley — and we expect these locations to lay the foundation for another success story in Las Vegas and the country," said Logan.