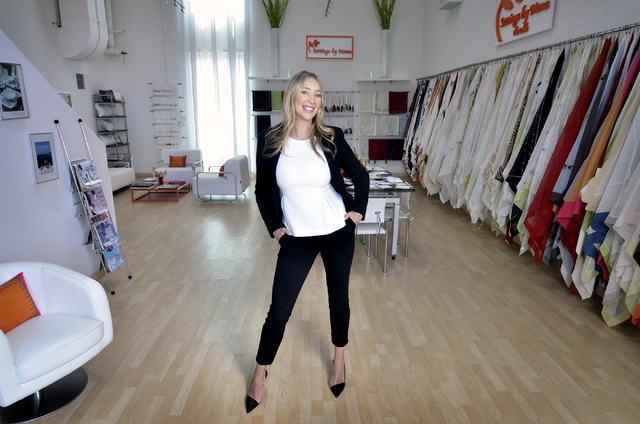 When Mona Steck wrapped up a decade as a model, which included walking the runways in New York, Paris, Milan and Tokyo for Ford Models, she went to work for her uncle who owned a clothing business and spent time with him in Asia working in his factories.
"I got to see the other side of fashion," the Las Vegas resident said.
In 1999, Steck decided to take a year off and travel the world in order to find her next venture.
"I wanted to see the world," she said. "I wound up in India and met with a manufacturer who did the most beautiful textiles I'd ever seen."
Steck loved what she saw and spent two months in Delhi working on her own collection of linens.
"I was able to tie in my fashion and manufacturing background," she said. "Everything came together."
From India, Steck returned to New York City with 10 linen designs to exhibit at a trade show where she wound up with her first order from Saks Fifth Avenue.
Launching her business, Settings by Mona, included many 18-hour days and attending more than a dozen trade shows by herself.
It started to pay off, though, as Steck's client list grew to include additional retailers such as Barney's New York and Neiman Marcus.
When Steck's family relocated to Las Vegas in 2003, she decided to make the move with them and bring her business along for the ride.
"When I moved here, the Wynn discovered me and I began designing banquet linens for them," she said.
Since then, nearly every property on the Strip, including Mirage, Cosmopolitan, Delano Las Vegas, Mandalay Bay, Bellagio and The Venetian, is outfitted with linens from Settings by Mona.
"It's a big, small town here and everyone in food and beverage knows each other so I've gotten to work with unbelievable people," she said. "To be part of an event by having our linens covering the tables is an amazing feeling."
Steck designs everything from napkins to tablecloths, including runners, placemats and cocktail napkins.
Her company boasts four employees at her showroom on East Post Road in Las Vegas as well as more than 100 skilled artisans in India.
"When the designers and I go into property, we're usually the last people into a space so they already have carpet and table top décor so we need to bring their vision to reality," she said. "Some properties are more traditional and some are more whimsical, which means we can have a lot of fun doing over-the-top embroideries."
Steck said designing linens can be a long process because everything is sketched by hand before tweaks are made and samples are designed.
"Once our sketches are sent over to India, the handmade samples are shipped back and we go back to the property," she said. "We keep going until everything is perfect."
Steck added that each design is custom and exclusive to each property.
"Every property is different so the creative process never dies for us," she said. "We never know what we're going to do until we see the décor and walk onto the property."
This year, Settings by Mona will debut a bedding collection, Steck said.
"People were asking for it because once you start doing textiles they realize your capabilities are larger than just a tablecloth," she said. "We now have connections with some of the top mills in the world so it made sense that bedding was the next phase for us."
Steck said she'd like to continue to expand her linen footprint.
"I'd like to keep going the way we're going and cover more beds," she said. "Anything textile related; if it's handmade and it's textiles then it's something we'll do."