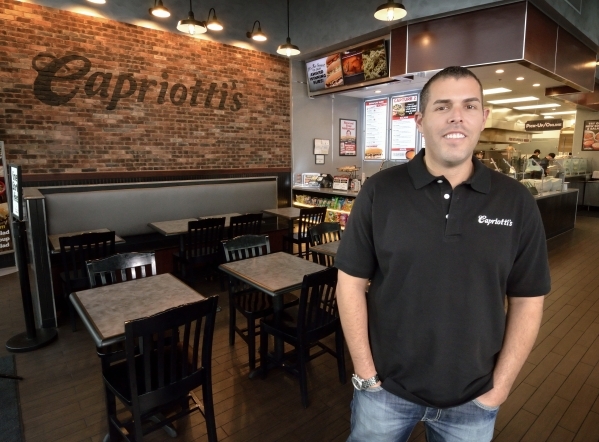 When you find something you can't live without, some say hold on to it. Ashley Morris found something he couldn't live without — the food at Capriotti's Sandwich Shop — and he's held on to it so tightly that he ended up owning the company.
Morris, 35, who lives in Summerlin, heads Capriotti's as its chief executive officer. The company's newest location is in Downtown Summerlin and is considered the flagship for the brand, which began in 1976 in Wilmington, Del.
Originally from Los Angeles, Morris moved to Las Vegas and attended Brinley Middle School and Cimarron-Memorial High School. He studied business at UNLV, where his roommate, Jason Smylie, a Summerlin-area resident, introduced him to the sandwich chain, repeatedly urging him to try the Bobbie, a favorite on the Capriotti's sandwich menu that features a taste of Thanksgiving on a bun: Slow-roasted turkey, stuffing and cranberry sauce.
Morris ordered the cheese steak instead.
"I remember throwing up my hands and saying, 'Seriously? This is the whole reason I brought you here,' " Smylie said. "But when he had the same reaction to the cheese steak that I had to the Bobbie, I was put at ease. It was very clear that the Capriotti's menu was not just a one-hit wonder."
The two loved the sandwiches so much, they broke their lease and moved just to be closer to the Capriotti's shop. Even after college, Morris was such a devoted fan, he ate there at least three times a week.
"If I could, I would have eaten there every day," Morris said.
About five years after graduation, the two friends were each at a place in their lives where they were ready to go into business. They could have investigated various franchise opportunities, but why bother? They both knew what they wanted.
"It took us about five minutes to decide — it had to be Capriotti's," Morris said.
The two entrepreneurs ran into a problem right away. There were already 18 Capriotti's locations in the Las Vegas Valley, and the owners considered that their saturation point. They had to be convinced that the Henderson market still offered opportunities to expand.
Morris and Smylie got the OK, signed on the dotted line and began building a new Capriotti's location of their own in Henderson, at the 215 Beltway and Stephanie Street. While they were building it, the location at Eastern Avenue and Sunridge Heights Parkway became available. They jumped on the chance to buy it even though their initial investment was still under construction.
The business proved a learning curve, and the two became educated in everything from temperature log regulations to ordering stock to staffing levels. It took about a year for them to become comfortable with running the businesses.
The following year, 2006, they convinced the owners that the Henderson market could support another Capriotti's and ended up building another location at Horizon and College drives. It opened in 2007.
Three's a charm, right? Wrong. They were determined to grow even larger.
"We propositioned the owners to open more, but they were afraid that more shops would cannibalize the others," Morris said. "We said, 'We'll pack up and move to Phoenix or wherever you say, to (have a larger territory), but they said, 'No.' They wouldn't allow us to build 30, wouldn't allow us to build 20, wouldn't allow us to build 10 … I got sick of hearing 'no,' so we said, 'If you won't allow us to buy a territory, why don't we just buy you out?' "
As of Jan. 1, 2008, the two became the new owners of the brand, and Morris became CEO. Smylie is the chief information officer and chief marketing officer. Including franchises, Capriotti's has 105 shops in 17 states. Corporate owns 13.
Morris called the move "exciting but terrifying at the same time."
Then the Great Recession hit.
The partners decided to ride out the financial storm and used the time to rework the infrastructure to give Capriotti's a more cohesive operating platform.
One thing they decided not to do was change the way they made their product.
"We bought a 32-year-old brand, but Lois Margolet, the founder, was ahead of her time in the way she made things," Morris said. "Instead of using processed meats with all those chemicals, she used real turkey, slow-roasted like you'd make at Thanksgiving. She made the coleslaw fresh from scratch. She took that high road, and we're just taking a page from her playbook. … 10 years ago, people started talking about eating healthier. We left the menu alone, but we said if people want to eat lighter, we'll offer the half sandwich (combo), so they can eat lighter."
The decision to maintain quality and not to cut corners to follow the dollar-menu trend paid off: After the initial hit of 2008, the business bounced back to operate in the black again and has been gaining steam ever since.
The new owners did add to the menu, bringing in five salad choices that "rival white tablecloth salads," said Morris, as well as soups.
Existing Capriotti's are following the flagship Summerlin store's look and including more seating as space allows.
"I was working in investments, as the youngest portfolio manager Wells Fargo had ever hired, and I thought I was happy," Morris said. "But now that I'm doing this, I realize I was actually miserable. Now, I found my passion."
This story first appeared in the Summerlin View section of the Review-Journal.