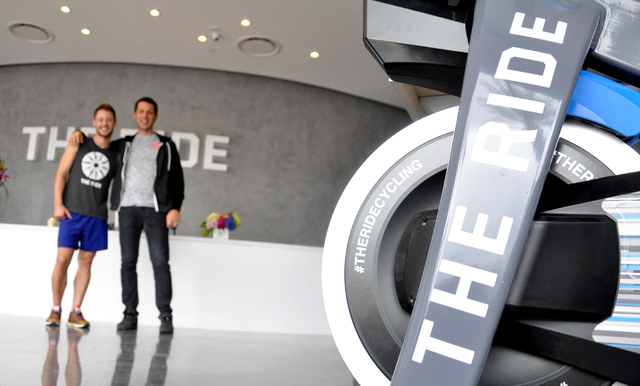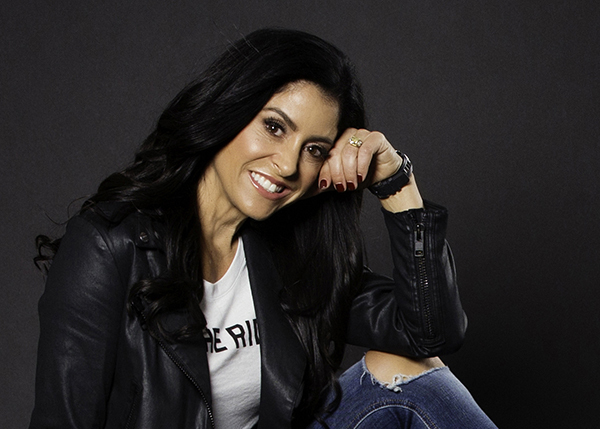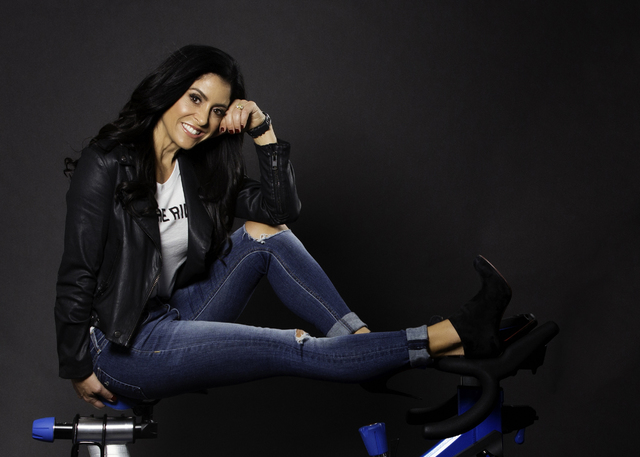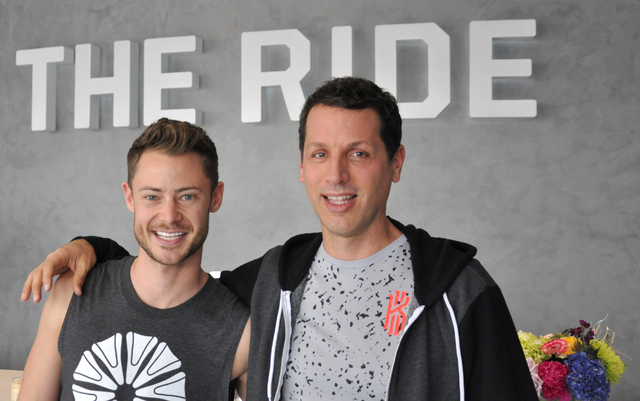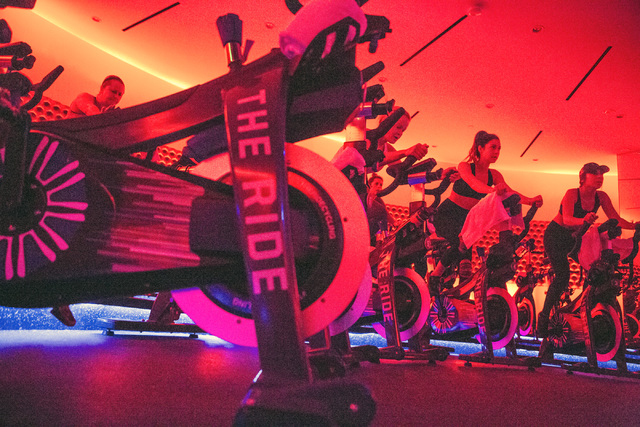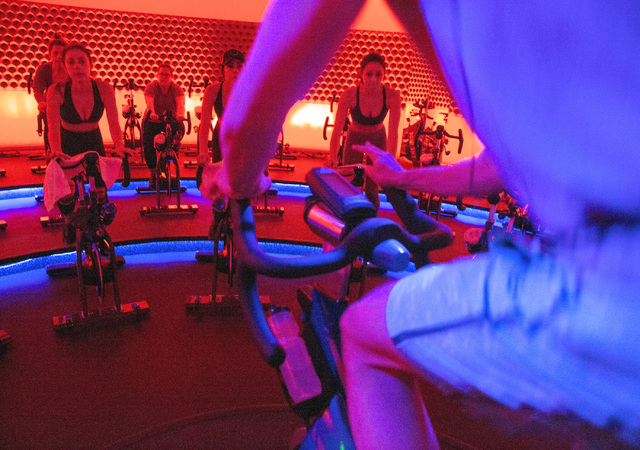 When it comes to understanding the value of a small business, the beauty is often in the details. That is why they can compete with corporate competitors who hold significant advantages in resources, brand recognition and mature business processes.
The details lure the public to seek out these businesses. They drive entrepreneurs to take significant fiscal risk to create these spaces. There is the promise of monetary reward, of course, but the very best of them follow an even more fundamental urge: I want to make this exactly what I envision it to be. I want to do it right.
The Ride is a new indoor cycling space at 4245 S. Grand Canyon Drive in western Las Vegas that may benefit greatly from this marked attention to details.
"There's a nice energy in the room," said first-time client Lauren Clark following a 50-minute mid-morning session. "I liked how the colors in the room kept changing and the lights were dim. They are trying to make you feel a certain way with all your senses."
"The cold towels are the best thing ever," noted Andrea McNulty, another class participant. "The little things make a huge difference."
The business is the collective brainchild of Milo Miloscia, Mark Cornelsen and Shannon McBeath, who opened the facility Dec. 14. The space was chosen because of its location near Summerlin and the 215 Beltway, as well as the nearby collection of exercise and health-related businesses in the area.
"I moved here from L.A. two years ago," said Cornelsen, who worked for the past seven years in large-scale wedding production and destination event planning for companies based in New York and Los Angeles. "I got burned out from my work and started biking. It became part of my ritual, my mental clearing. It became a necessity in my life.
"Milo and I met Shannon and it became this perfect synergy between the three of us. We just had this very similar, unique vision and it was really great when we all met. It meshed really well."
Miloscia served for 12 years as senior vice president of the Andrew Hewitt Co., an independent concert promoter. McBeath is a former sales manager at The Mirage and serves as a foundation board member for Opportunity Village.
Cornelsen said the three owners are involved in all facets of the business, from concept to facility design, equipment and retail apparel selection and day-to-day operation matters.
"We are very proud," he said. "We have worked on this for nearly two years. We took over the lease here at the end of August, so we had about four months of construction. It was supposed to be three months, but we wanted everything to be right. And there were certain things we just didn't think were right, so we ended up opening a little bit later than we wanted, but I hear that is par for the course."
"We think we have a really good balance between comfort and attention to detail," Miloscia said.
"Over lunch during our first conversation — Marcus and I had never met Shannon before — we were talking about how everything should look and feel, its level of perfection. I said, 'I feel Vegas deserves it. She turned to me and said, 'I love that line.' I feel off-Strip Vegas is treated as being on a little lower level than on-Strip Vegas. We wanted to give a product that had the same level of detail as Strip properties."
The product they have delivered is an exercise environment centered on the Ride Theater, an amphitheater-shaped space featuring 33 ergonomically engineered custom bikes arranged on three levels. The studio offers daily classes to fit a variety of exercise needs and preferences.
The rounded walls and multicolored LED lighting help create a workout atmosphere that is intimate and dynamic without giving any sense of confinement.
"We have been working on this for two years and always knew we needed a semicircle-shaped room because we knew how beautiful it would be and what an experience that would be for the rider," Cornelsen said. "This is the first cycle room that has ever been designed like this. The LED lighting throughout really changes the scene. It is a sensory experience as opposed to just sitting on a bike and burning some calories."
The model–SC3 cycles are manufactured by the Denver-based company Stages.
"They have created this device called a Power Meter," Cornelsen explained. "A lot of outdoor cyclists buy this meter and put it on their bikes. It has a 99.3 percent accuracy of measuring watts, distance, speed and RPMs. It is a very well-made bike."
The trio spent much time considering which stationary cycle to purchase.
"At one point we had four types side by side. We all three rode it, and our Los Angeles instructor Brandon (Mills). It was unanimous," Cornelsen said. "It was, of course, the most expensive, but it was the one we all loved."
The physical bikes were, of course, one key ingredient, but the owners put as much thought and research into every aspect of their business.
"We started in Los Angeles, then I went to New York and oversees, visiting many, many different spinning locations," Miloscia said. "Noting what we liked about some and what we did not like.
"We always felt that nothing was quite right for a residential market. Things were mostly skewed for city environments. Small spaces, everybody gets pushed into a class then gets pushed out without any real room for people to hang out, have a juice or water and socialize. We wanted to create this business model for a non-big-city environment, more for an upscale suburban market but affordable for everyone."
The experience starts with the architecture and clean design of the facility. It ends with the presentation of a post-workout cold towel with essential oils, ample space to socialize, the availability of fresh pressed juices and state-of-the-art locker rooms and showers equipped with Malin and Goetz skin and hair care products.
"Part of that, honestly, is just our design sensibility," Miloscia said. "My home is like that, very clean and contemporary. There were so many details to consider: in construction, in design. To see people come in and really experience it all, it has been amazing."
"The spinning bike has evolved, similar to any other fitness concept," Cornelsen said. "The idea of rhythm riding and having an instructor putting on a show for them and lights as a sensory experience is a new thing. I think it is something people of all ages are falling in love with more and more."
"When you are working out while speaking and keeping everybody in rhythm, it's a beast, but it's good," said trainer Patrick Leahy. "You have to show your personality in the class. You have to make it your own. I focus on the riders, turning their day around or starting their day out right. That's what it is about for me. It's the best."
"We told our instructors that we want this to be fun," Miloscia said. "Yes, we have a screen where you can be watching at any moment how fast you are going, but we are sending you that information after the class. Enjoy it and have fun. There are enough workouts that are dreadful and boring."
Those two pejoratives were far from McNulty's description of her experience.
"This is my first time, and it was fantastic," she said. "I was a little nervous because everybody says cycling is so hard. And it is, but the style here is that you push just enough and get that cool down. So it is that constant up and down. The atmosphere is my favorite. I think it really helps you get in the mood and motivates you to push yourself as far as you can."
The Ride owners hope to push themselves also, with expansion plans on the horizon.
"Our vision is to create a brand that encompasses everything we have created here," Cornelsen explained. "Which is why we spent so much time developing this concept and every detail. Because we knew we want to grow this. We have plans to grow at least one more location in the valley. And from there start looking at other markets."
Miloscia said expansion targets may be upscale suburbs of major metropolitan areas rather than city centers, in places such as Los Angeles or New York. But no matter where The Ride is located, the distinctive shape of the theater will likely be incorporated into the design.
"The first one is always the hardest, so if we could pick this up and duplicate it everywhere, I would be really thrilled because we really like the way it feels," he said. "I think we would have to keep the circular room."
On-site and online retail sales is an area that can account for as much 25 percent of an exercise establishment's revenue stream, and the owners of The Ride have paid as much attention to the details of their merchandise as they have with other aspects of their business. And that thought began with the business identity itself — name and logo.
"We wanted something that is simple, clean, easy to remember," Miloscia said. "The fact that we were able to use the name was shocking. The only thing we were not able to get was theride.com. So we went with theridecycling.com."
"We worked with a company who came up with about 20 different logo options, but none of us really felt anything for them," Cornelsen said. "So one day, Milo was looking at the bike seat. He took a photo of the bike seat, printed it out, cut it and put the seats altogether (in a circular configuration). We always knew we wanted something circular to symbolize a wheel, community and the roundness of our room. We thought it was really unique to us, using the seat to create our logo."
The Ride apparel comes from three companies that are part of the Active Wear apparel collective in Orange County, which specializes in high-end workout wear.
"Shannon took about 20 different items, washed them, wore them, saw what held up, what did not," Cornelsen said. "She saw what was supportive enough for women when they are on the bike. How did the pants fit? Too tight, too loose in places? Everything that we have here, Shannon owns and has worked out in.
"Our goal is to change out our look every season but keep certain signature pieces. We want it to play a large part in our business model as opposed to it just being an afterthought."
McBeath, Cornelsen and Miloscia are committed to offering a monthly charity fundraising session called The Ride Cares. Selected nonprofits are allowed to take over the space and charge class participants whatever they choose, reaping 100 percent of the proceeds. The Ride provides the instructor and markets the event throughout the month.
"We have talked with Make a Wish, Shade Tree, Opportunity Village and The Center downtown," Cornelsen said. "Anyone who brings a charity to us, we will be happy to host them."
The trio are relying largely on business marketing through networking with community partners including local nonprofits and hospitality companies, according to Cornelsen.
"We have depended heavily on social media," he said. "And I think a lot of it is going to be word of mouth. When people get this experience firsthand, they can't help but tell someone about it."
So far the strategy seems to be paying dividends. Class attendance is growing steadily in the first weeks of operation and client feedback has been positive.
"I want to come back," said Clark, who traveled from Henderson to take Leahy's class its opening week. "I feel like it is a full-body workout, but at the same time it is lots of fun where you do not feel like you are working out."
And did The Ride make the novice spinner feel muscles she didn't even know she had?
"Well, not yet," Clark said with a laugh. "Probably tomorrow. I feel like the soreness comes the next day."