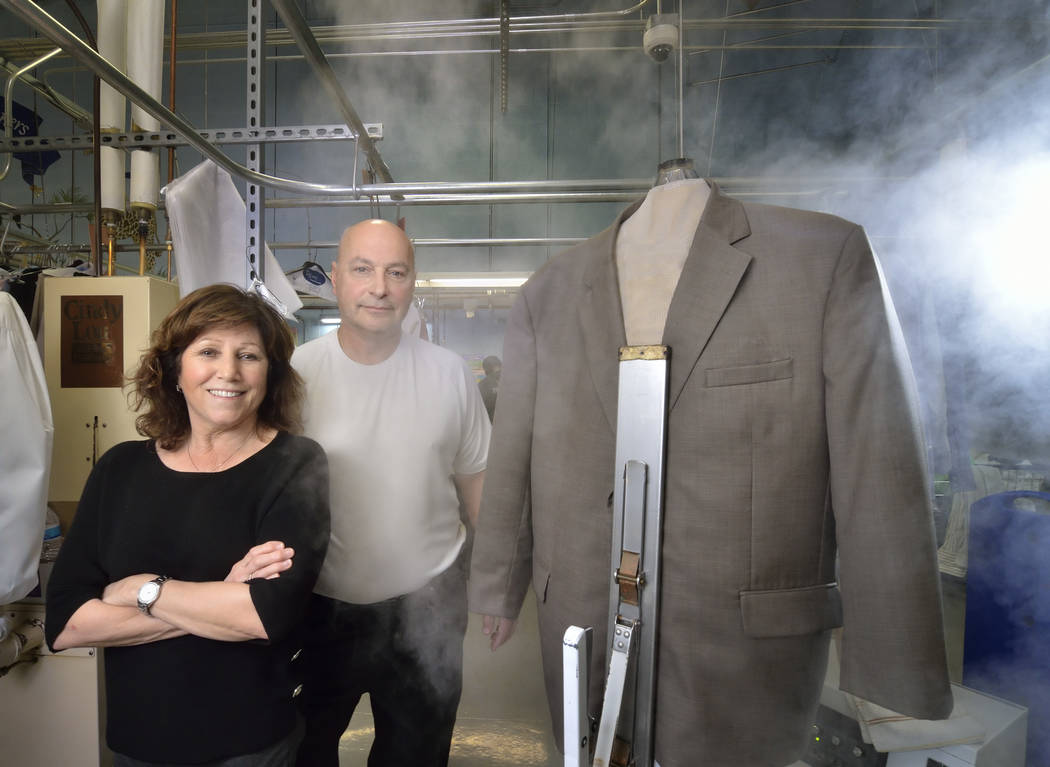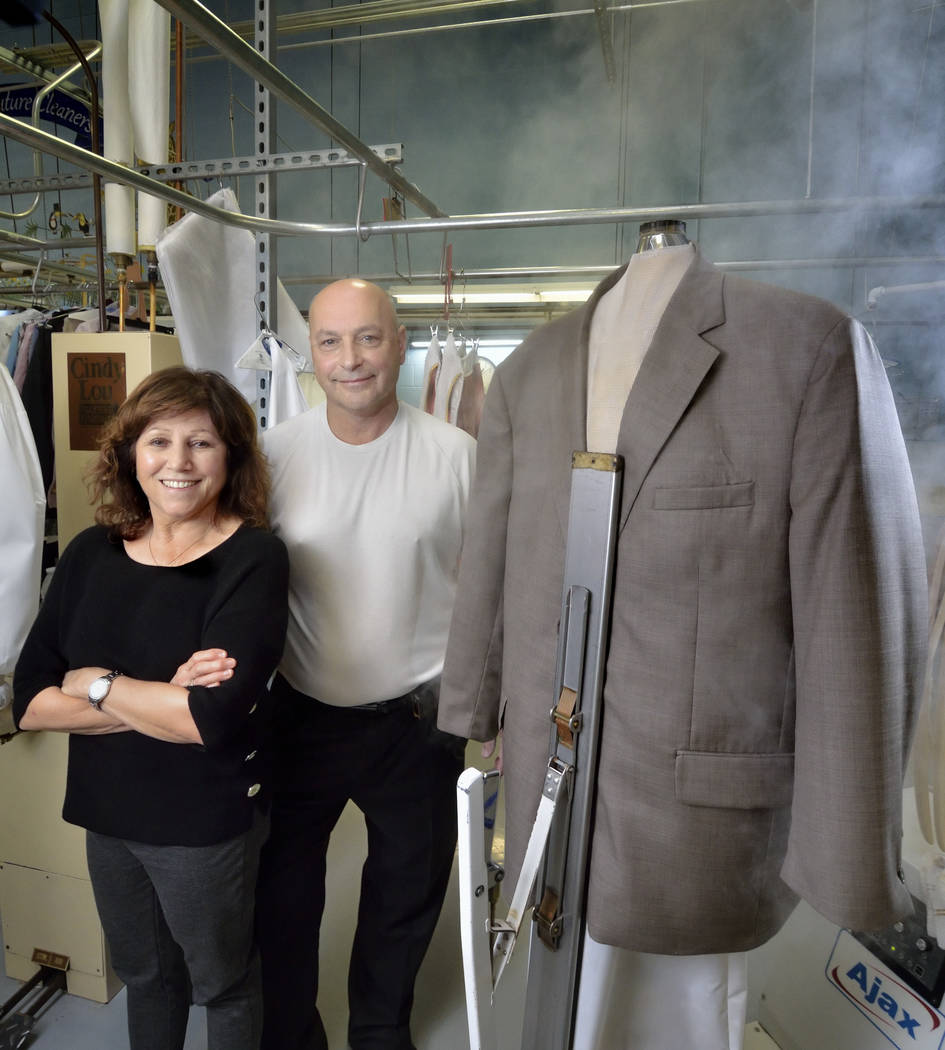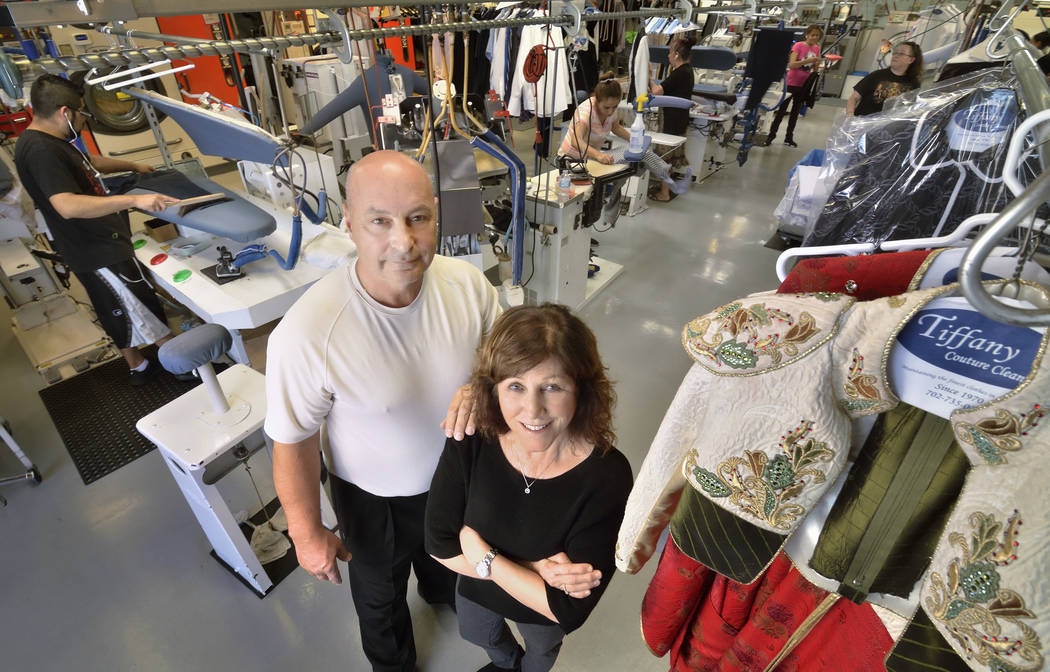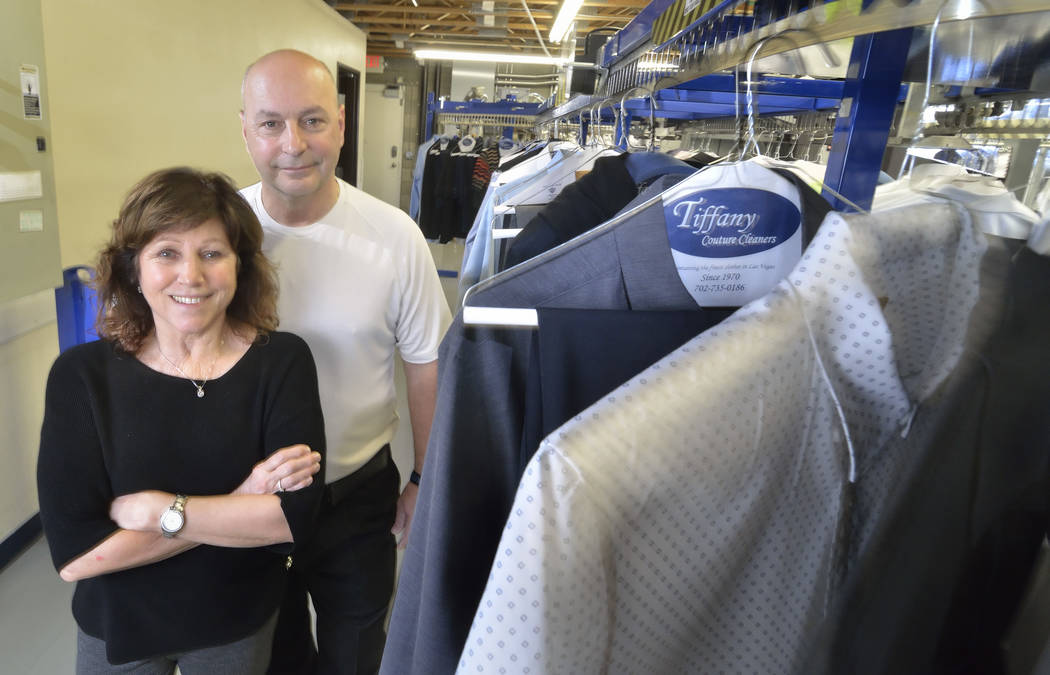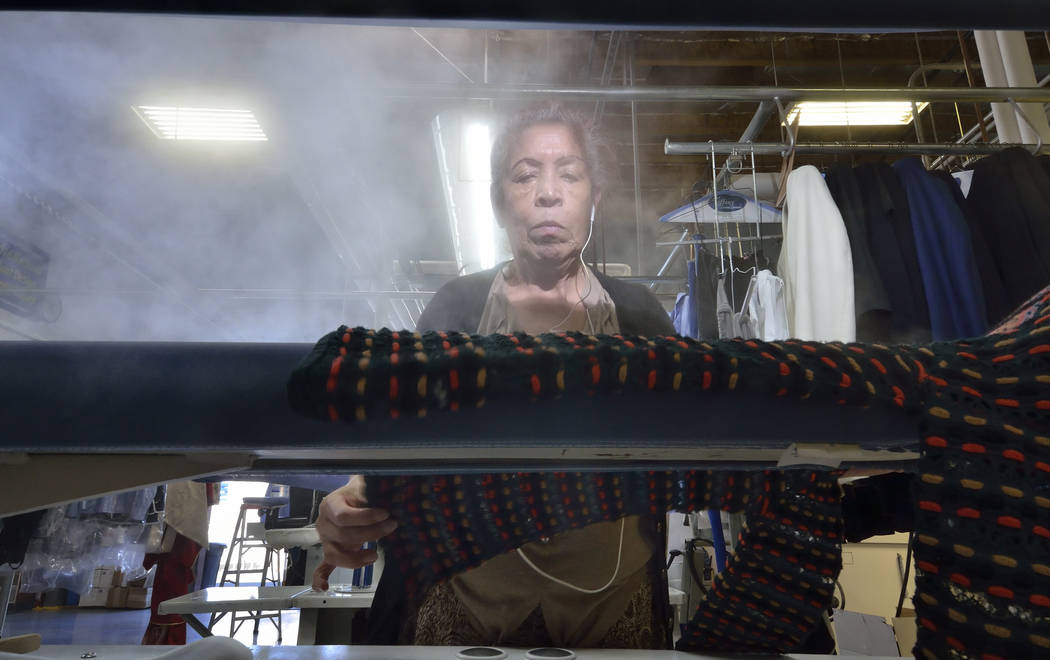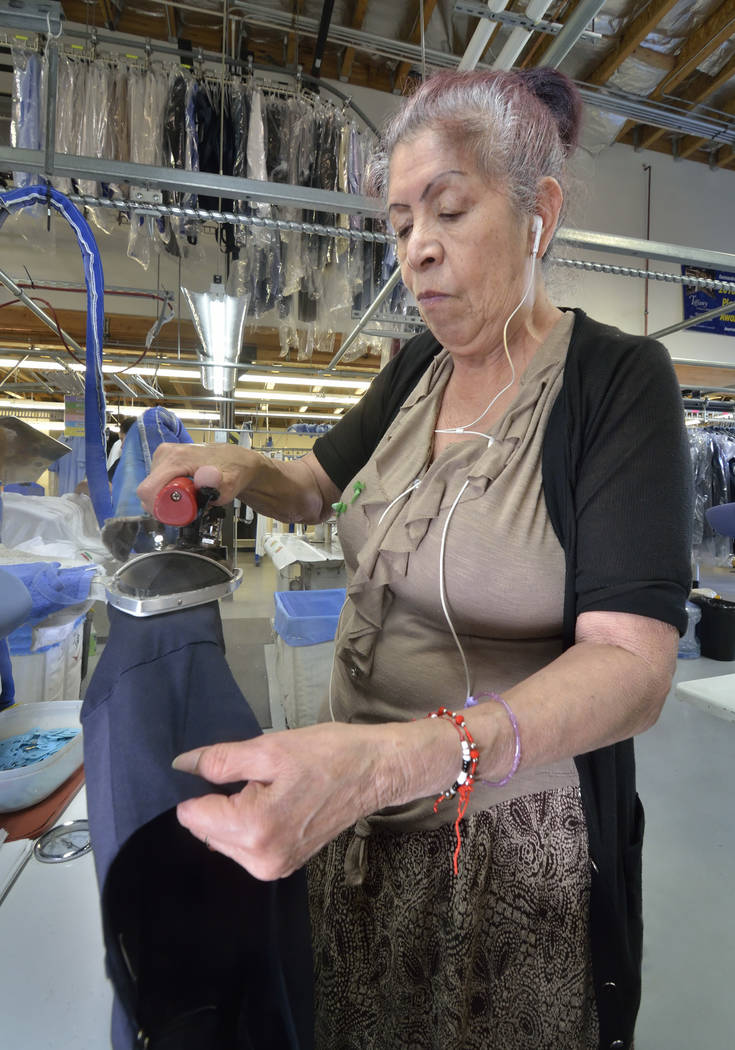 Serving the Las Vegas Valley for more than 48 years, Tiffany Couture Cleaners has a rich history of working with the area's entertainment industry. Its famous claims include dry cleaning the costumes and wardrobes of Liberace, Donny and Marie Osmond, J-Lo, Brittany Spears and several Smith Center and Cirque du Soleil productions.
"That is what we are known for," said owner and operator Judy Del Rossi. "Monday and Tuesday are big show days.
"We've cleaned Wayne Newton, Celine Dion and Gladys Knight's clothes," Del Rossi said. "We generally deal with their staff, but a few still come in like George Wallace and Brad Garrett."
She also talked about cleaning Miley Cyrus' wardrobe following her world tour and gowns for Mariah Carey. She recalled Carey's gowns were handmade and beaded, making them too heavy to hang, requiring the staff to return them to boxes when finished.
"The best thing I ever cleaned was Paul McCartney's shirt," said co-owner Dan Del Rossi. "I don't usually get star-struck, but they brought his shirts in — a basic white shirt. (I thought) this is something that means something. That guy changed the world of music."
Tiffany's services extend beyond the entertainment industry. It specializes in high-end dry cleaning, shirt and laundry services, pressing, tailoring, alterations, garment restoration, fur care and storage, leather cleaning and bridal care. It has a main plant of operations, two drop locations and five trucks servicing the valley with free pickup and delivery service.
"We do it all in house," Judy Del Rossi said. "We don't send anything out."
In March, the couple plans to open a third drop location in Henderson off St. Rose Parkway and Spencer Street.
"We've always wanted a presence in Henderson," Dan Del Rossi said. "Because we had so many requests for it. It's a strong area for us."
Judy Del Rossi's father, Edward German, purchased Tiffany Cleaners after traveling to Las Vegas in 1970. It was located in the historic Commercial Center District on Sahara Avenue.
He and his two brothers, Jack and Emilio, had been operating a small chain of stores, G&G Dry Cleaners on the East Coast.
"He fell in love with Las Vegas," Judy Del Rossi said. "He said 'I'm going to Vegas' and moved us out here."
As the business grew, German convinced his brothers to sell G&G and move to Las Vegas. The brothers operated the cleaner together until German left Tiffany in 1977 to work in the gaming industry. His two brothers stayed and continued operating the business.
"They were true dry cleaners," Judy Del Rossi said. "They had the reputation for doing the right thing and knowing what they were doing."
This reputation earned them the privilege of servicing the entertainment industry.
"What I remember from working with my uncles was the quality," Judy Judy Del Rossi said. "They were so particular about it that nothing went out unless it was ready to wear. They instilled that into me."
The original Tiffany had a fur vault in the back of the business. There, the cleaners stored many of its clients' furs.
"Liberace had his furs cleaned and (they were) stored in the vault," Judy Del Rossi said. "He also stored his showpieces. He had a white rhinestone cape that must have weighed 50 pounds."
In 2005, Judy Del Rossi's uncle, Emilio German offered her and Dan Del Rossi the family business. Both Edward and Jack German had since died.
"As a kid, I used to stamp the shirts and make hangers," Judy Del Rossi said. "I never thought someday I'd be owning the business. The circle of life takes you full circle."
Emilio German died soon after the couple took possession of the business, leaving them with a difficult decision.
"What do we do now," said Dan Del Rossi of their conversations at the time. "How do we run this business with no business or dry-cleaning experience?"
"It was sink or swim at that point," Judy Del Rossi said. "I took care of the front end and (Dan Del Rossi) took the back end of dry cleaning. We opened the place at 6 a.m. and we were here until 10 at night. We did that for four to five years."
Being chosen by America's Best Cleaners (ABC) to be an affiliate offered the couple assistance on running and updating their business. ABC is a trade certification organization.
"They helped us immensely," Judy Del Rossi said. "(ABC) counseled us on running a business not working it."
As an ABC affiliate, the business is subject to strict scrutiny. ABC conducts annual inspections, monthly secret shops and spot peer reviews to ensure Tiffany meets the highest standards in the industry.
To meet these standards, the business makes sure each garment is tested and inspected three times for creases, spots, missing buttons and undone hems.
"We know high-end products and fabrics," Judy Del Rossi said. "We take care of every piece."
Since the couple took ownership 13 years ago, the business has enjoyed significant growth. They opened two drop locations — 4199 South Fort Apache Road and 2197 Maryland Parkway and moved the main plant operations from its original location to a larger facility, 10445 Spencer St., three years ago.
Renovating the 7,500-square-foot Spencer Street location took about 18 months to complete. The couple doubled the operation area from 2,500 to 5,000 square feet, and installed all new computerized equipment. The upgrades included an automatic bagger that bags 150 orders in an hour and a computerized bar coding system to keep track of customer's garments.
They also changed their chemicals to 100 percent environmentally safe solvent and added another dry cleaner, two washers, presses and finishing machines.
The design of the plant earned them ABC's 55th Annual Outstanding Production Facility Award.
Later this year, the couple plan to install a computerized distribution conveyor that automatically organizes all the delivery items.
According to Dan Del Rossi, this will speed up the delivery process considerably.
"That is the next phase for us," he said. "That will really put us on the forefront of technology."
Opening early March, the new 1,300-square-foot Henderson location at 10445 Spencer St. will offers a unique feature for customers — drive-up, curb-side service.
"Dry cleaning is an errand," Judy Del Rossi said. "They can drive up and the girls will service them at their car with an iPad. It's very unique, and we're excited about that."
The couple is hiring two to three new staff members and investing more than $40,000 to open the Henderson location.
Overall, Dan Del Rossi estimates investing over three quarters of a million dollars into the company.
"If we were going to do it, we were going to do it right," he said. "Consumers don't realize your investment. We went all in when we bought the (main plant facility) and built it out."
Tiffany's generates just under $2 million in revenue annually. The company has 28 employees and averages 1,500 pieces of clothing daily.