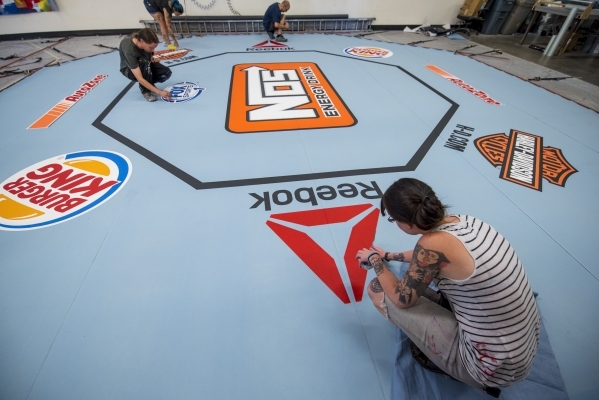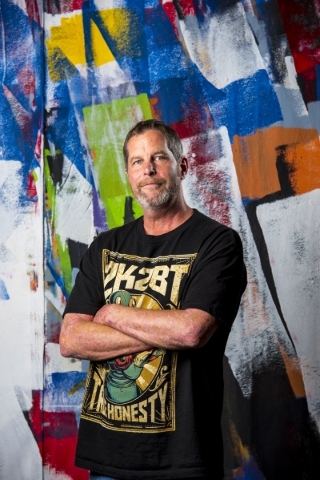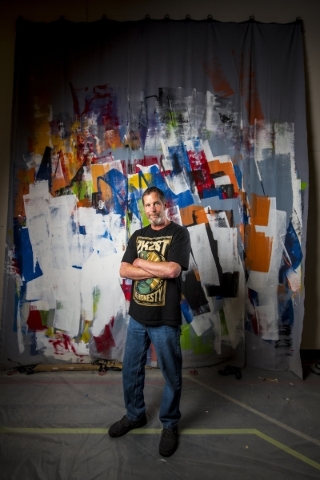 The Ultimate Fighting Championship, owned by Las Vegas casino moguls Frank and Lorenzo Fertitta, is big business — very big. In fact, in 2008 Forbes magazine called it the "Ultimate Cash Machine." And, with its corporate headquarters located in Las Vegas, the trickle-down effect is also boosting the bottom line of some local businesses.
One such benefactor of the UFC cash machine is Larger Than Life Inc., owned by Ken Spencer. In 2001, shortly after the Fertittas bought the UFC franchise, Spencer received a random phone call based on his Yellow Page advertisement. The Fertittas were looking for a local company that could paint corporate sponsorship logos onto the large wrestling mats. Even though Spencer and his staff had never done that type of work before, when the UFC brought a mat over to the Larger Than Life studio, Spencer didn't hesitate to say,"We can definitely do better work than what I am looking at right now."
Until that time, Larger Than Life had specialized in painting murals on the interior and exterior of buildings. One of their first projects was the painting of large retriever type dogs on the side of Big Dog Cafe on North Rancho Drive. Over the years, the firm has painted murals for New York-New York, Planet Hollywood, and the interior of the All Star Café. It also has completed hundreds of murals in schools for the Clark County School District.
Spencer got his start in the business in 1986 as a billboard sign painter and remembers, "I doodled on notebooks a lot in high school, but I wouldn't call it art. In college, I took a couple of art classes but majored in marketing and, at the time, this was not a career that I was even thinking about or considered getting into."
A Las Vegas High School art teacher who knew Spencer came into a store where he was working. Unhappy with his job, Spencer asked the teacher if he knew of anybody that was hiring. "He told me to talk to the art director at Donrey Outdoor Advertising and to tell the guy that that I had experience. In actuality, I didn't but I really wanted a different job, and I picked it up pretty quickly, so it all worked out."
Although to some Spencer's career may seem serendipitous, he has been able to capitalize on his talent for both business and art by taking chances. It was based upon Spencer's word that he could paint cleaner and sharper logos that the UFC gave him the opportunity to produce its next mat.
"At that time, it was a big challenge because we had not done that type of work before on the floor… it is different from painting on a wall. That first mat was a very slow process. It took us five full days to complete that one mat and all of the techniques we used at that time were pretty old fashioned, painstakingly slow, and a laborious process. Over time, we have improved the process to make it much faster, and the logos are sharper and brighter."
Today, he said, it takes about a 1½ days to finish each mat.
Larger Than Life receives blank canvases along with the logo design that contains a large center logo and eight smaller logos outside of a painted octagon stripe. The canvases are either 30- or 20-foot octagons in shape, made from a very heavy material with rings sewn around the edges that allow the material to be tightly stretched. Once received, the Larger Than Life staff stretches the canvas on the floor of the shop to achieve a tight and solid surface upon which to work. The logos and octagon stripes are painted onto the canvas with acrylic paint that can shrink and stretch without cracking or peeling.
Once a canvas is completed with the logo design, it is sent back to the UFC for shipment to one of the many worldwide events. Although the canvas and painted logos are durable, a plus for Larger Than Life is that each mat is used only once due to the unique combinations of sponsors and locations that change for each fight.
Repeat business is assured based on the quality of the work.
"Larger Than Life provides full-color logos and graphics for octagon canvases featured at all UFC events. Since our relationship began over five years ago, canvas production has expanded to our international operations and has increased from 12 per year to over 100. As a Las Vegas-based company, UFC has a history of supporting local businesses. We look forward to continuing our work with local companies as often as possible, " UFC Chief Financial Officer John Mulkey said.