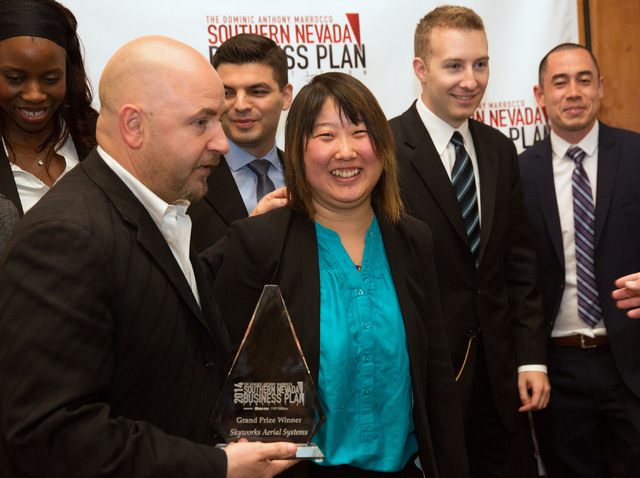 The 2016 Dominic Anthony Marrocco Southern Nevada Business Plan Competition is winding down as 10 semifinalists hand over their full business plan for judges to review and score.
Five will advance to the final round on April 29.
The seventh annual competition is run by the University of Nevada, Las Vegas Center for Entrepreneurship in partnership with the Las Vegas Business Press. It is underwritten by Dominic Anthony Marrocco, an honorary fellow of UNLV's College of Engineering.
The top five scoring plans advance to the finals round, where principals will pitch their business plans to judges for the chance to win a share of cash and prizes to help launch their businesses.
Last year, MovéoMedics, a company consisting of UNLV students and faculty members, took the top prize for SmartOrtho Detect, a shoe insole system that helps diagnose the earliest stages of diabetic foot problems.
The competition started Feb. 26. An original field of 18 teams has been narrowed to 10. The 10 semifinalists are:
• BzBee — An online social networking and business growth tool that lets small and midsized businesses connect and network.
• Collage — A social network, peer-to-peer marketplace, and dating/meet-up service exclusively for students within a single college campus. It will be available as both a mobile application and a website.
• FRP Innovations PyroHalt – A company that developed PyroHalt, a nontoxic, high-performing, fire-resistant polymer treatment that can be applied to any textile or fabric to make people and structures safe from fires.
• Gamification Co. – Software aiming to "gamify" consumer lifestyles. One of its products, "Battle Pig," is a health and fitness mobile app that has users track their heart rates to level-up a pig avatar to battle friends' pigs. The company plans to develop consumer fitness/health, education and recreation software while integrating wearable tech and other technologies.
• Happy Hour Selfie Studio — A self-service photo studio that lets consumers take professional photos of themselves with their family and friends. Customers pay an hourly fee to use one of the studios that will include an adjustable backdrop, lighting and a professional camera operated by remote control.
• Higher Ground Produce — Sims to bring premium local produce to Las Vegas.
• OmniaLV — A nocturnal amusement park that hopes to make Las Vegas the roller coaster capital of the world.
• UltimateVeganChallenge.com — An online tool that will guide participants through transitioning to a fully plant-based lifestyle or veganism. The 90- to 120-day online program will feature a motivational speaker, professional nutritionists, personal trainers and vegan chefs. Participants will be able to track their progress by following a specially designed calendar in which they will adhere to their daily diet, educational activities and webinar schedule.
• Trapped &Tapped – An interactive entertainment experience involving a highly themed, multivenue escape room and a linked lounge bar experience to continue the fun afterward.
• Wi-Locate — A wireless system that connects one's home or business router to designated items. The user plugs the Wi-Locate Gateway into their router, attaches Wi-Locate tags to items they want to find in the future, and syncs those tags to the Wi-Locate Gateway.
Of the 10 semifinalist teams, BzBee, Collage, FRP Innovations, Gamification Company and UltimateVeganChallenge.com consist of UNLV students, while OmniaLV, Wi-Locate and Trapped &Tapped are past finalists and UNLV alumni.
The top five finalists will present a one-minute elevator pitch on April 29 at a gala at the UNLV Foundations Building before a grand prize winner is announced.
For more information on the competition, visit www.snbpc.com.