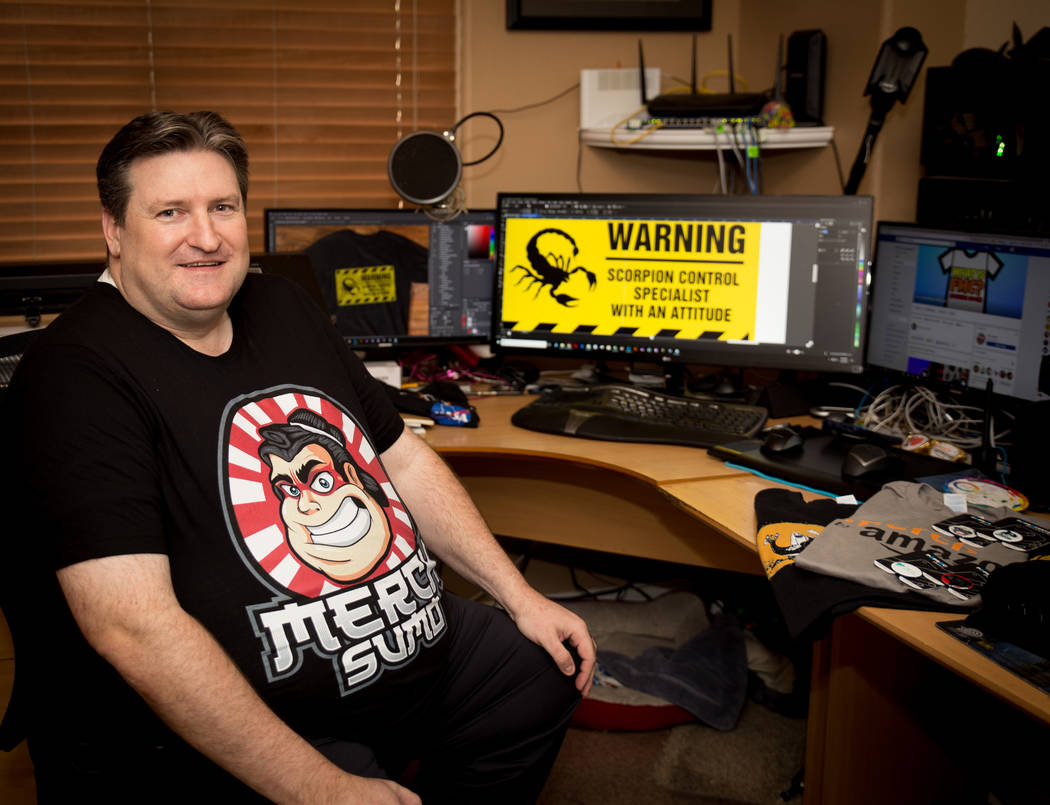 Las Vegas resident Ken Reil's success with Merch by Amazon, a print-on-demand website, was completely unexpected.
"It has absolutely been life-changing for our family," Reil said. "It has blown up into something we would never have imagined."
Currently, averaging $8,000 a month, Reil's T-shirt sales he has designed have exceeded 45,000 since the fall of 2015, generating more than $25,000 in royalties.
"Merch has taken us to almost the point of being debt-free," Reil said. "At 47, that is a good position to be in."
Launched in 2015 in the app store, Merch by Amazon started as a service for developers to monetize their apps through branded product sales.
"We noticed that many app developers have a few things in common: fan base, creativity and design skills and no natural path to get their branded merch in the hands of their fans," said Miguel Roque, director of Merch by Amazon.
"With that in mind, we developed Merch by Amazon to help developers increase revenue through the sale of branded merchandise by them; and produced, sold and shipped by Amazon."
After the initial launch, Roque said they re-evaluated customer and seller expectations. The result was a refined process and infrastructure requirements. From there, Merch evolved into an invitation-only website where approved designers upload their artwork, choose a product, color, set prices and add a product description.
"When you can unlock creativity without resource constraints this becomes a new paradigm," Roque said. "Designers can craft selection without the limitations of making and holding product. The output of this is more creativity, that not only empowers the designer but also the customer in their choices."
With Amazon.com as the sales portal, Amazon creates the product page, handles the production after the sale, ships the merchandise and provides customer service without the designer having to manage inventory. There are no upfront costs or investment by the designer.
"Now, we have one of the largest print-on-demand services worldwide," Roque said. "And for the first time ever there is a place where a brand can come and launch a product in minutes and have it fulfilled to a customer in days."
Reil learned about Merch from a business review article shortly after it launched. He had been dabbling with selling his T-shirt designs on other websites so thought he'd give Merch a try.
It wasn't as easy as he thought. It took him 30 days to upload his first design.
He almost gave up until a Merch rep suggested checking his pixels. His first design was 4500-by-5401 pixels, one pixel over Merch's required 4500-by-5400 pixels.
"If that person from Merch hadn't sent me an email, Merch would have been lost in the rearview mirror," Reil said. "I wouldn't have given it another thought."
Once the design was uploaded, Reil didn't give Merch another thought until he discovered a deposit of $17.78 into his account one month later.
"I was wondering why Amazon paid me," Reil said, about his deposit. "Wait, it's this Merch thing. I sold a shirt."
The next month he earned $26 so he decided to upload a few more designs. The third month he earned $195. When he earned $537 one month later, Reil started to take Merch seriously.
"In March 2016, we were trying to get out of the crash of Vegas," Reil said, about his family's struggling financial position. "And that was a bunch of money at that point."
Reil quickly uploaded more designs and in December 2016, he earned almost $24,000. Today, he has over 7,500 products listed and has had as high as 10,000 listed on the website.
"Merch by Amazon provides something very empowering for customers and sellers," Roque said. "It's also incredibly fun to be a part of building this business, be a seller or for customer who receives our products."
Reil's success gave him the ability to pursue Merch full time a year after selling his first shirt. A self-taught designer, he had been managing Magnetsigns, a portable and mobile sign rental franchise, after he moved to Vegas from Alberta Canada in 2004.
"I had a lot of computer experience," Reil said about being self-taught. "I learned all the design techniques and all I had to do was transfer the mindset over to a T-shirt."
In 2006, he trained with Solar Graphics, and also offered decorative window tint. Prior to that he managed a Canadian hazardous waste recycling facility for 12 years.
Reil immersed himself into the Merch world, learning all he could and has developed invaluable connections with other "Merchers."
"Merch feels like a hobby," Reil said, who creates designs about things he is interested in. "I could spend 80 hours a week on Merch. I'm really having a blast."
Recently, he along with two Merch associates, developed Merch Dojo, a video training course to help content creators.
"It gives participants all the tools they need to start, build and see success in the print-on-demand business," Reil said, wearing a Merch Dojo T-shirt. "We took all the knowledge we have gained in building our businesses and focused it on this course."
The four-week course costs $600. A private monthly subscription group called the Dojo Blackbelts is $67 a month. There are currently 340 Dojos.
"We give additional training, ongoing webinars, help, tips and advice to participants over and above the course content," Reil said about Dojo Blackbelt group. "If they are a Dojo, I'll respond to them right away."
Reil also offers individual consulting services. A 30-minute session costs $100. His experience has earned him the privilege of touring a Merch facility in Plano, Texas, earlier this year and hosting a private Merch content creators conference in Seattle, Washington, in fall 2017.
"I have had the opportunity to meet with (Merch staff) a couple of times and have been invited to participate in ongoing beta tests," Reil said about his relationship with Merch.
The tremendous success created a vehicle to teach his three children about entrepreneurship and earning a passive income. His 17-year son, Brett, was the first to sign up for an account. Since November, 2016, he has earned more than $5,000.
"It makes all the success from Merch secondary," Reil said. "To what your kids are learning and what they are able to do and earn. It has broaden their horizons."
Reil's wife, Janalyn, who works full time as a dental hygienist decided to get in on the business and start her own account last July. His daughter, Brooklyn, a 19-year-old student at Brigham Young University is earning money for her college education. his youngest, 13-year-old Jake has saved more than $1,500 with his designs.
"I thought it was cool having a shirt make money. It inspired me to do more," Jake said. "I learned the more work you put into it the more you'll get out of it."