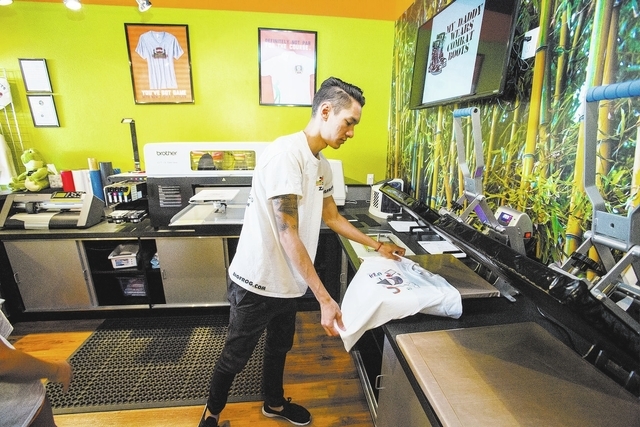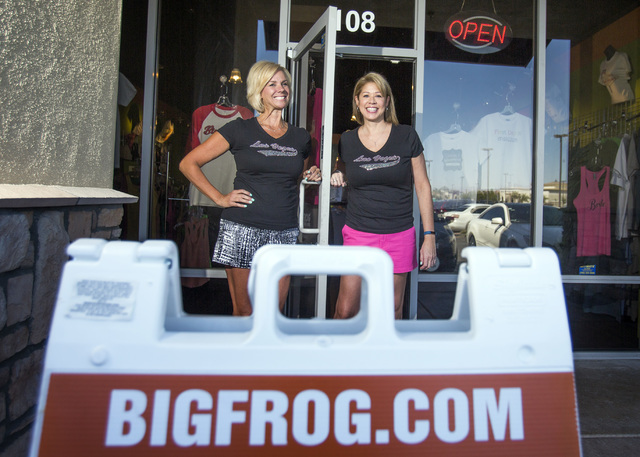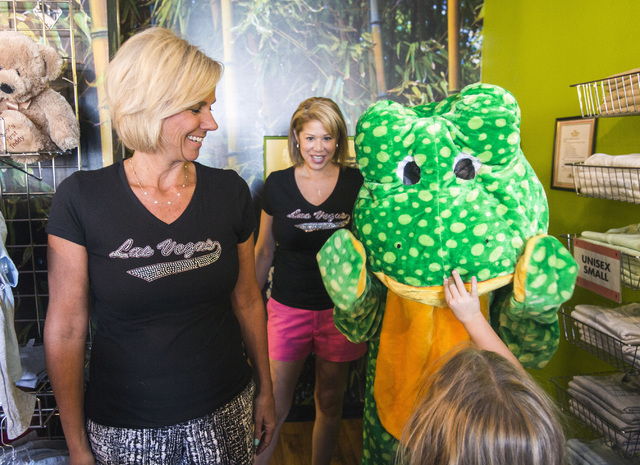 When Robyn Brewington and Lisa Hughes met two years ago at a Las Vegas-based large format printing company that Hughes' family owned, the pair realized they shared a similar desire to be small business owners.
Brewington felt her financial services background combined with Hughes' expertise in print was a recipe for success.
"We both had strengths in specific areas," Brewington said. "Lisa had an accounting degree and mine was in sales and marketing so it was a perfect business marriage."
The duo set out to find a franchise that would play up their strengths and found Dunedin, Florida-based Big Frog, a company that specializes in full color, printed custom apparel.
"We looked at multiple franchises and there wasn't a Big Frog location in Las Vegas so we jumped on it," Brewington said.
Big Frog's 72nd location opened June 15 at Southern Highlands Marketplace at 10660 Southern Highlands Parkway.
Brewington, a Southern Highlands resident, wanted to open Big Frog in her neighborhood.
"We knew exactly where we wanted the store to be," she said. "I knew the sense of community here and I told the franchise group this is where we want to go and they suggested we look at multiple locations but we said, 'no, this is it,' and it's worked out great."
The process to launch Big Frog included training and a trip to their headquarters for Brewington and Hughes to familiarize themselves with the brand.
"We did six to seven online training tutorials and spent a week in Florida where we were trained on everything from sales to operations," Brewington said. "They also sent someone out here the week before we opened so there was a lot of support, assistance and training."
In the two months since their store, Big Frog Custom T-Shirts &More, made its Las Vegas debut, Brewington and Hughes said their client list continues to grow each day.
"We have an incredible client list from a professional fisherman to a coffee entrepreneur," Brewington said. "July was the first full month that we've been open and we know a lot of people leave town that month but the response has been really, really good."
When a customer walks into Big Frog, they're greeted and given a tour of the 1,500-square-foot store so they can understand the printing process and work with a designer who uses the customer's artwork or develops customized artwork on the computer.
"We print on anything flat so aside from T-shirts we have shorts, aprons, bibs, pants, sweatshirts, jackets, socks, towels, onesies — anything you can think of really," Brewington said. "We bring their ideas to life and it becomes their own brand and a way for them to get the message of their brand out. People take that very personally and we love that they trust us to do it."
After the June 12 shooting in an Orlando, Florida nightclub, which left 49 people dead, Brewington and Hughes made "We Are Orlando" shirts to hand out.
"We had people write us thank you cards and the response was incredible," Brewington said. "We had no idea that in this business we could do something so personal."
In the future, the duo wants to continue to expand its client base and expand Big Frog's footprint in Las Vegas.
"We have financial benchmarks that we want to achieve in the next 12 to 18 months in order to expand," Brewington said. "There's a great need for Big Frog in Las Vegas and people typically shop where they live or work so we want to make sure we're giving that experience to multiple corners of the valley."
They'd also like to expand the product line as demands increase.
"Our hopes are that we're the go-to for customized garment apparel," Brewington said. "We'd like to see our T-shirts on every person in the Las Vegas community."