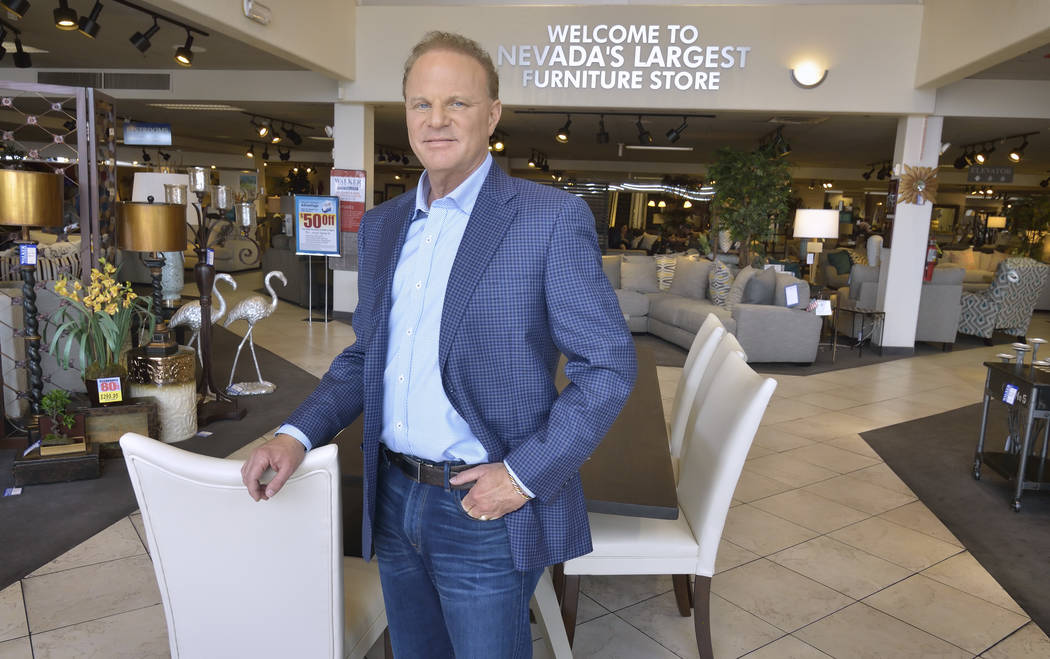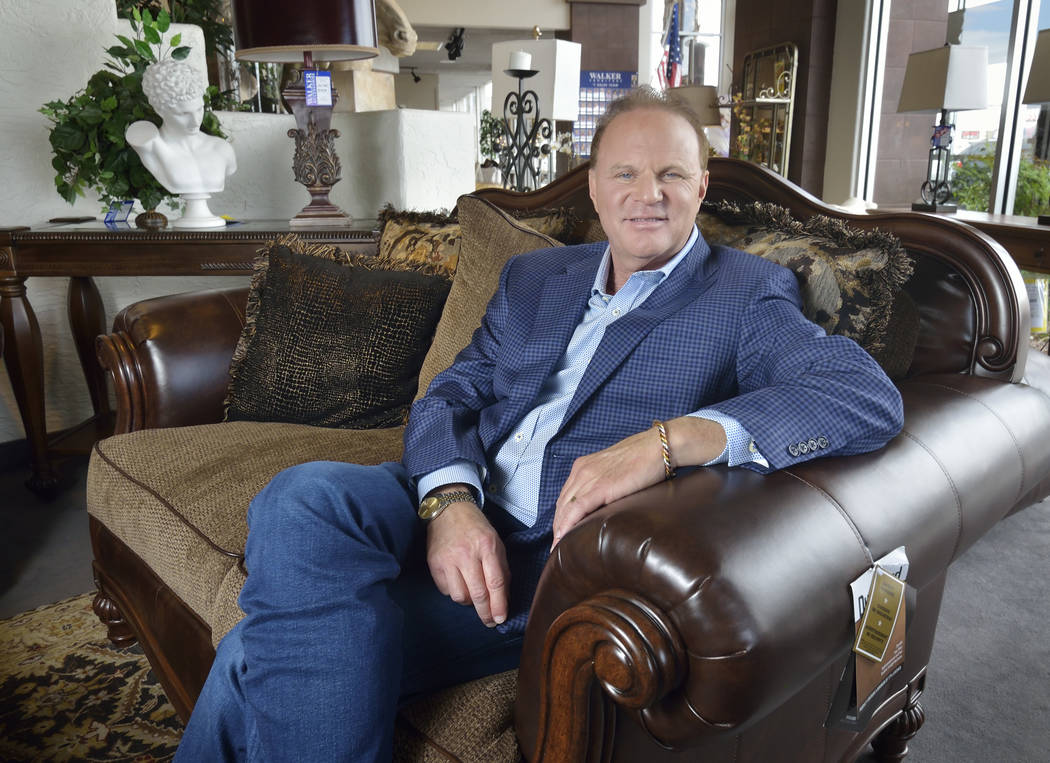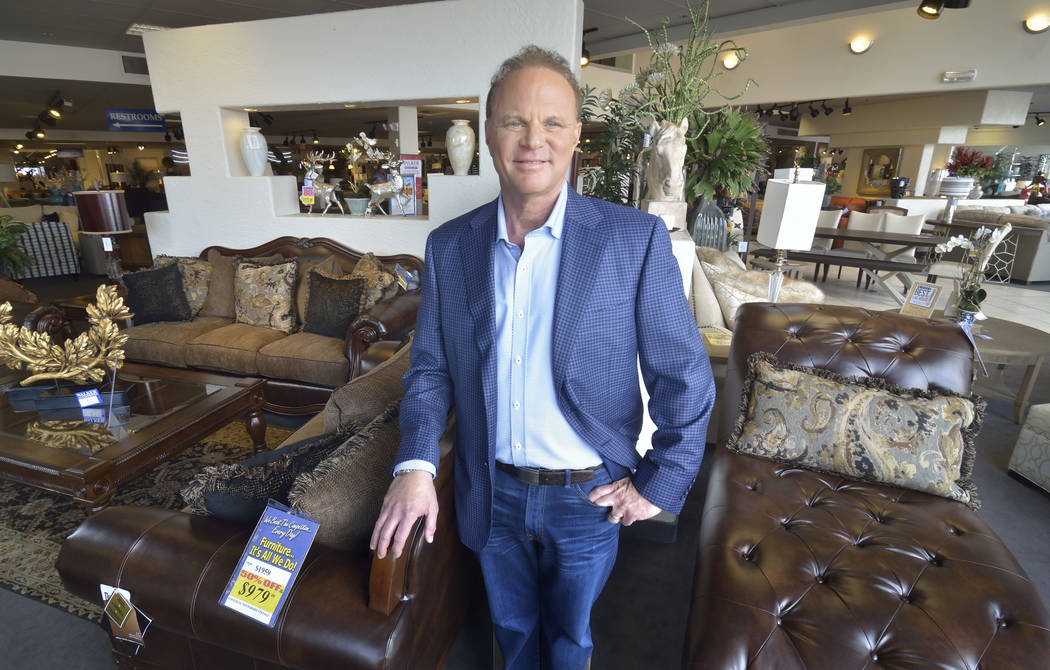 In a reflection of the continued recovery of the Las Vegas housing market, Walker Furniture has acquired 14 acres adjacent to IKEA to open a second superstore in the valley.
Construction is expected to start by the end of the summer on the 150,000-square-foot store that's expected to open by the third quarter of 2018. The property will have pad sites for leasing 50,000 square feet for furniture-related retail outlets and restaurants.
Walker closed escrow March 16 on the 14 acres in the southwest valley off the 215 Beltway and Sunset Road west of IKEA for about $15 million, according to Larry Alterwitz, CEO of Walker Furniture.
Founded in 1955, Walker Furniture has 170,000 square feet in three buildings at 301 S. Martin Luther King Blvd. in downtown Las Vegas.
"For the last 15 years, I have been hearing from customers from Henderson and the outskirts of the valley on 'why don't you put another location closer to us,' " Alterwitz said. "It seems right now the city is right for it, and that's why we're doing it. We feel with our two locations that we will have perfect coverage and convenience to the whole city."
While Walker Furniture has been in business for more than 60 years, it has been at its current location for 55 years, Alterwitz said. His father, Oscar Alterwitz, moved to Las Vegas from Northern Indiana in 1973 to acquire the business along with his brothers-in-law.
His late father started working in the industry in the late 1950s and opened furniture stores in Northern Indiana near Chicago under the name United Factory Furniture, which serves as Walker's corporate name today. He saw the opportunity that existed in Las Vegas and purchased the business, Alterwitz said of his father.
In its existing campus, Walker has a 129,000-square-foot main showroom and 30,000-square-foot value center for more affordable furniture. Walker also has a 429,000-square-foot warehouse on Cheyenne Avenue in the northeast valley with a showroom for clearance items, Alterwitz said. Plans call for remodeling the downtown store, but there's no timetable.
The one-store location could serve the entire city, but with the population above 2 million and development continuing beyond the Beltway, Alterwitz said it was time to expand for the convenience of customers.
"During the depths of the recession nobody was building at that time, and we were helped by our location in the center of the city that could draw people from Henderson and Centennial that could come down to us."
Before the recession, Walker had $60 million a year in sales, but that was cut in half with the downturn in the housing market and economy, Alterwitz said. Walker had as many as 315 employees, but that number was cut by about 15 percent during the recession.
"It was very difficult for us, like everybody else," Alterwitz said. "When business gets sliced in half, you have to make some quick adjustments and make the right business decisions, pray hard and do the right plans so you make it through."
Walker has about 300 employees today, and Alterwitz said the opening of a second store is likely to add about 150 employees to the company. It's also a family business with his brother Daryl, a developer and attorney overseeing the development. Their sister, Linda Mizrahi, handles accessories for the company and community outreach.
The new store will have 100,000 square feet on the first floor and 50,000 square feet on the second floor, Alterwitz said. No leases have been signed for the five pad sites totaling 50,000 square feet, but those stores could be flooring, window coverings and other businesses that would create synergy with a furniture store, he said. Having IKEA next door is a plus for Walker Furniture, he said.
"It's not a matter of feeding off them," Alterwitz said. "We will be great neighbors for them. When we bought the land, the owners said IKEA told them it would be good to sell it to a furniture store."
The seller is an entity called SDSW 2 LLC — a company affiliated with locally based MJ Dean Construction. MJ Dean, which sold 26 acres to IKEA for $21.3 million in December 2014, acquired the property out of default in 2010 for $18 million. The site was known as The Curve for a high-density condominium and business park development that never went forward because of the recession, according to Brian Gordon, a principal with research firm Applied Analysis.
In addition to property sold to IKEA and Walker Furniture, six acres of the site were retained by the owner, and their plans call for a Cambria-branded hotel and other retail amenities, Daryl Alterwitz said.
As for the competition, Larry Alterwitz said IKEA sells ready-to-assemble furniture and serves a younger demographic than Walker, that's a value-oriented retailer.
When a second store opens, Alterwitz said it's not unusual business "dips a little bit" for the first six months because of cannibalization. Eventually, it will grow as part of the Southern Nevada economic recovery, he said.
"It says that we're really on the mend," Alterwitz said of the economy. "From the reports I get, we haven't totally recovered, but we're so close. It's exciting to see the new rooftops being built, the new construction and new construction jobs and increase in population. I'm very excited about the Las Vegas economy."
Alterwitz said not only is he excited about this next step of growth for Walker Furniture but employees are as well. He said it's amazing that one showroom has been such a "strong engine" that has brought people from all over the valley for the past 55 years.