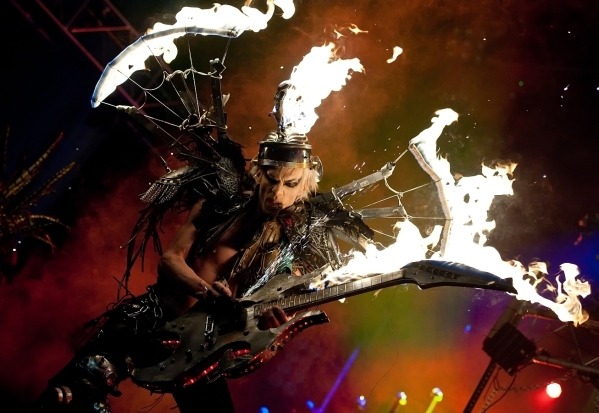 Trick or Treat has turned into "Debit, Credit or Cash" as the Halloween party scene continues to grow.
And when Halloween falls on a weekend, local businesses profit.
"Las Vegas is going to be a madhouse this year, and we are adding so many more events a year, it is becoming like New Year's Eve," says Kerry Schatz, president and chief executive officer of Great White Entertainment. "My prediction is that in a couple of years, Halloween in Las Vegas will get to the point where it blows New Year's Eve off the block."
At the heart of the phenomenon is a change in the way society views Halloween.
Back in 1985, people used land lines for home phone service, took pictures with a separate cameras and Halloween was for children.
In a society that has become more and more obsessed with youth, the one holiday the young used to own has been repossessed by the grown-ups.
"For most of us, Halloween is our first taste of excitement and freedom as children, so it has a unique appeal as a holiday," says Cait Russell, content director of the site VegasHauntedHouses.com.
That yearning for nostalgia, combined with the care-free, impromptu Halloweens of decades past being obsolete in today's society, is another reason the adult demographic has taken over this holiday.
And that means big money in Las Vegas.
"Halloween now is a grown-up event because many of the freedoms have been taken away from the children," says Schatz, whose Great White Entertainment stages the Las Vegas Fetish and Fantasy Ball, one of the city's longest-running Halloween traditions. "All of us who grew up in the 'good ol' days' are now enjoying Halloween as adults. This is our 20th year of having the party and as the demand has increased over time, we have to keep getting larger venues."
A decade of demand
In 2005, there were only a handful of large nightclubs on the Strip and fewer than a dozen major parties to go to on Halloween. Now, with the introduction of mega nightclub and the fast integration and reintroduction of "ultra" lounges on the Strip, there will be more than two dozen major Halloween parties this year.
Among the notable parties are the Night of the Killer Costumers at the Ghostbar and Rain in Palms and the Halloween Costume Contest at Surrender Nightclub at the Wynn.
The economic impact of the holiday reaches everyone from hotels to local vendors and contractors, including print shops, bakeries and tailors. This is a special year because, for the second straight year, Halloween falls on a weekend, which means millions of dollars more will flow into Las Vegas.
Schatz's Fetish and Fantasy Ball has seen a need for more space to service a growing list of guests. In turn, that's produced a positive economic ripple from more vendor booths and larger corporate sponsorships.
It also means more staff to hire.
"We are hiring people for staging, lighting and sound," says Schatz of the 2015 event, returning to its longtime location at Hard Rock Hotel & Casino. "We have 22 booths for vendors, which gives us an even larger economic impact since about 75 percent of the vendors come from out-of-state so they are spending money and contributing to all of the tourist revenue streams, too."
The capacity for the Fetish and Fantasy Ball event is 7,500, allowing it to have a similar type of economic impact as the music festivals that are so much in vogue as revenue generators in Las Vegas and across the country.
"A large part of continuing to see an increase in demand is bringing different types of acts and entertainment, because the stakes are higher every year," says Schatz. "We are the last venue that can still do fire acts indoors, and we keep doing it because our audience loves it and that is what they have come to expect from us."
Fewer haunted houses
One type of party that has significantly decreased is the haunted house, a longtime Halloween tradition in both urban and rural communities. Stricter safety regulations have reduced the number of haunted houses, but not the demand to visit them.
"We currently have 15 Las Vegas haunted houses listed on our website, and the closer we get to Halloween, the more we will continue to add," says Russell, whose company also operates NevadaHauntedHouses.com. "Since we launched in 2010, we grew a fast reputation for being the leading resource to find out about all haunted houses, for both adults and children."
Daytime family-themed attractions can be quickly transformed into nighttime adults-only haunted houses, which is why successful haunted houses can be lucrative for operators.
"There are some serious scenes at these haunted houses because everyone is competing with each other to be bigger and scarier than the next one," says Russell.
The dwindling number of haunted houses disappoints Schatz, who believes that more efficient regulations from the fire department, instead of more stringent laws, would allow more haunted houses to be in operation, and lead to an even larger economic impact in Las Vegas during Halloween.
"The whole system needs to be reanalyzed because I think there is some real opportunity there and ways to restructure regulations so it remains safe," says Schatz. "Right now many of the haunted houses are pushed out to North Las Vegas and past county lines so many tourists, and their dollars, are missing the experience."
Those experience includes popular haunted houses such as Project X and the Trilogy of Terror.
Like the Fetish and Fantasy Ball, Halloween being on a Saturday will have a positive economic impact on haunted houses in the tens of thousands of dollars, if not more.
"Because Las Vegas has so much nightlife, people get prepared for Hallowed early," says Russell. "Our site is mobile friendly because many tourists like to hop between haunted houses, and the Halloween season continues to get longer each year."
The take on 2015
For 2015, Schatz and the Fetish and Fantasy Ball have even more eyes on it because it is the 20th year anniversary party. This year's party features two DJs with histories in Las Vegas — Donald Glaude and DJ Skribble. The event will take place inside The Joint, the two attached ballrooms, the Vinyl nightclub and all of the connecting hallways.
"We compete against the same people every year and there are also always newcomers to the Las Vegas Halloween market," says Schatz. "We are like the Rose Bowl, the granddaddy of them all, and we are still very dialed in to what our guests want with their Halloween experience."
It is an experience that had to be modified over the years to satisfy a growing female client base.
"We pride ourselves that we have a little bit of something for everybody," says Schatz. "We have a reputation of being spicier than the rest but in reality we are all working within the same laws. Now our reputations is about the sights, the sounds and the business we are able to bring to Las Vegas."
While Halloween has taken on a life of its own in the gay community — Halloween has been the biggest event in San Francisco for years — Las Vegas parties cater to a broader spectrum, seemingly offering a party for every taste.
Despite all the economic positives this year, hotel room prices are down from 2014 and bookings are not extraordinary.
The theory is that between the Columbus Day holiday weekend and the Life is Beautiful event the weekend before Halloween, there is a bit of consumer fatigue, particularly among millennials. In comparison, room prices for Veteran's Day weekend are about 20 percent more expensive than Halloween at this point. Life is Beautiful didn't even exist the last time Halloween was on a Saturday.