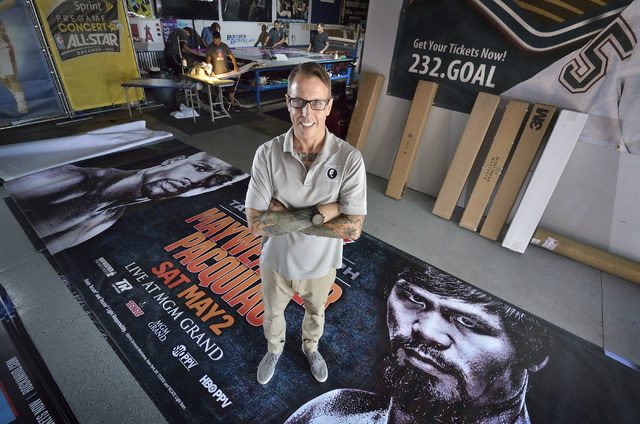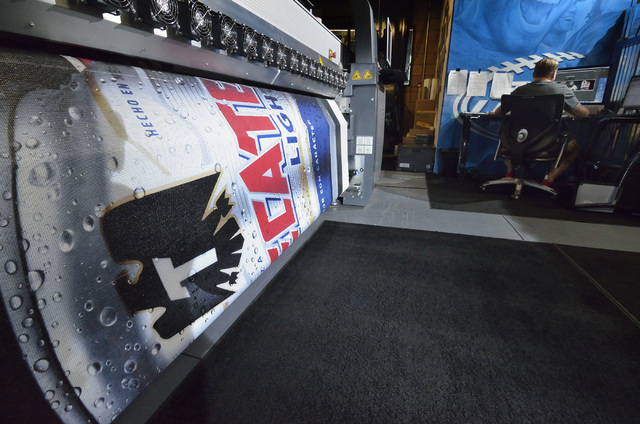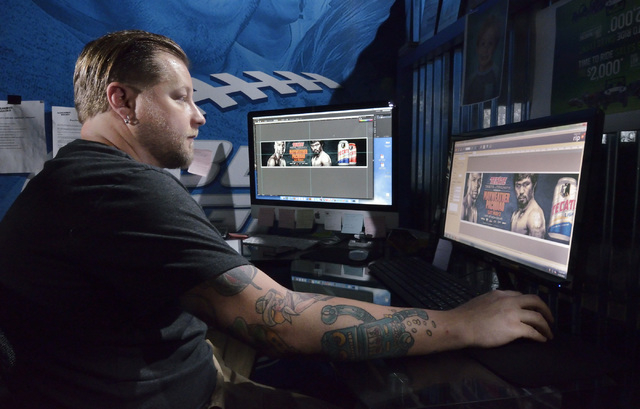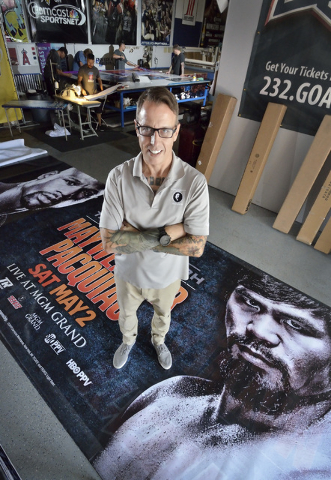 Floyd Mayweather and Manny Pacquiao aren't the only ones gearing up for the May 2 fight at the MGM Grand Garden arena.
James Swanson and his team at Henderson-based Screaming Images, a graphic design and installation firm, are working around the clock to print more than 100 signs and building wraps to be displayed throughout the MGM Grand for the main event.
The largest building wrap on MGM's south tower is 188 feet tall and 44 feet wide.
Panels for the building wrap take two days to print on material that's 5 feet wide, according to Swanson. It takes one day for trimming and labeling, and another two days for a Screaming Images installer to carefully connect and adhere the panels to the building.
Swanson and his in-house staff of five are working 12-hour shifts including weekends this month to ensure everything is ready to go.
"I bought a new printer specifically for this month because it's so busy," Swanson said. "So far MGM has sent me most of the designs, but there's still a lot of work that has to be done on our end."
The first thing Screaming Images staff must do is check the resolution and size of the image before they enlarge it to the desired size and print a swatch to make sure the graphic will appear at optimal quality.
Once that's complete, Swanson said the image is sent to a raster image processor, which takes the image from the computer and computes it into language the printer can understand.
"I've been in the trade for 28 years so I can find a way to do just about anything," he said.
The Mayweather vs. Pacquiao fight isn't Swanson's first time in the ring.
Screaming Images has done work for the Ultimate Fighting Championship and other professional sports such as baseball, football and basketball.
"Most of the time when I'm doing sports-related installations, they'll let me get right down in the action," he said. "It makes your job a lot more fun when you're doing something you like."
Swanson opened his company in 2002 and moved it from Los Angeles to Las Vegas three years later.
"I moved out here because Nevada is a good state for small businesses and taxwise it was a good move," he said. "I also travel a lot for business and McCarran is good airport for traveling."
After the champion is declared May 2, Screaming Images still won't be able to come up for air.
The music festival season will keep the company busy through the end of the summer, according to Swanson.
"We stay consistently busy," he said. "We're going to start splitting shifts into two so we'll be working 24 hours a day."
In the future, Swanson said although he'd like to increase his company by at least 20 percent, he's not looking to leave the Henderson area or add a lot of new employees.
"My plan is to keep it small because if it gets bigger, it'll compromise the level of customer service I can give my costumers," he said. "Also, all of my employees are my friends and I know their wives and kids. I want to preserve those relationships so everyone feels like they're part of a team."
For more information, visit www.screamingimages.net or email james@screamingimages.net.