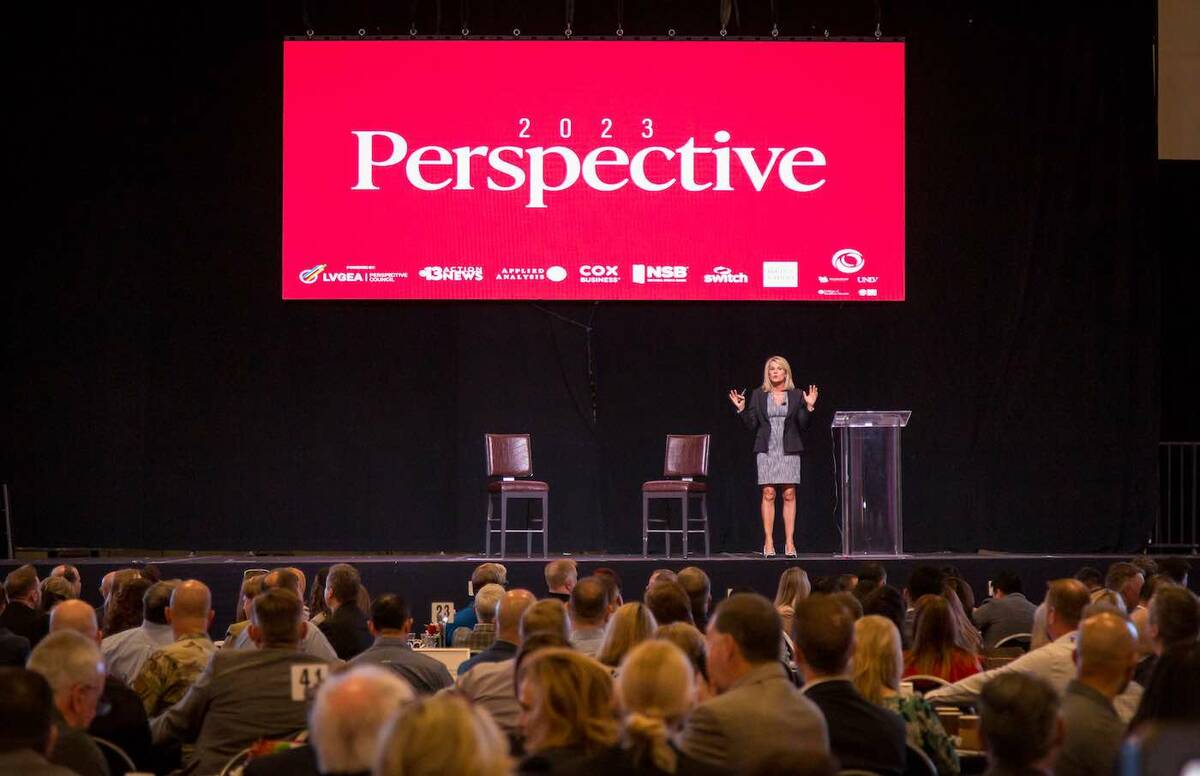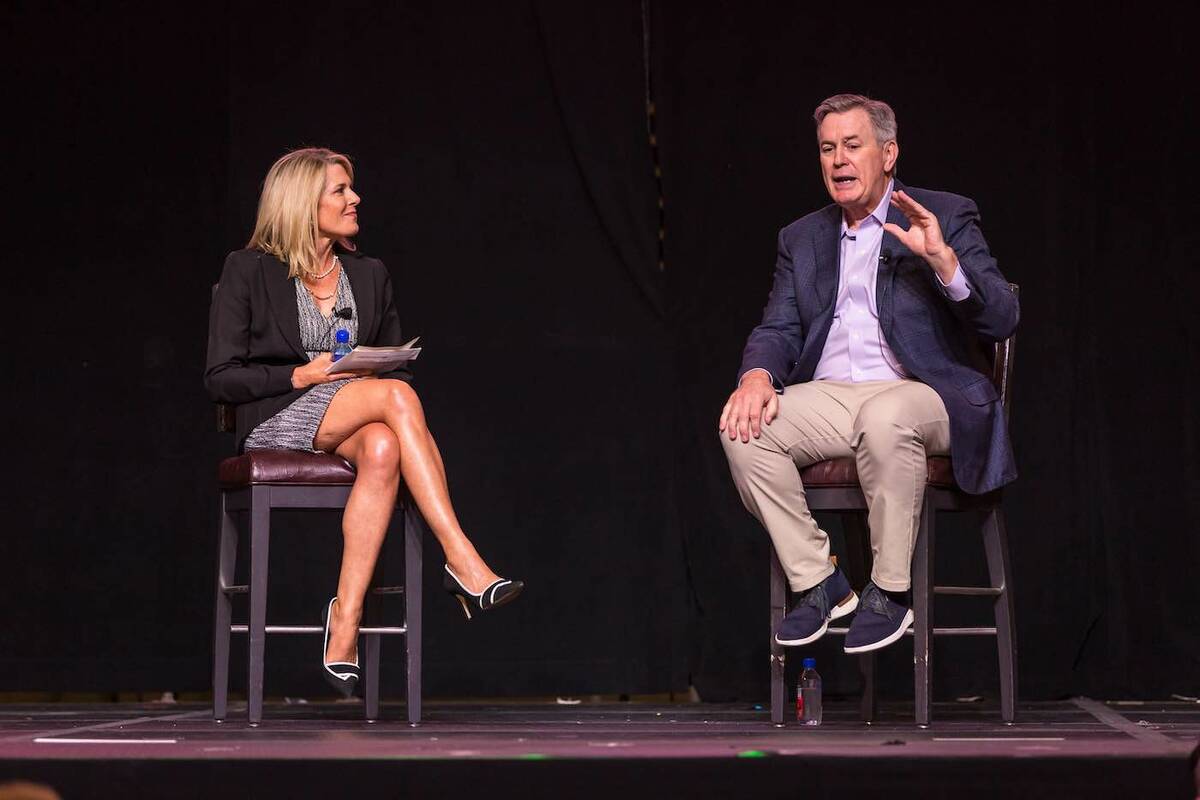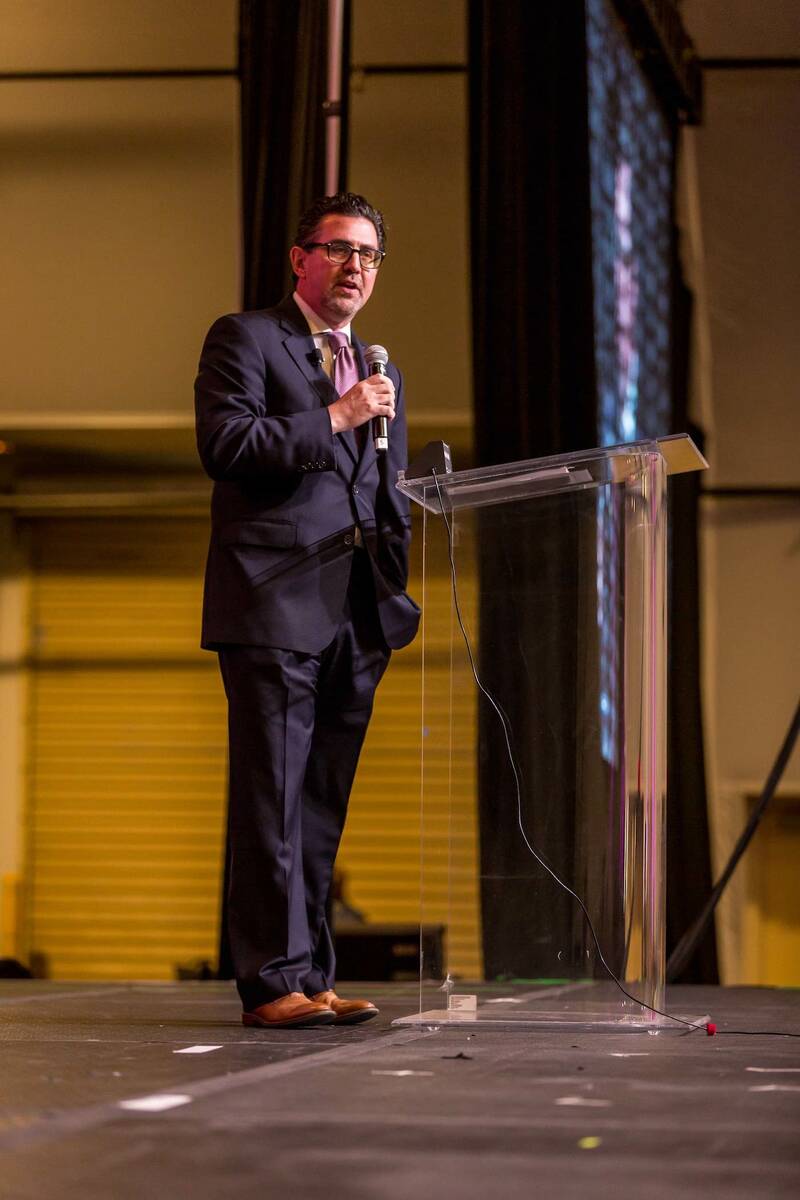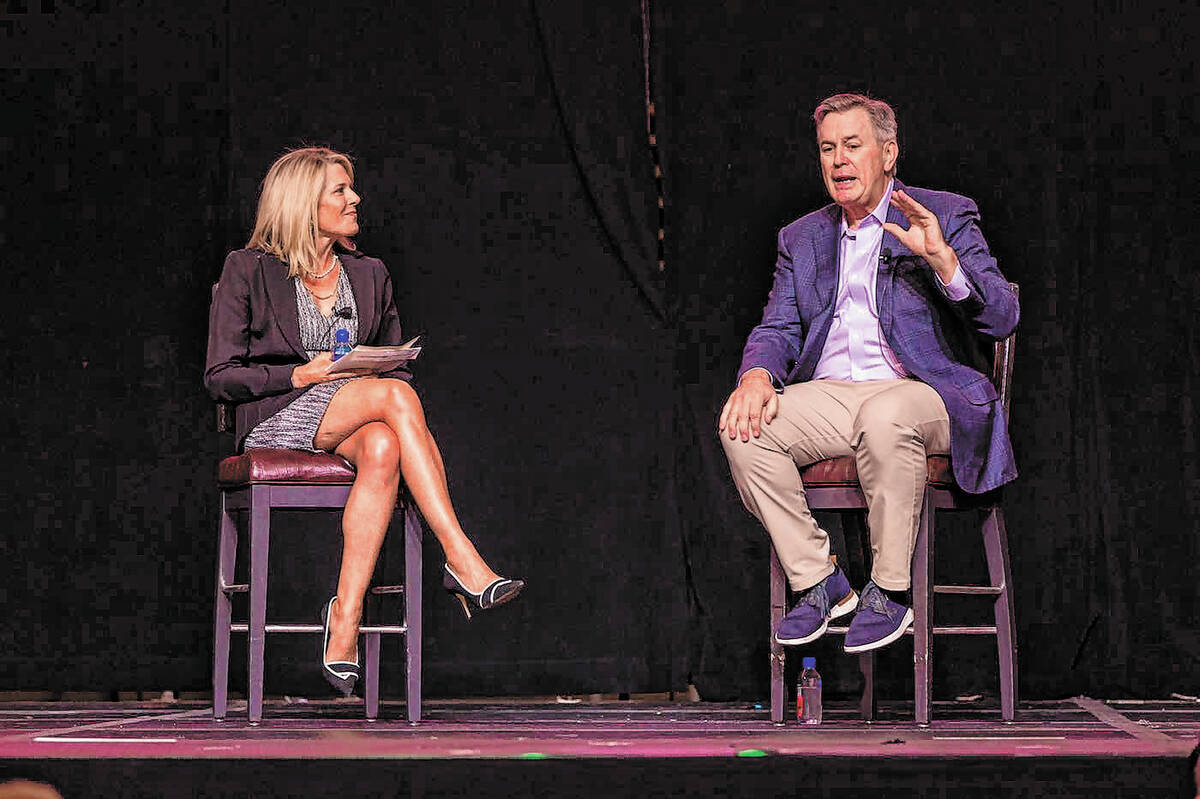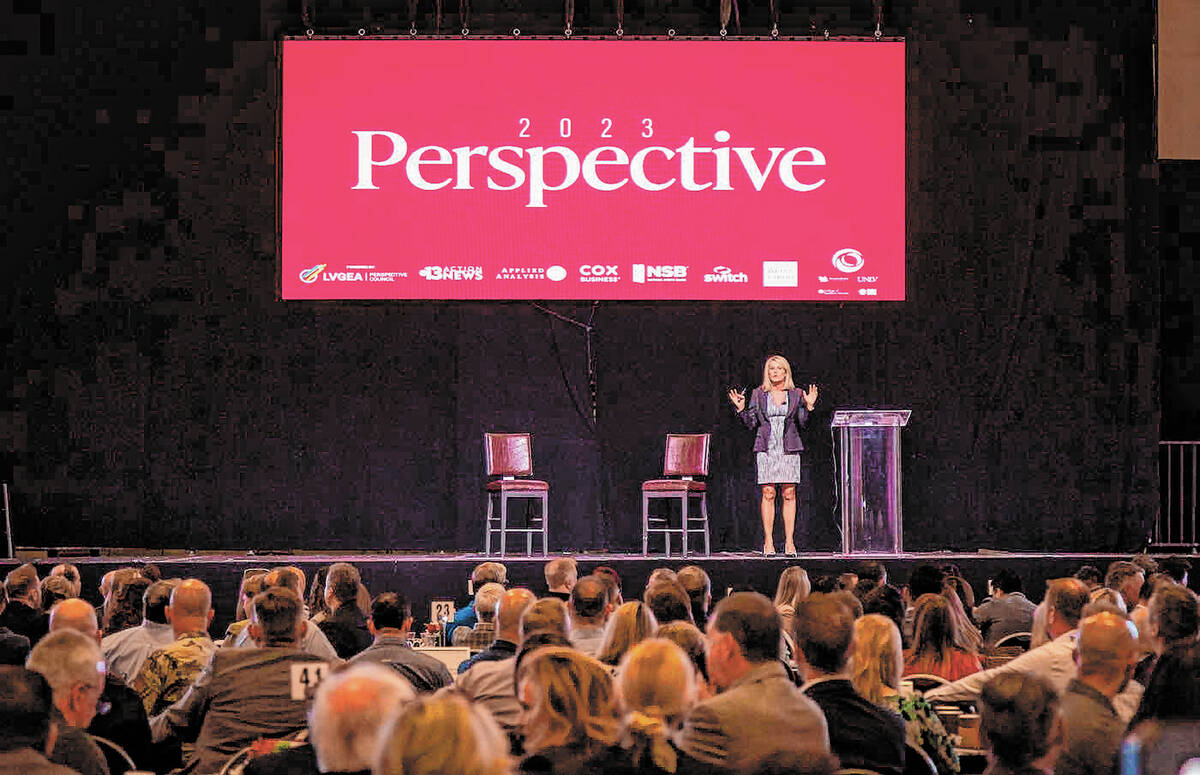 Last week, more than 850 people attended the 43rd annual Las Vegas Perspective event at the M Resort in Henderson, the most attended in-person event in the history of the Las Vegas Global Economic Alliance.
LVGEA President and CEO Tina Quigley said it's time for the community to view itself through a new perspective.
Nevada leads the nation in employment growth at 4.1 percent, and there is $32.3 billion in development projects underway. In addition, there are 135 new residents moving to Southern Nevada on a daily basis.
"Economic development is a competitive sport, especially within the Southwest," Quigley said. "And much like a sports team, it's important that we not only believe in ourselves, but share winning data showcasing how desirable the greater Vegas region is for business and industry."
Last week also turned out to be momentous in Las Vegas sports history and for future economic development along the Las Vegas Boulevard corridor that's also likely to include an NBA arena and casino resort with its own entertainment district south of the Strip valued at $10 billion.
The Vegas Golden Knights winning the NHL's Stanley Cup on Tuesday was followed Wednesday when the Nevada Assembly and Senate signed off on $380 million in funding (later signed by Gov. Joe Lombardo) for a 30,000-seat, $1.5 billion domed stadium on 9 acres on the Tropicana Las Vegas site to accommodate the relocation of the Oakland A's.
The A's may make the Las Vegas Ballpark in Summerlin their home in the 2025 through 2027 seasons before the new stadium is completed.
It could even trigger redevelopment at the Strip and Tropicana Avenue intersection, starting with the demolition of the Tropicana Las Vegas. The rest of the 26 acres next to the stadium is expected to feature a new casino resort built by Bally's Corp.
Redevelopment may not stop there. Wall Street analysts and other observers have suggested it could spur MGM Resorts International to demolish and rebuild the Excalibur and possibly the adjacent Luxor.
Construction on that $10 billion project is expected to start next year. It will be located four miles to the south along Las Vegas Boulevard near Blue Diamond Road. It will include a $1 billion NBA-ready arena and an entertainment district, which will include a casino resort and retail.
Las Vegas business leaders got their first detailed look at that project Thursday at the Las Vegas Perspective event. Former president of AEG, which built T-Mobile Arena in Las Vegas and the Staples Center in Los Angeles, Tim Leiweke, chairman and CEO of the Oak View Group, a sports entertainment venue development, advisory and investment firm, said he and his team know the Las Vegas market well and shot down any naysayers of the privately funded project.
"We have not been before you in a group like this by choice," Leiweke said. "We don't talk about what we are up to a lot. I'm not out trying to raise money. There's no need to wind people up. I believe you ultimately find a vision. You forge a partnership with Clark County. I am hugely impressed with Clark County. I have built 20-plus arenas in the world. It is rare that you find a public-private partnership that's smart, intelligent and driven as Clark County. It helps when you walk into the room and say to them 'I do not need your money.' "
Leiweke said the project is going through the entitlement process with Clark County, which he said they hope to complete by the end of this year to be able to break ground in 2024. As far as attracting an NBA expansion franchise, he said he doesn't want to get ahead of NBA Commissioner Adam Silver in seeking that for a 20,000-seat arena but added he has partners ready to go in acquiring a franchise.
"It's up to the NBA to make a decision on expansion," Leiweke said. "We're very careful to make any statements."
Leiweke said if you have a vision, it's important to fight for it every day, and they are doing that with this project.
There were seven arenas built around the world during the COVID-19 pandemic, and Oak View did all of them, he said.
"If you step back and look at the world, Las Vegas is the No. 1 live entertainment market in the world," Leiweke said. "If you take Crypto.com (arena in Las Angeles) or Madison Square Garden and combine those two on music, you as a community do four times as much on music. You have residencies, theaters and festivals."
T-Mobile is one of the busiest venues in the world, as is the MGM Grand Garden arena, Leiweke said. When there are 40-million plus visitors a year to Las Vegas and when you are the music capital of the world and have success with the Raiders, Knights and possible baseball, it's easy to have a vision that rivals Madison Square Garden and create a great music experience.
"Does it impact T-Mobile? Probably. I'm not trying to hurt the arena I built, but I do believe there's a safe private bet to be made that we're going to be the No. 1 music venue in the world. We're going to build it that way and the amenities are going to be built that way. "
Leiweke said he believes if the NBA considers expansion, they should come to Las Vegas and that he has partners who are prepared to write that check. He said they're envisioning an entertainment campus with the arena at the center point — a lesson he learned with L.A. Live, the entertainment district in downtown Los Angeles, and with other projects in Seattle and England.
"That's the vision of the future," Leiweke said. "These are the great gathering places. Music and sports is what moves us. We were born on music. We'll die on music and we will celebrate it. It should be a campus, and an arena if it's designed and built properly can be literally the centerpiece of a campus that can attract 50 million people. The concept is to take 66 acres and build a $10 billion campus with hotels, casinos and retail — the largest development in the history of Las Vegas. If you are going to go, dream big. If you're going to build something extraordinary, think about where you're planning to build that."
Leiweke said he understands there are people who "shoot holes" in the project because it's a competitive marketplace. MGM Resorts has ruled the marketplace and he said he understands he'll be competing against them with T-Mobile Arena. For the last three years, Leiweke said he's heard that his project will never get done.
"We have work to do in order to prove to you this is going to be real," Leiweke said.
That starts with completing the entitlement process with Clark County by the end of 2023, and he said he has $27 million already invested in the process. Second, he and his partners have $1 billion in the bank to spend on the arena. Third, it's important to think through the master plan and have it entitled so partners are ready to start building as soon as work starts the arena, he said.
During the program, Jeremy Aguero, a principal at Las Vegas research firm, Applied Analysis, said the city's success is no accident and that coming out of the pandemic no community has proven itself to be more resilient and resourceful in how to move forward. Every sector of the economy has created jobs.
"We are still the least diversified economy of our size in the United States, but we have come further in terms of economic diversity than any other community in the nation," Aguero said. "Our tourism industry was decimated by the pandemic, and it has come almost all the way back. And what is amazing is not just the number of visitors but the quality of those visitors that are coming back. We have fewer visitors, but they are spending more. They are coming for different things. You come for Formula One. You come for concerts. You come for football games and come to see the Golden Knights. Our tourism industry and its impact are nothing short of remarkable."
Even with all the development Las Vegas has seen in hospitality, hotels and casinos, that diversity index continues to improve as other businesses are growing at a faster clip, he said
Aguero lampooned predictions by economists over the last two years that there would be a recession that hasn't happened. Inflation has been a problem, but it's starting to come down and job creation hasn't slowed, he said.
"There's no doubt that interest rates have risen significantly and that's affecting homebuyers," Aguero said. "A year ago, some of you wanted to get a loan for $500,000 at 4 percent, (which) would have cost $2,387 to do that, but today that same $500,000 loan costs another $1,000 a month. That's a problem that's going to slow things down. Today, that same loan will only get (you) a $360,000 house and the housing market is slowing a little bit."
This year's program also focused on the valley becoming a global leader in conservation and its sustainability initiatives and included a presentation by Pilar Harris, a senior director for the Las Vegas Grand Prix.
Harris spoke about the sustainability measures the organization took for its F1 race in November and going forward. There's mechanical cooling towers, up-cycled concrete during paddock construction, testing new generator technologies, implementation of a sustainable fuel program and working with local organizations to reduce food waste.
"When we think about sustainability, for us it's about resilience," Harris said. "The question is not just how do we create an incredible live event, but how do we build a business that can last as our world and climate continue to change? I like to describe F1 as a space program on wheels. We spend a lot of time, energy and capital investing in the kinds of innovative technology that ultimately make their way into our everyday lives."