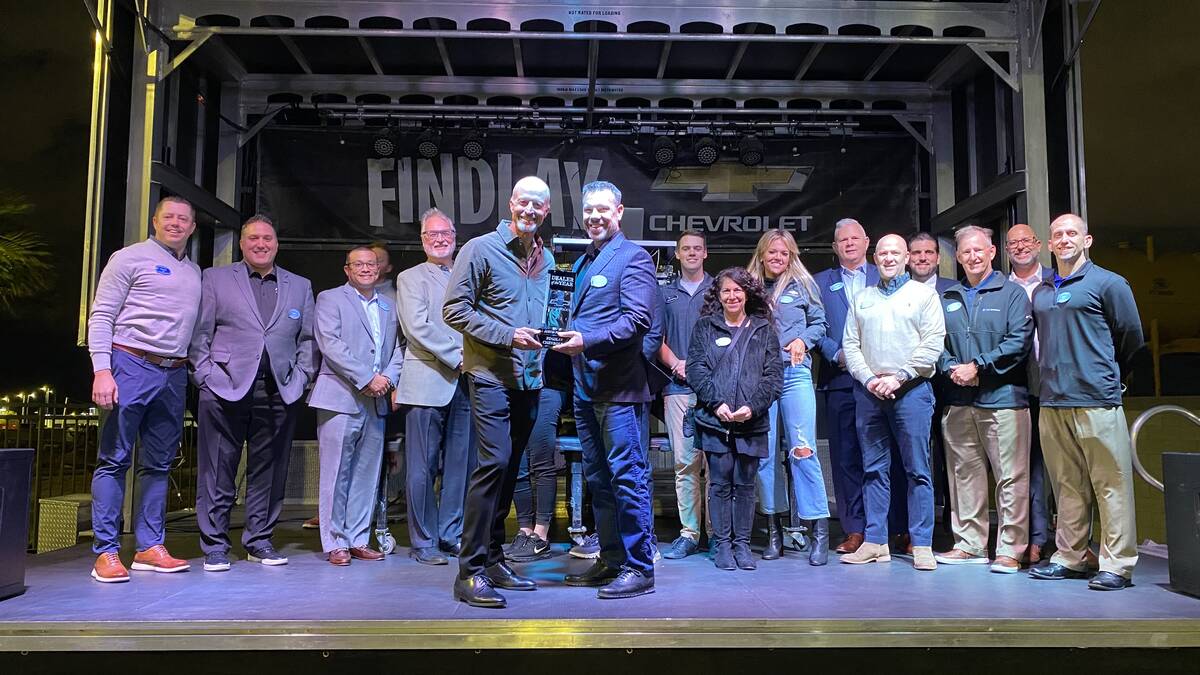 Findlay Chevrolet is opening a medium-duty truck shop in March to fill a growing need for commercial vehicles in Las Vegas.
Findlay recently celebrated the progress of its multimillion-dollar commercial fleet repair center under construction on Maule Avenue in the southwest valley. It invited customers to a ceremony where Findlay was also recognized as Dealer of the Year for the 10th time by General Motors.
When completed, the state-of-the-art facility will have 15 medium duty stalls, an overhead crane system, heavy duty alignment rack and specialty tools and equipment to service all fleet customers in the valley, said Findlay Chevrolet General Manager Doug Fleming.
"There's just a huge demand in the commercial fleet space in Las Vegas for all types of businesses and municipalities that need service," Fleming said. "There's not enough of it, and it's hard to get in. We have way more demand than we can handle."
Findlay Chevrolet has more than 60 bays at its current facility but only four are heavy duty and aren't deep enough at 40 feet to handle many vehicles, Fleming said. The new shop will have bays 56-feet deep.
The center is designed to work on medium-duty vehicles. That means any kind of oversized truck, box trucks, vans and vehicles used by plumbers, pipe fitters and electricians. They have so much equipment in their vehicles that they can't use a standard dealership repair center because most shops only lift up to 12,000 pounds.
"Our new center has stalls with taller doors, deeper bays and are able to lift heavier weights," Fleming said. "That's the purpose of a medium-duty shop compared to a traditional shop."
The new shop solves the problem of the existing center with four commercial bays where only one has an oversized door needed for tall and oversized vehicles. Each of the 15 bays has an oversized door.
"We have to turn them away, tell them to go somewhere else or they wait three weeks," Fleming said. "We're just going to try to cater to that demand. When these businesses' vehicles are down, that's the livelihood of their business. Speed and efficiency is the key, and we're just trying to help ourselves and help the community meet that demand."
The fleet center technicians will work on axles, transmissions and engines and do oil changes as well. As a full-service center it does everything but body work.
Findlay has already started preparing for the new fleet center. It launched an apprenticeship program a couple of years ago so Findlay would have plenty of technicians ready to work, Fleming said.
"It's another step forward to provide service to our growing business community with job opportunities for certified technicians that can help maintain work trucks that build our city," Fleming said. "When you can cater to the businesses that have the bigger vehicles, the smaller vehicles and employees' vehicles come with it. You end up selling to and servicing their employees and their entire fleets."
John Gonzalez, fixed operations manager at Findlay Chevrolet who oversees the parts and services, said the opening will be a "gamechanger for us" to open the doors more to commercial customers.
"Plumbing companies and air-conditioning companies are always on the go, and we're going to be set up to get those vehicles in and out quickly and back on the road so they can make more money," Gonzalez said. "We're going to be able to do bigger vehicles than we do now and get jobs for more technicians. It also means opportunities for employees to advance in their current job."