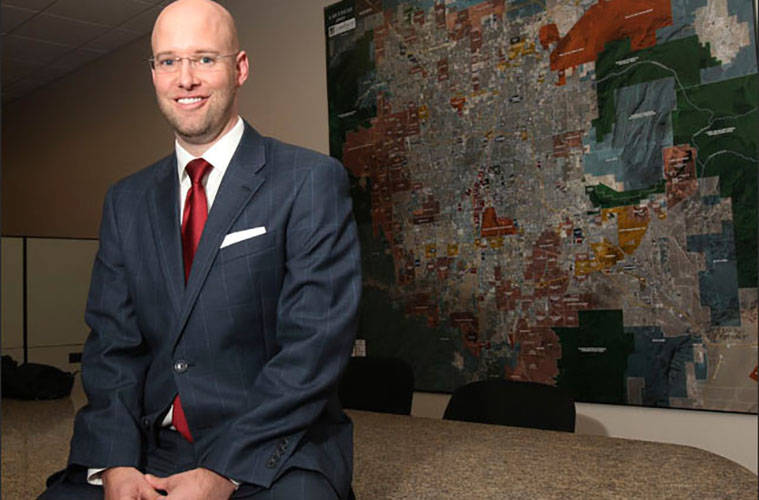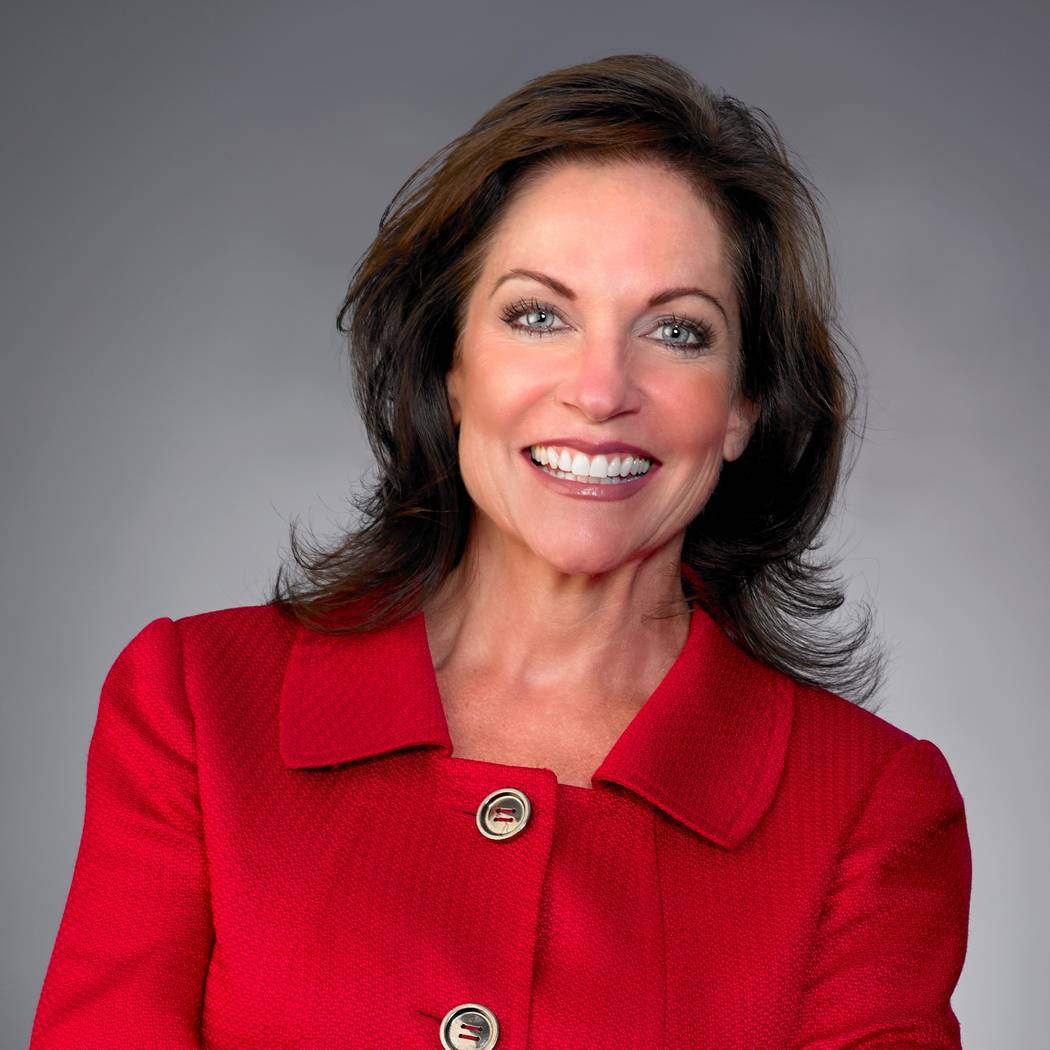 Software developers for apps have risen to the top of the list as the No. 1 in-demand job in Southern Nevada as part of the updated plan outlining high-demand occupations in the region.
Called Workforce Blueprint 2.0, the plan is a forecast of annual job openings and gaps in filling them and serves as a road map for workforce development in which government, business and the educational community are working together to create the skill sets to the jobs of the future. The purpose is to align educational and training needs by mapping out degree programs for the occupations.
In a blueprint developed in 2017 by the Las Vegas Global Economic Alliance, managers was listed as the No. 1 in-demand job followed by operations managers second and software app developers third. The list has 100 in-demand jobs.
The updated list has operations managers second followed by all other managers within a company. Registered nurses moved up to fourth from fifth on the previous list. Business operations specialists was fifth on the 2019 list.
That is followed by civil engineers, finance managers, aircraft mechanics and service technicians, respiratory therapists and electrical engineering technicians.
Computer systems analysts, network and computer systems administrators, accountants and auditors, and licensed practical and vocational nurses fell out of the top 10.
The Great Recession showed Nevada wasn't invincible and needed a long-term plan to diversify the economy, but workforce development was required for that to happen.
In this revised plan, the LVGEA partnered for the first time the Las Vegas Metro Chamber of Commerce and Workforce Connections to build off the 2017 report that targeted industries, such as business headquarters and services, emerging technology, logistics, manufacturing and supply chain management, autonomous systems, finance, banking and insurance, health care services and medical education, gaming, tourism and conventions.
Since the recession, Nevada has seen new employers from Tesla, Amazon, Google and others as it remains attractive because of its business-friendly and tax-friendly environment.
The business headquarters and services sector is projected to see its jobs grow by 36 percent by 2026 or by more than 47,000 between 2016 and 2026. Emerging technology will grow by 29 percent or 2,681 jobs; logistics, manufacturing and supply-chain management by 33 percent or 2,681 jobs; autonomous systems by 36 percent or 1,854 jobs; finance, insurance and banking by 17 percent or 4,432 jobs; health care services by 27 percent or 19,561 jobs; and gaming, tourism and conventions by 18 percent or 50,878 jobs to bring the total to 336,043 by 2026.
The report said there are 233 annual openings for software developer applications but only 31 in the pipeline, leaving an annual gap of 202.
"It shouldn't be a surprise anybody that No. 1 is software developers for apps," said Jaime Cruz, executive director of Workforce Connections, Southern Nevada's federally authorized workforce development board. "There's an app for everything today in life. When you think about the digital world, today, and even my agency, we have apps. It happens to all kinds of industry. You can order a pizza from your phone. For developers, it's a huge part of today's technological advances."
The biggest in-demand job in terms of numbers in the top 10 is operations managers with 1,476 annual openings. The annual pipeline, however, is 327, leaving a gap of 1,149 a year.
"The one that's telling is No. 2 of general and operations managers," Cruz said. "When looking at the industries in Las Vegas from manufacturing, health care and information technology, there's a strong need for managers, which are positions that need strong critical thinking and problem-solving skills to lead operations."
Filling the demand for registered nurses continues to be a problem with 1,363 annual openings and 629 in the pipeline. That leaves a gap of 734 a year, the report said.
There are 122 annual openings for civil engineers but only 26 a year in the pipeline. Las Vegas has 504 openings for financial managers a year and 106 a year in the pipeline.
Aircraft mechanics and technicians is a high-need position with 166 openings a year and nine a year in the pipeline. For electrical and electronics engineering technicians, there are 157 annual openings and 14 a year in the pipeline.
That gap continues down the line in looking at the top in-demand positions.
Marketing research analysts and marketing specialists come in at No. 11 with an annual gap of 228; management analysts at No. 13 with an annual gap of 267; construction managers at No. 18 with annual gap of 365; accountants and auditors that fell to No. 20 but still with an annual gap of 430.
Elementary school teachers came in at No. 25 with an annual demand of 784 and only 117 in the pipeline. Secondary school teachers fared better at No. 32 on the list, but the region is producing 213 more of those to fill the annual openings. There's a 296-a-year-gap for middle school teachers that ranked No. 40 on the list.
Other noteworthy in-demand positions were automotive service technicians and mechanics at No. 39 with a gap of 434 a year.
First-line supervisors of food preparation and serving workers were No. 44 with an annual gap of 1,334.
No. 50 on the list was sales representatives with an annual gap of 851.
Jonas Peterson, president and CEO of the LVGEA said they did a revised report two years later because "the market is changing so rapidly in Southern Nevada." They will update the blueprint every two years because the rate of change is higher than in other markets.
"We are seeing some of our target industries such as logistics and manufacturing and distribution growing at five times our historical growth rate," Peterson said.
Peterson a key takeaway of the study is the quality of the workforce is "generally improving and we're going in the right direction." He said they published a report card dealing with K-12, higher education and talent and training.
Peterson said with most of the in-demand positions there's a gap to meet those needs, today, and going forward. When there's not enough trained here, those workers have to be imported from other markets, he said. The goal, however, is to lessen that demand, he said.
"There is a lot of indicators going in the right direction, but we're still not where we want to be as a community," Peterson said. "There is a war for talent right now. The level of competition for skilled working is increasing (between states). We're importing talent. We're launching a talent attraction campaign called Here You Can for the first time ever to do a better job of attracting key talent. Companies tell us it's the most important factor in where they locate their business so it has to be a priority for us. We're an attractive market to come relocate to, but a lot of other competing states invest heavily in their workforce pipeline in training and higher education."
Mary Beth Sewald, president and CEO of the Las Vegas Metro Chamber of Commerce, said their members say that finding a talented workforce is one of their primary challenges.
"A lot of them feel like they need to import people," Sewald said. "There are a lot of talented people here in Nevada but part of it is a matter of connecting them. It's a challenge. Some have to hire from out of state where they have the systems in place to educate folks and train them on these emerging industries."
Cruz said it's shortsighted to think Nevada can rely solely on the workforce within its borders to take care of the needs. Local companies are "cannibalizing from each other" because there is full employment. A company may have invested $10,000 in training someone who is lured away by a higher offer.
"These are some of the things we are seeing in the marketplace," Cruz said. "Competition is increasing because our economy is growing rapidly and new industries are emerging."
Sewald said that the region is better off than it was 10 years ago but "there's some definite gaps." If the business community didn't have the road map, "we would be missing out on opportunities," she said.
"I don't know if we are losing companies, but it's more of companies looking at Southern Nevada and trying to identify what the workforce is going to be," Sewald said. "They look at the big picture like schools and medical facilities and quality of life and it's a combination of those things that would determine whether a company locates to Southern Nevada. I don't know if anyone is leaving because of a lack of a talent pool. Some companies looking at us may look to other places that have a stronger workforce. That's why it's so important for us."
Peterson said the marketing is growing so rapidly with new industries emerging that Las Vegas doesn't look like other markets across the country. The region needs to change to the demands of the economy and train people for the jobs of the future, he said.
"We learned that a lot of top 100 in-demand occupations don't require a four-year degree so that's a noticeable shift," Peterson said. "We need to make sure we're getting young people excited and trained into occupations of the future and our existing workforce trained into occupations where they have the best career opportunities."
While the blueprint identifies the need, the solutions to solve those gaps have yet to emerge, Peterson said. They will work with partners in education and training to do so, he added.
"The blueprint has already been used a variety of programs and funding at institutions," Peterson said. "Our education partners at the table engaged in those discussions are using the blueprint to help guide programming going forward."
Sewald said they've put together a think tank to work with the business community and educational institutions to develop programs to answer the needs of employers.
"We're looking at the best practices of other states and cities," Sewald said. "We're starting with Clark County School District with K through 12 and higher education and some of the other training facilities in Southern Nevada."
The Clark County School District has been putting together programs to train students for emerging industries, Sewald said.
Cruz said that the labor market keeps changing and many jobs that will exist in 10 years might not exist today. Southern Nevada's economy has been primarily based on hospitality and tourism but even that changed after the Great Recession, he said.
"We were pumping out workers for the hospitality industry and doing fine, and the last report showed we were evolving and we needed to evolve the way we supply the workers needed for that," Cruz said. It's a moving target, and you have to keep adjusting your scope. If the pipeline that includes K through 12 and higher education are not aiming to the needs of business, we're failing."
Since the first report, the College of Southern Nevada put in place curriculum for manufacturing, health care and information technology industries, Cruz said. More CCSD high schools have workforce-based activities to gain exposure earlier, he added.
"You see signs in two years that the gap is being addressed but not solved," Cruz said. "By most indicators we are pointing in the right direction. A decade ago you would go to a career day in a Clark County middle school or elementary school, what you saw was shiny police cars and fire engines. That's great and two great careers but what percentage of the Clark County School District system will end up in those two careers. Now, we're being purposeful if the majority of occupations are in trade, health care and IT and advanced manufacturing — those are the type of careers we want to be talking to students about earlier."
Cruz said while many jobs of the future won't require a bachelor's degree, there will always be a need for doctors, architects and engineers. Many other jobs will require some post-secondary education that's not a four-year degree, he said.
Workforce development in Nevada was taken for granted for years because of the hospitality industry where people could make good money, buy a home and raise a family without a higher education, Cruz said. That economy has changed, with automated jobs and others that have disappeared with technology. That same technology of robotics and artificial intelligence that displace people could lead to other jobs in those sectors, but it's not easy to see that future too far out, hence the need for plan updates, he said.
"If you asked me 10 years ago what's a 3D printer technician, I would have told you that you're watching too much 'Star Trek,'" Cruz said. "Or that you're going to need an app on your phone to call a car and a stranger is going to come to your house to pick you up, we just don't know what the future holds."