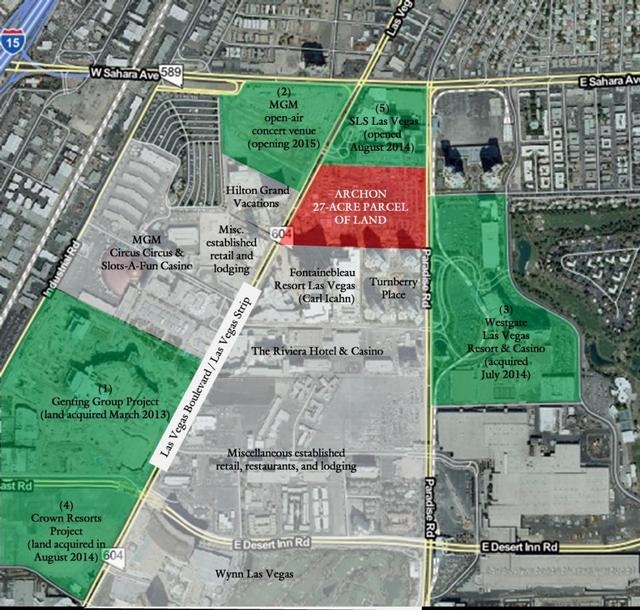 Interesting investment opportunities are all around the Las Vegas Valley. We have everything from multibillion-dollar gaming and hospitality companies to speculative mining companies with stock selling for less than a penny.
And sometimes we have an unusual case, such as Archon Corp.
At first blush, there doesn't seem to be much happening. The company has its headquarters in Laughlin where it manages the Pioneer, a casino and 414-room hotel. The company has acknowledged the Pioneer's market is in slow decline and the prospects aren't great. Archon owns some investment property in Las Vegas and in Dorchester, Mass. It recently sold an investment property in Gaithersburg, Md., for $76.3 million.
The stock trades over the counter under the symbol ARHN. The price is moving in a narrow range about $16.75 a share and volume is low. The market capitalization is about $95 million with a 16-cents-per-share earnings.
Before you yawn, consider that the stock price has doubled since February 2013.
The driver is Esplanade Capital LLC, a Boston-based investment fund that has been trying to buy the company for almost two years. It first offered to buy all of Archon's outstanding shares in March 2013, for $17.50 a share. It raised the offer to $18.50, then $19.25 and, last August, to $21.65 per share.
There's a saying I like: "It's not what you are looking at that matters; it's what you see."
What does Esplanade see? It covets that Las Vegas land investment, a 27-acre tract fronting the Strip just south of the SLS and north of the Fontainebleau. It's a rare developable site on Las Vegas' most famous commercial street.
Just before the Great Recession, when Las Vegas real estate prices were at their peak, Archon agreed to sell the property for a stunning $618 million. That deal never closed but Archon walked away with the nonrefundable deposit of $67 million.
That's quite a win for a company valued at $97 million. It likely provided a nice buffer that allowed itpany to ride out the recession and wait for the right moment to maximize the value of its best asset.
The land is being discussed as the site of an arena for a possible pro basketball team in a development effort being led by former UNLV basketball player Jackie Robinson. It is one of several arena projects under discussion, and there is no funding in place.
It's impossible to tell what Archon and its major stockholder, CEO Paul Lowden, are thinking. In 2011, the company performed a nifty financial maneuver — a reverse stock split at 250-1 that allowed it to cash out all the holders of fewer than 250 shares. It immediately followed with a 1-250 stock split, restoring major holders to their previous positions. The maneuver cut the number of stockholders below the level that required Securities and Exchange Commission filings. Archon now communicates directly with shareholders and its website has gone dark, making the company's dealing opaque.
When the dust settled, Lowden, and his wife, Sue, the defeated candidate for lieutenant governor — owned about 5 million of the 6 million shares outstanding. At least that's what the now 3-year-old SEC filings indicate.
The lack of transparency is a consistent theme. In making its latest offer, Esplanade CEO Shawn Kravetz wrote: "We continue to view the company's stock as undervalued. Unfortunately, we have no confidence that the situation will improve under the existing board and management. We believe that the company seems to be run as the personal fiefdom of Mr. Paul Lowden and not for the benefit of all shareholders given the series of related party transactions between the company and the Lowden family, the company 'going dark' in 2011, and the galling lack of responsiveness to our requests as a concerned shareholder. We remind the board that it has fiduciary duties to all shareholders and not just to Paul Lowden and his family."
That's tough talk from a suitor.
And in an interview Jan. 2, Kravetz told the Business Press he's committed to pursuing a deal for Archon and Esplanade is continuing to weigh its next steps. He challenged Lowden to explain his goals to shareholders or take the company private.
What does all this mean for a potential investor?
Clearly the stock is worth more than $16.75 per share. The offer on the table is $21.65, almost a 30 percent premium. But if that land is worth even half the $618 million offered just a few years ago, what is the stock really worth? The math suggests it could be worth north of $50 per share.
Then again, what's the stock worth if it stays plateaued waiting for Lowden to decide the time is right to sell?
It's a tangled pictured but a fascinating one to watch. Somebody is going to make a big profit on that land. But will it be anybody besides Lowden?
John Glushko is a retired stockbroker, a private investor and author of books and articles on investing. He lives in Las Vegas. His column will appear occasionally.