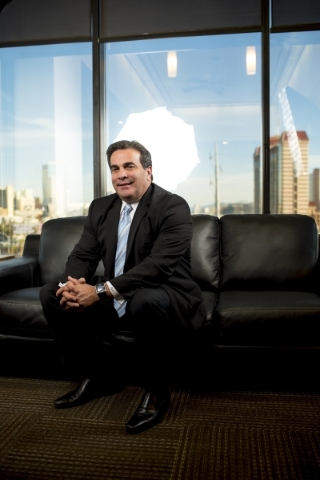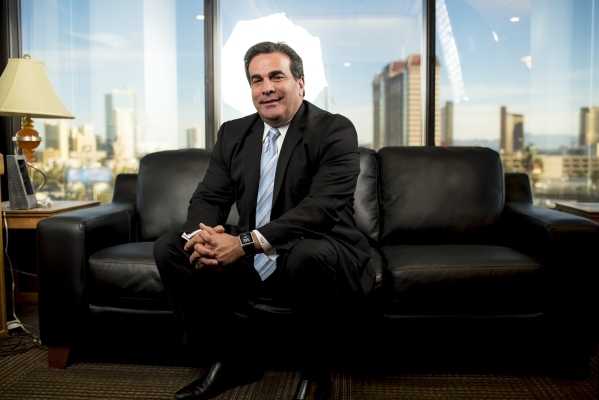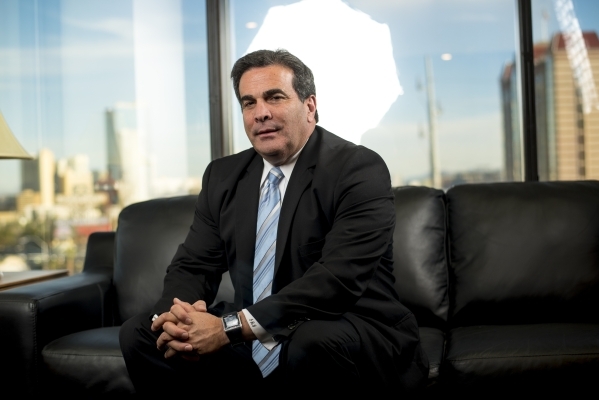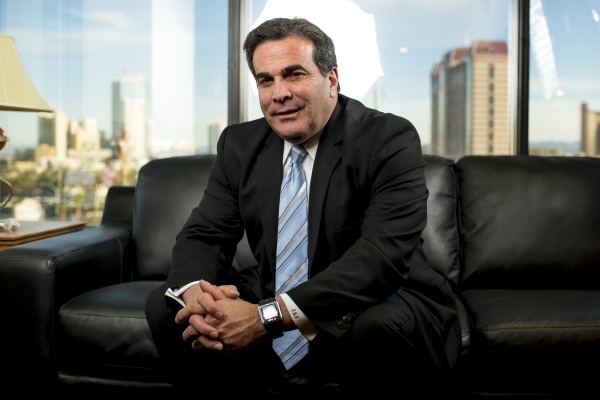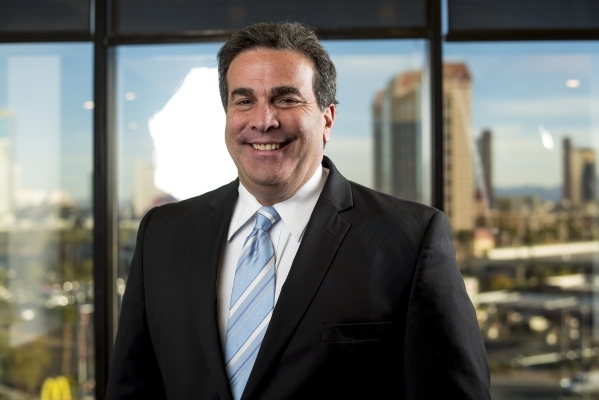 John Guedry will long remember 2015 as the year he acquired some important new titles.
Eight months ago, he was named CEO of Bank of Nevada, a commercial bank with 190 employees.
On Dec. 17, the longtime Nevada resident will begin a one-year term as chairman of the Las Vegas Metro Chamber of Commerce board. In this position, he will lead a nine-member executive committee, 24 trustees, and nearly a dozen programs within the purview of the chamber.
Included in his agenda for the coming year, Guedry plans to announce a joint effort between the chamber and the Las Vegas Global Economic Alliance to introduce the business community to Gov. Brian Sandoval's "Education Initiative for a New Nevada," and how businesses can participate in this key initiative.
Guedry also plans on discussing even more tangible benefits the chamber will be offering members to help increase their bottom lines. This includes expanded programming to connect small-business members with procurement opportunities offered by government agencies, enabling small enterprises to take advantage of billions of dollars of programs designed for contracting.
With the 2016 campaign season in full swing, Guedry will also be discussing how the Metro Chamber is helping shape policy conversations for the 2017 Legislature, particularly through its engagement in the Southern Nevada Forum.
"The forum allows us to work together as a community to identify and advocate for legislation that is vital to improving our business climate whether it is advocating for K-12 reforms, transportation infrastructure or improving our overall business environment," he said.
No doubt, Guedry is well prepared for the task as he has been an active member of the chamber for several decades and served on the board and the executive committee for the past two years.
For Guedry, running a business and volunteering is nothing new.
The New Orleans native came to Nevada with his family in 1974 and graduated from Chaparral High School in 1978. He attended UNLV, where he received his undergraduate degree in business management in 1982.
In the early 1980s, Guedry joined Valley Bank of Nevada and worked there until 1991 when it was purchased by Bank of America. He then left the banking industry for nine years, working for a client in a title company and eventually starting his own mortgage company.
In 1998, Guedry went back into the banking industry with Community Bank of Nevada and in 2000 was offered the position of CEO of Business Bank of Nevada.
"Business Bank at the time was struggling — it was under regulatory control — and probably it was not the smartest move for my career at that time, but it seemed like a challenge that was worth taking," Guedry said. "However, I was able to recruit some great bankers who I had worked with earlier at Valley Bank and in a span of about seven years we grew the bank from about $100 million to just shy of $500 million and sold to City National Bank."
Guedry stayed with City National for a few years. "It was a very good company, but my position became more of a figurehead position, and I needed more of a challenge," he said.
During his last two years with City National, Guedry did some high school football coaching at the Meadows. "I was trying to decide what I wanted to be when I grew up, but I think that my wife decided for me, and it was time to get back to real work."
"In late 2009 to early 2010, I think my brain checked out for a bit when I considered entering politics. I announced my intention to run for the 3rd Congressional seat against Dina Titus. However, after campaigning a short period of time, I realized that I was not cut out to ask people for political contributions, so I asked current Congressman Joe Heck to step in, and he ran a great campaign and has done a great job for all Nevadans."
Wanting to do something different from banking, Guedry took a position with the commercial real estate firm CB Richard Ellis.
"It is a great company, just wasn't a great cultural fit for me. Commercial real estate is very different from commercial banking," Guedry said.
Shortly before taking the position at CBRE, Bruce Hendricks, the CEO of Bank of Nevada at that time, met with Guedry to offer him the position of president, with a plan to become CEO when Hendricks retired.
"I really wasn't prepared to jump back into banking at that time, so I initially turned it down," Guedry said. "Fortunately, the position was still open a year later."
In August of 2011, he became president of Bank of Nevada.
Guedry's wife, Debra, a retired schoolteacher, introduced him to the needs of the educational system. Since then he joined the board of directors of the Public Education Foundation, where he has served for a number of years. The board is made up of 60 community leaders supporting a staff that oversees more than a dozen education initiatives. In this position, he has lobbied on behalf of several educational bills in the Nevada Legislature.
The foundation recently named him Education Hero for his volunteer efforts as an advocate for education.
Guedry also recently joined the board of the UNLV Foundation.
Guedry does not take all of the credit for the banking and charity accomplishments and credits the teams of people that he works with for those successes.
"I tend to lead by example and don't ask people to do something that you're not willing to do yourself," Guedry said. "I am a big believer in giving people authority to do their job, I tend to help develop key objectives, build the team, and then get out of their way and let them use their talents to succeed."
Guedry and his wife of 31 years have two grown daughters: Jennifer, mother of their twin 4-year-old grandsons, and Jaclyn, who is in her first year of law school at UNLV.
In his spare time, he enjoys riding his bicycle. "The bike is sanity time," he said.
Guedry also enjoys being outside and gardening with his wife and following Rebel football and basketball with his grandsons.