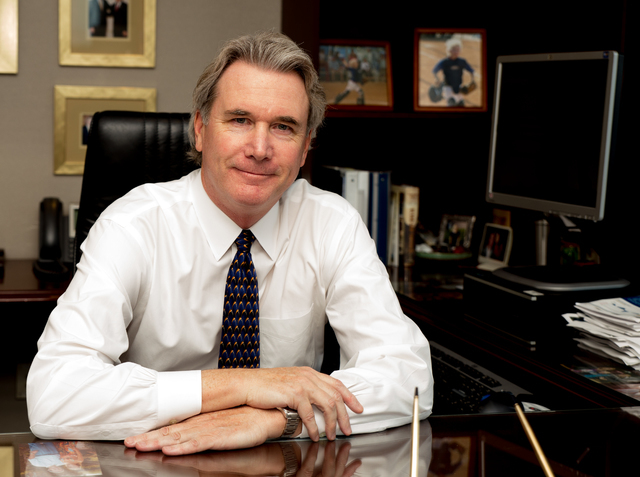 The financial industry has learned from the Great Recession and downturn that resulted from the real estate collapse, and is better for it today.
That's the message from Nevada State Bank CEO Dallas Haun, who said the 56-year-old institution took a broader approach when it was reorganized in 2010; and that model has served it well since.
"We have reorganized the bank into five business lines," Haun said. "We have a line that handles retail clients; a line that handles our small business; a group that handles professional and private banking; a group that handles corporate clients; and a group that handles real estate. That enables us to focus on the entire market and handle the needs and find solutions for everybody and not just primarily rely on real estate lending."
Before the recession, many banks in Nevada and the rest of the Southwest were focused primarily on real estate with land loans and construction loans, and that ultimately created a bubble that burst institutions. In 2009, Nevada State Bank was selected by the FDIC to assume the deposits of Silver State Bank. It acquired the banking operations of Great Basin Bank of Nevada and assisted the FDIC in acting as payout agent in the resolution of the Community Bank of Nevada that was closed by the Nevada Financial Institutions Division.
"It was a tough time for everybody," said Haun who took the reins in September 2007. "It was very emotional. A lot of good people had their world change. Our job was to help people see it to the other side and that there was light at the end of the tunnel."
The Dodd Frank Wall Street Reform and Consumer Protection Act signed into federal law in 2010 has imposed a different set of criteria on the amount and types of real estate loans to prevent the real estate market from getting overheated, Haun said.
"During that time I think over 500 banks in America failed and I'm pretty sure over 10 failed here in Nevada," Haun said. "Is everything they have done good? No. No one is perfect, but I think they have put some good things in place. Has it hurt the banks a little bit? In some areas in getting money out, yes it has. I think in general, if I were to sum up the regulatory changes they have gone a long way to prevent massive failures due to excessive real estate lending that we saw."
With an emphasis on a wider and broader approach, Haun said they're doing a better job of catering to the needs of small business, doctors, attorneys, certified public accountants and its high-net worth group. It was about retraining staff on catering to handle their niche; and banks that focus on that in the future will be successful, he said.
Nevada State Bank so far this year has made more than $20 million in loans to small businesses, and those loans average $125,000 each, Haun said.
"It has been growing every year," Haun said. "If you look at our professional banking group and what they're doing to handle the needs of attorneys and doctors and CPAs, that group has been growing double digits since we started it four years ago."
Nevada State Bank through its website nevadasmallbusiness.com has geared for small business owners and provided webinars to help inform and educate them. Businesses and clients also get economic and wealth management emails. Haun said the job of handling deposits is straight forward, but it's important to provide information and help people run their business.
"I think banks that do that really well — and you have people that are specifically trained to handle the needs of every segment of their markets — are going to do well because they're going to provide solutions," Haun said. "They're going to provide education and they're going to be a trusted adviser. That's what we're trying to do. I think we have made great strides."
Nevada State Bank, which opened its doors in December 1959, was organized by a group of 12 business owners. The bank received its state charter in January 1960; and in 1985 was purchased by Zions Bancorporation. It employs about 700 people and has 50 branches and has no plans to reduce them even though that's the trend in the industry.
That brings up the questions over how Nevada State Bank should be classified. It has done more than $500 million a year in loans, including $200 million a year in consumer loans. It does $150 million in corporate loans a year with clients in gaming, manufacturing and technology; and does $150 million a year in real estate loans.
"Some of our clients live in the community bank world; and some live in the major bank world," Haun said. "We compete equally with all of them. That's the beauty of Nevada State Bank as a $4 billion, 56-year-old company, we're sort of in the middle. We're not a community bank, and we're not a real big bank. We're able to handle the needs of larger transactions in the tens of millions, and we're able to do a nice job of focusing on the needs of a small business owner that needs $100,000. I think we're well positioned to go down market and up market. That's what we've been successful in doing."
Haun said banks that are successful in the future are going to excel and do a good job of balancing technology and touch. Nevada State Bank has spent millions over the last several years on its mobile applications because Haun said they want a homeowner, small business owner and professional to be able to open their laptop at 10 p.m. and access sites. If they have a question, they can call the next day or go into a branch.
"We track who signs up for online banking and who uses their phone, and those studies show that more than 90 percent of the millennials are using their phones and laptops," Haun said. "That's indicative of where we need to focus in the future. They are the future and very clearly put forth their preference of dealing with a financial institution, and we need to be ready with strong products and technology to handle those needs. I think we are."
The focus comes as Haun remains bullish on the Las Vegas economy, citing how the region has created 122,000 jobs in the last five to six years and is within 2,500 at its peak. The 59 consecutive months of job growth speaks volumes about the "resiliency, creativity and entrepreneurship" in Las Vegas, he said.
"There is still some softness in some of the real estate segment — office vacancy is still 21 percent, industrial vacancy is down to 7 percent and retail vacancy is under 10, around 9 percent," Haun said. "Those are all positive things. If you look at a bar graph of 2010 through 2016, the trajectory is pretty darn encouraging. Visitor volume is over 42 million and all-time highs and what's happening with convention attendance up double digits, there's a lot of reason for optimism."