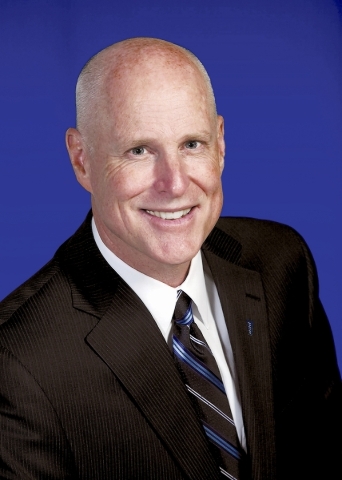 City National Bank is looking for new opportunities in Nevada.
The bank launched its Nevada Growth Initiative about three months after its $5 billion sale to Toronto's Royal Bank of Canada closed.
So why invest in Nevada, and why now?
John Wilcox, former senior vice president and regional banking manager with City National, recently discussed the bank's growth initiative with Las Vegas Business Press.
Wilcox said bank officials believed Nevada's economy was strong enough to launch the initiative, which includes hiring more employees.
Wilcox oversaw creation of the Nevada Growth Initiative before his retirement last month as head of the business and private bank in Nevada. Bruce Ford was promoted to replace Wilcox and will serve as regional manager for core banking in Nevada.
"If you look at the Nevada economy, job growth for 2015 is projected to be 45,000," Wilcox told the Business Press. "For 2016, we are projecting 52,000 more jobs. That trend would put us at pre-recession job growth in late 2016."
Wilcox said those impressive job numbers mean Nevada's economy is more diversified, and "should be more sustainable because we are not dependent on one or two industries."
He said City National sees the market, both north and south, creating more incentive to invest in Nevada. City National operates eight branches in Nevada.
The first phase of the initiative includes hiring for eight new full-time positions, boosting the bank's marketing budget and investing in credit resources in Nevada. Wilcox decline to say exactly how much capital RBC has made available to Nevada.
"It's capital sufficient to do the job," Wilcox said. "No industries have been put on the taboo list. Nevada is back on the way up and Nevada is considered a growth market along with Orange County, the Bay Area and New York."
He said City National deals with businesses with $1 million to $200 million in annual revenues. Wilcox admitted the bank's "sweet spot" is businesses posting revenues between $5 million and $50 million.
"That's what we are gearing up for … to take advantage of the opportunities that are here," said Wilcox, an alumnus of the University of Nevada, Las Vegas. "We are at the point where people can't resist the investment in growth."
He said that's why the bank thinks "the time is right to increase our investment in Nevada." Wilcox declined to discuss phase two of the bank's growth in initiative.
Bankers challenge NCUA
The fight continues between banks and credit unions over changes to membership limits.
In a letter to congressional leadership, the American Bankers Association and the Independent Community Bankers of America are lobbying against the National Credit Union Administration's proposal to loosen its field of membership restrictions.
The groups warned the proposed NCUA expansion would effectively allow credit unions to operate as tax-exempt banks and have significant, wide-ranging policy implications.
The NCUA is the regulator for more than 4,000 federally chartered credit union nationwide.
"Radical expansion of credit unions poses a major threat to the viability of taxpaying community banks, from coast to coast, while adding to the federal deficit in lost tax revenue," the letter said. "We urge Congress to aggressively exercise its oversight function and reorient this out-of-control agency."
Under the NCUA proposal, credit unions would be able to serve "local" and "well-defined" areas that in some cases include whole states, including Nevada.
In response, the National Association of Federal Credit Unions sent a letter to Senate Minority Leader Harry Reid, D-Nev., and other leaders in Congress expressing frustration with the opposition to the new field of membership rules.
"NAFCU is disappointed that the ABA and ICBA have chosen to attack efforts at regulatory relief for credit unions," the letter said. "Perhaps the banking trade associations should have paid this much attention to their own members and actions prior to the financial crisis."
The NAFCU added that if ABA and ICBA members had paid more attention "maybe their members would not have been the main users of TARP bailout funds and had over $100 billion fines, settlements and buy-backs stemming from the financial crisis."
The trade association, which represents federally insured credit unions, said the proposal does not remove the Federal Credit Union Act's limitations on credit union charters.
East West Bank's Gouw retires
East West Bancorp Inc., parent of East West Bank and its Las Vegas branch at 4711 Spring Mountain Rd., said president and chief operating officer Julia Gouw will retire next month after more than 25 years with the bank.
Gouw also is a member of the board of directors.
Meanwhile, East West Bancorp expects 2016 earnings to be in a range of $2.80 to $2.84 per share. The bank's guidance was released after the company posted earnings of 63 cents per share in the fourth quarter, two cents below Wall Street analyst expectations.
NASCAR banks on Las Vegas
Credit One Bank is now the official credit card of NASCAR. The Las Vegas-based bank entered into a multiyear agreement that includes partnerships with the sport's governing body and Chip Ganassi Racing.
Credit One Bank also will be the primary sponsor of Jamie McMurray's No. 1 Chevrolet for three races in the Sprint Cup Series. The newly minted Credit One Bank Chevrolet SS will debut at Richmond International Speedway on April 24.
"The inaugural card design will feature NASCAR official marks and exciting race imagery, with additional designs being released throughout the season," said Laura Faulkner, vice president of marketing communications with Credit One Bank.