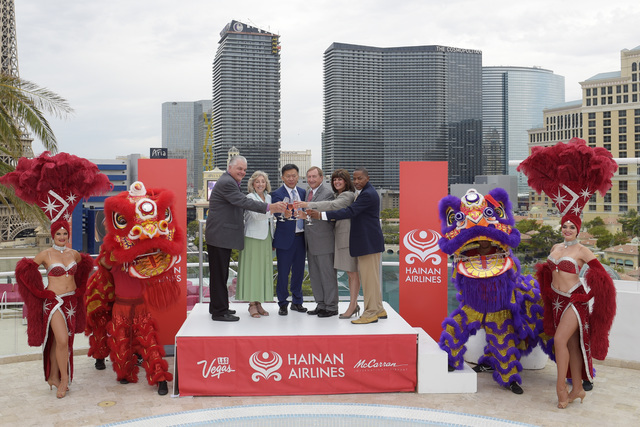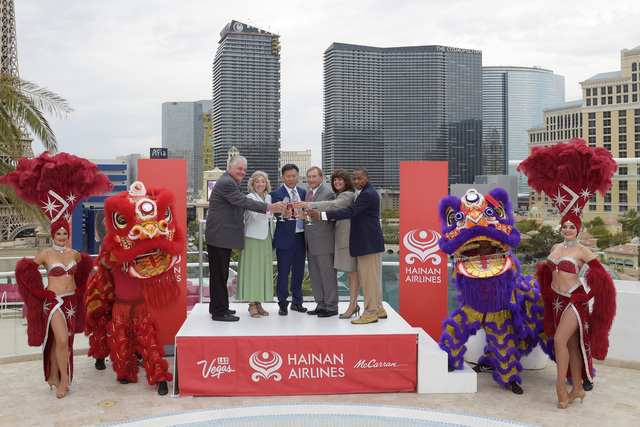 Indexes that measure the future of Las Vegas in the coming months are headed in the right direction, according to a report from the Center for Business and Economic Research at UNLV.
The most recent index that measures taxable sales, employment and gaming revenue is up 1.5 percent over the past year, said Stephen Miller, CBER's director and an economist at the Lee Business School.
The index that measures housing and commercial permits, airline passengers, the stock market and jobless claims is up 1.5 percent as well, Miller said.
"I would say they're telling us the recovery is still continuing in Nevada and Southern Nevada and leading indexes are not signaling that there's any downturn in the near future," Miller said. "We at CBER, think there will be continued expansion on through 2017."
The dark cloud with the economy is overseas and what happens in China and in Europe with Brexit, the vote by Great Britain to pull out of the European Union, Miller said. There's a lot of uncertainty and the prediction that the GDP growth in Great Britain will be 0.8 percent instead of 2.3 percent in the future is a concern, he said.
The second quarter GDP growth in the United States was a disappointing 1.2 percent, Miller said.
The job report for July showed 255,000 jobs were created nationwide, and Miller called that a good sign along with the jobless rate remaining steady. That means the participation rate has increased during the last five to six months because people believe the economy has improved enough to be looking for work he said.
"That's a positive sign for the national economy, but the problem is there's still a disconnect [between] employment growth and GDP growth," Miller said. "The employment productivity is just not there and has to pick up a bit. Maybe the labor force is changing because baby boomers are retiring. When baby boomers retire, that's a lot of experience leaving the labor force and they're replaced by folks with less experience."
If wages continue to go up as they did in the July report and productivity doesn't increase in terms of GDP, that means inflation will ultimately tick higher, Miller said. The Federal Reserve wants productivity to pick up because inflation has been below the target of 2 percent, he said.
The Federal Reserve boosted interest rates in December 2015, and Miller said he doesn't expect any increase until after the presidential election. Some pundits have predicted it could happen in September.
The CBER Southern Nevada tourism index rose by 1.4 and 2.0 percent, respectively, month-over-month and year-over- year as all three components of the index rose in June, Miller said. In addition, seasonally adjusted Las Vegas hotel/motel occupancy, which increased by 4.2 percent from May to June showed the best performance since the Great Recession. Gaming revenue and McCarran International Airport passengers rose by 3.2 and 2.0 percent, respectively, from May to June. Gaming revenue saw a year-over-year gain after three consecutive months of declines.
This helped the index rebound from negative year-over-year growth in May to a positive 2.0 percent of increase in June, he said.
"It's on an upward trend and McCarran passengers have set new records," Miller said. "Visitor volume is above its previous peak. I would say the signs locally are fairly positive."
During a conference call announcing second quarter earnings of MGM Resorts International, CEO Jim Murren said Aug. 4 that Southern Nevada is seeing a surge of visitors this summer from the Southwest U.S. and Asia and suggested the Zika virus in Florida could bring more people to Nevada in the future. He said revenue per available room will grow 7 percent during the third quarter and that's aided by business travelers with 150,000 in incremental convention room nights.
The CBER Southern Nevada construction index fell by 0.8 percent due to substantial decreases in housing and commercial permits, Miller said. Both housing and commercial permits showed double-digit month-over-month losses, decreasing by 31.5 and 40.5 percent, respectively. Construction employment, however, increased by 1.7 percent from May to June, he said.
"We know the construction index got started a little later in terms of bottoming and turning around, but it's been moving up nicely and construction employment is up. We see more construction activity in the valley over last year," Miller said. "Houses are being built, and we have these huge projects that will be big players in the economy such as Faraday Future (electric vehicle manufacturing) the (Lucky Dragon casino) on the Strip. And what people forget is the Clark County School District is refurbishing and building new schools. They're not back at the rate they were before the recession but that will help in the construction sector. The construction itself has an immediate effect on the economy but once the construction ends and you have new schools, you have new teachers and new income coming in."