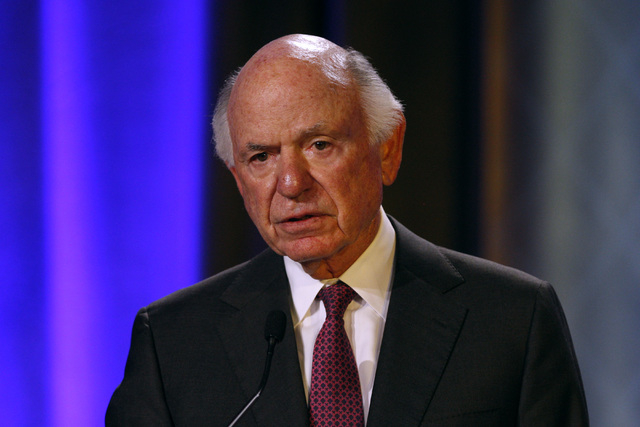 The Las Vegas Business Press' annual list of the highest-paid executives of publicly reporting companies reinforces the idea that Las Vegas is a single-industry town. Not considering former or retired executives and the golden parachutes and armchairs they've settled into, the top 15 executives on the list all work for the gaming or hospitality industries.
Michael Leven, former president and chief operating officer at the Las Vegas Sands Corp., leads the way with $68.4 million in total compensation, $60 million of which is related to stock options.
At No. 18, the highest-paid nongaming/hospitality, nonretiree executive is Spectrum Pharmaceuticals Chief Executive Rajesh Shrotriya, having earned $4.7 million during the most recently completed fiscal year. And Southwest Gas Corp. CEO and President John Hester ($2 million) is the next nongaming/hospitality executive in 34th place.
Talk of the diversification of our economy may be premature.
Few women have earned their way onto the list, although Patti Hart (7, $11.4 million), CEO of International Game Technology, and Kim Sinatra (11, $7.3 million), general counsel of Wynn Resorts Ltd., broke into the top 11.
But only three other women also made our top 50: Linda Chen, president of Wynn International Marketing (21, $3.9 million); Lisa Marchese, chief marketing officer of Cosmopolitan Las Vegas owner Nevada Property 1 (35th, $2 million); and Mary Higgins, former chief financial officer of Global Cash Access Holdings (37, $1.9 million).
Women represent only 10 percent of the valley's top earners.
Following Leven in the list's top three were Robert Goldstein, president and CEO of Las Vegas Sands ($25.3 million) and Andrew Levy, former president and chief operating officer of Allegiant Travel Co. with $17.5 million.
Dueling chief executives Steve Wynn of Wynn Resorts (No. 4, $15.3 million) and Sheldon Adelson of Las Vegas Sands (No. 5, $14.3 million) follow in fourth and fifth place, separated by about $1 million. Former Caesars Entertainment Corp. CEO and President Gary Loveman (6, $11.9 million) and MGM Resorts International CEO Jim Murren (9, $8.9 million) also make the top 10.
The Business Press' methodology, as we've said in our footnotes, involves ranking executives by calculating the amount of money made available to them during the fiscal year, rather than what their employment cost their company.
Instead of including the value of restricted stock and options awarded to the executive during the fiscal year, the list instead includes the value they realized on the vesting of restricted stock they already held and of options they exercised during the fiscal year.
The math for Goldstein, N0. 2 on our list, makes for a good example. Goldstein received a base salary of $1.5 million during fiscal 2014. Also, he was awarded options worth $45 million, $1.5 million in nonequity incentive plan payments, and $656,790 in all other compensation.
The sum of these figures, $48.7 million, is what the company correctly reported as having payed Goldstein.
All other compensation in this case includes premiums for health and life insurance, dividends accrued on vested options, travel expense reimbursements for Goldstein's wife and country club dues.
Although $48.7 million is the cost to the company of Goldstein's compensation package, $45 million in options are not available to Goldstein until they vest. Meanwhile, $4.4 million on restricted stocks held by Goldstein did vest and he exercised options totaling $17.4 million during the fiscal year.
Deducting the $45 million of option awards and adding $21.7 million in value realized by Goldstein on restricted stocks and options, yields his total compensation of $25.3 million. Unrounded numbers are used for calculations, but the results are rounded for the list, potentially producing some rounding differences.
Using the money available to the executive as the ranking criteria, better reflects the actual pay of the executive than would using the cost as reported by the company.