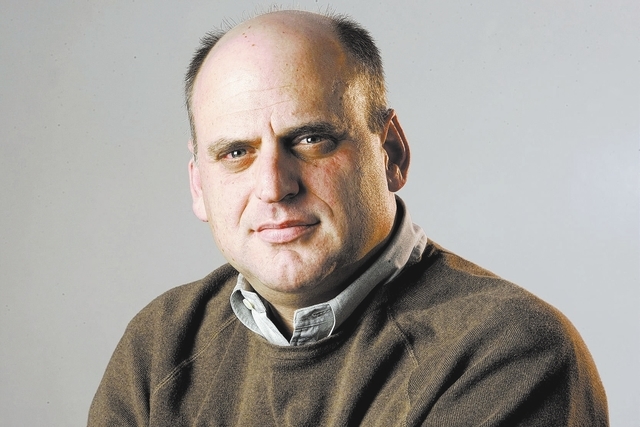 The asset quality for Nevada's locally chartered banks continued to improve in the first quarter of 2016, according to data released by a federal agency.
As of March 30, 0.78 percent of the banks' loans were past due or in nonaccrual status, compared with 1.50 percent in the first quarter of 2015, according to the Federal Deposit Insurance Corp.
But the net interest margin for banks — the difference they pay in interest on deposits and what they make in interest on loans — continued to rise.
The net interest margin for the state's banks increased to 4.06 percent in the first quarter, up from 3.37 percent in the same quarter last year.
Commercial real estate lending as a percentage of total capital was lower in the quarter to 45.01 percent from 112.06 percent in the first quarter of 2015. But it was down only slightly from 46.22 percent at the end of 2015.
Residential real estate loans as a percentage of total capital remained fairly steady over the last two quarters, at 23.83 percent in the first quarter, and 24.42 percent for the fourth quarter of 2015.
Residential real estate loans were 26.63 percent of total capital in the first quarter of 2015, according to the FDIC.
And net loans to assets continued to rise to 68.18 percent, compared with 60.56 percent in the first quarter of 2015, and 64.66 percent at the end of last year.
Overall, there were 62 banks in Nevada in the first quarter.
"Revenue increased from a year earlier and loan balances expanded at the highest 12-month rate since 2008," FDIC Chairman Martin J. Gruenberg said. "However, a prolonged period of low interest rates has narrowed margins and caused some institutions to reach for yield."
Ninth Circuit sides with Wells Fargo
In a victory for Wells Fargo &Co., the U.S. Ninth Circuit Court of Appeals has ruled it unconstitutional for Nevada to strip a mortgage lender of its first deed of trust when a homeowners' association forecloses on the property based on delinquent HOA dues.
The Nevada Supreme Court ruled in September 2014 that an HOA could foreclose on its super-priority lien and thereby extinguish a first deed of trust, a decision Wells Fargo and other financial institutions have been fighting to overturn.
In its 2-1 ruling Aug. 12, the court said Nevada law – NRS 116 – is unconstitutional because it violated the lender's due process rights under the Fourteenth Amendment to the Federal Constitution.
In Bourne Valley Court Trust v. Wells Fargo Bank, N.A., Bourne Valley purchased a property in North Las Vegas at an HOA foreclosure sale in 2001 and subsequently filed suit seeking to quiet title on the grounds that, under NRS 116, the HOA foreclosure sale extinguished the first deed of trust.
The district court in Nevada granted Bourne Valley's motion for summary judgment, noting that the deed of trust had been extinguished because foreclosure of a superpriority lien under NRS 116 extinguishes all junior interests, including a first deed of trust on a property.
The panel held that the statute's "opt-in" notice scheme, which required an HOA to alert a mortgage lender that it intended to foreclose only if the lender had affirmatively requested notice, violated the lender's constitutional due process rights.
The panel held that the "state action" requirement for purposes of due process was met by the Nevada Legislature's enactment of the statute, which unconstitutionally degraded the mortgage lender's interest in the property.
Judge J. Clifford Wallace dissented, noting that the foreclosure sale did not constitute state action and that the notice provisions were incorporated into NRS 116.
Chemical bank merger with Talmer Bancorp approved
Chemical Financial Corp., holding company for Chemical Bank, has received regulatory approvals to merge with Talmer Bancorp Inc.
Talmer Bancorp is the holding company for Talmer Bank and Trust. In July, more than 99 percent of Talmer shareholders approved the merger, valued at $1.4 billion.
The company entered this Southern Nevada market in October 2013 when it purchased Bank of Las Vegas, which was owned by Capitol Bancorp. Capitol Bancorp also owned 1st Commerce Bank in North Las Vegas, which was acquired by Plaza Bank.
The regulatory approvals came from the state of Michigan Department of Insurance and Financial Services and the Board of Governors of the Federal Reserve System, according to Chemical Bank.
Chemical and Talmer officials in January announcement the merger in a cash and common stock deal that was valued at that time at $1.1 billion. The merger is expected to close on Aug. 31.
Gary Torgow, chairman of the board of Talmer Bancorp, said both banks "view this merger as the next stage of both companies' evolutions."
Editor's note: Are you a small-business owner with questions about how to apply for a loan or other questions for your bank or credit unions? I want to hear from you and we will get your questions answered. Send me an email to chrissieroty@gmail.com, and over the next couple of months, I'll put your questions to the region's bankers and we'll publish the responses in the Banking Insider column.