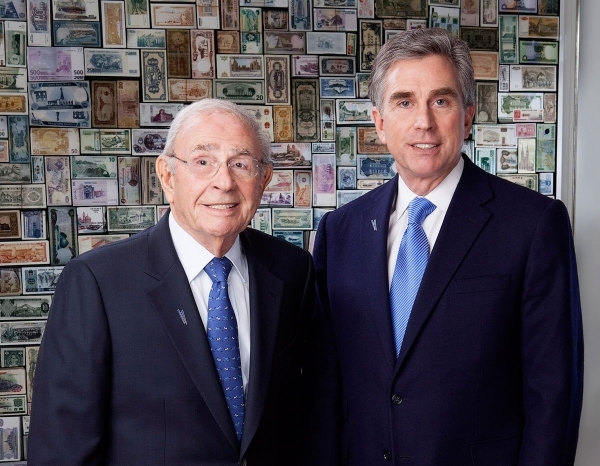 City National Bank completed the sale of its company on Nov. 2 to Royal Bank of Canada in a $5 billion deal announced in January that expands the reach of Canada's largest financial institution into several key U.S. markets, including Las Vegas.
"City National Bank will continue to operate today, just like it did yesterday, last week and last year," said Russell Goldsmith, City National's CEO, who will also head up the bank's wealth management business. "We will continue to be a distinct entity. The only thing changing is the shareholders."
He said City National's clients in Las Vegas won't notice any changes. Goldsmith described RBC as the ideal partner that overtime will allow the merged companies to "grow market share in the communities and among the industries that our company serves."
RBC will finance the deal with $2.6 billion in cash and 41.6 million common shares of stock, according to City National. City National, with $35 billion in assets, will keep its name and operate independently of RBC's U.S. wealth management operations.
The combined firm now has $336 billion in wealth and asset management.
Goldsmith told the Las Vegas Business Press in a phone interview that "nobody is getting laid off," and that the company will be hiring more advisers. He did not provide specific details about the company's growth strategy.
The acquisition of City National adds about 3,600 employees to RBC, including 2,100 financial advisers, who are located mostly in California and New York. RBC has a wealth management and capital markets operation in the U.S.
Goldsmith said the merger gives City National more access to "two robust businesses" — RBC Wealth Management and RBC Capital Market. He said those businesses have more than 300,000 families in the U.S. giving them access to a private and business bank.
City National Bank, founded in Beverly Hills., Calif., in 1954, is well known for its ties to the movie and entertainment businesses. The bank famously loaned Frank Sinatra cash to pay a ransom when his son was kidnapped in 1963.
The bank has also been one of the most stable financial institutions before, during and after the Great Recession. Bram Goldsmith, the son-in-law of one of City National's founders, and his son, Russell, have overseen the bank's operations for more than 40 years.
"The bank was not for sale," Goldsmith told the Las Vegas Business Press. "We never went looking for a buyer. Dave McKay was the one who approached us about our interest in selling the company."
Goldsmith said it took a while, but they finally came to the conclusion that "it was the perfect match." RBC expects to draw on City Nationals private and commercial banking expertise to sell products to its U.S. clientele.
Goldsmith also expected the firm will be leveraged to expand City National's reach into Great Britain and other U.S. cities, including Washington, D.C.
City National, with eight branches in Nevada, entered Nevada in 2007 with its $167 million purchase of Business Bank Corp.
The company expanded again in 2009 when they when they purchased San Diego-based Imperial Capital Bank from the Federal Deposit Insurance Corp. The deal gave City National offices in Las Vegas and Carson City.
City National, which assumed all the failed bank's $2.8 billion in deposits, paid the FDIC a 0.24 percent premium to acquire the deposits, as well as bought $3.3 billion of Imperial's assets and entered into a 2.5 billion loss-sharing agreement with the FDIC.
That was followed in May of 2010 with the acquisition of Sun West Bank in a deal with the FDIC and Nevada Financial Institutions Division. Nevada regulators seized Sun West when it reported a 2010 first quarter loss of $4.665 million, after ending 2009 with $9.3 million in equity capital.
At the time the state agency and the FDIC took possession of Sun West, the bank had five branches in Las Vegas and two in Reno. In a statement announcing the deal, Goldsmith described it as a "cost-effective acquisition … (that) reflects our confidence in the state's long-term economic prospects."
Then in April 2011, Nevada Commerce Bank was closed by the state due to "inadequate capital and mounting loan losses." The bank's deposits were sold off to City National, which also agreed to purchase all the bank's loans and other assets.