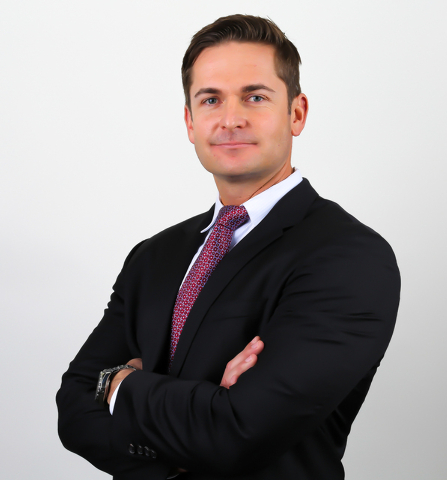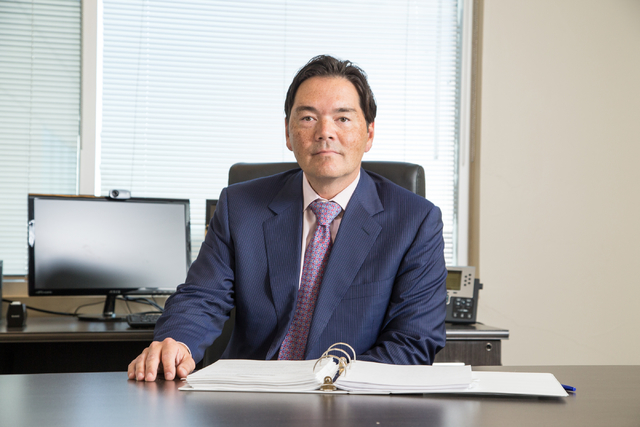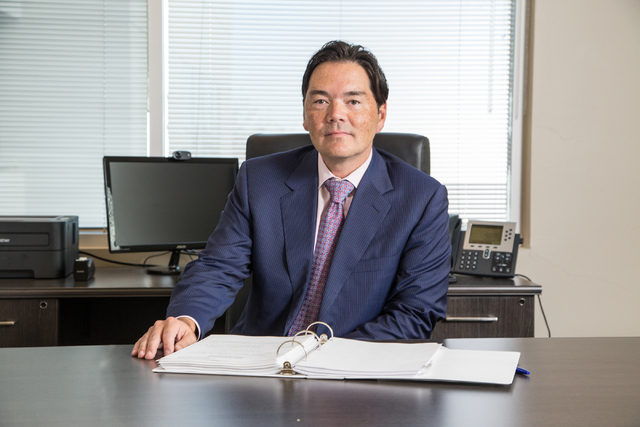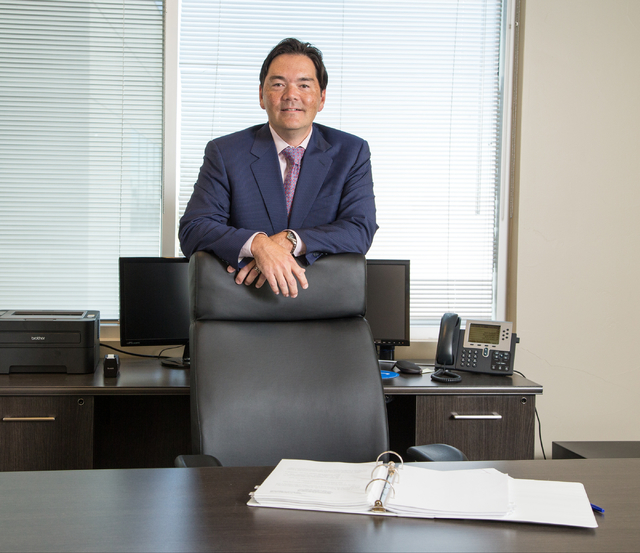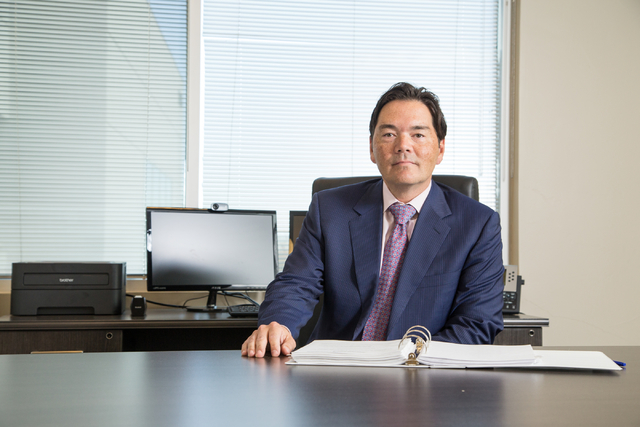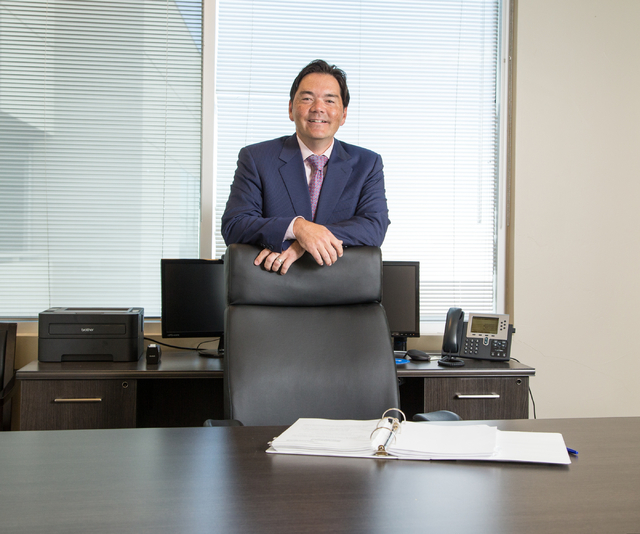 From his office in the Las Vegas Technology Park, Jevin Sackett is quietly building an empire that runs the gamut from credit analysis for the auto industry to energy retailer.
Two years ago, Sackett moved Sackett National Holdings Inc. to Las Vegas from San Diego.
His father, Gray Sackett, had started National Credit Center in 1996 and the concept grew into Sackett National Holdings.
After taking over as CEO in 2010, Jevin Sackett saw something he liked in the developing business landscape of Las Vegas.
"Tech companies and start-ups are growing in Las Vegas, and there is some excellent talent that has joined our organization," Sackett said.
Sackett added that the valley has a great cost of living.
Sackett National Holdings operates five subsidiaries: National Credit Center, SettlementOne Credit Corp., SettlementOne Valuation Corp., SettlementOne Screening and Sperian Energy.
Since the corporate move, the company has brought 100 new jobs to Las Vegas, Sackett said. It has offered positions in product sales and in the marketing, finance, legal and technology departments.
Sackett National's roots are in the automotive industry with its National Credit Center subsidiary, which offers several credit and technology products to automotive dealers.
"We recognized an opportunity in the automotive industry," Sackett said. "That opportunity has been a very high growth visit for us — 20 to 30 percent annually."
Today, National Credit Center owns a 10 percent share of the credit processing market, making it the third largest competitor in the industry. The credit processing software works in real time for the millions of applications processed.
Some of the larger clients include Asbury Automotive Group, AMSI and Napleton Automotive Group.
One of National Credit Center's offerings to dealers is compliance software that assists with the Red Flags Rule — a requirement to help credit grantors identify possible identity theft, Office of Foreign Assets Controle compliance and dispersing Adverse Action notifications.
National Credit Center also offers lead generation software known as EZ App. This allows dealers to pre-qualify potential buyers and get them into the show room.
After the successes in the automotive industry, Sackett moved into the mortgage lending industry. He co-founded National Reporting Mortgage in 1999 and functioned as its chief operating officer.
This would be the predecessor to the SettlementOne companies today.
Sackett said he went into the mortgage sector because it provided the firm's mix of credit and software services nationally.
The brand offers several products in credit processing and for the mortgage industry. It also offers software to aid in employee screening.
"There were a lot of parallels for us between the technologies in the automotive industry," Sackett said.
SettlementOne Credit is the leg that offers lenders credit reporting products to the mortgage lending industry.
This industry hit a slow spot during the recession, according to Sackett.
"We service banks and credit unions, and the process was very challenging to customers," Sackett said. "We have recovered from it."
In recent months, SettlementOne introduced RediQual, a cloud-based form that expedites the process of pre-qualifying for a home loan. Another version, RediQual Plus, puts the entire mortgage application online for lenders. And the third line, RediQual Advantage, will automate the process of sending legally required disclosures to borrowers.
The evolution of products continued with SettlementOne Valuation, which provides appraisals on residential homes for banks, credit unions and mortgage companies. According to the company website, the system is compliant with Fannie Mae, Freddie Mac, Dodd-Frank and other entities that regulate the industry.
The final product to be developed was SettlementOne Screening, which was geared toward the employment industry. SettlementOne Screening offers employers background checks, Social Security search, driving record search, sex offender checks and credit screening to their clients.
In 2011, a year after Sackett became CEO, he saw an unrelated opportunity and purchased Sperian Energy.
"We recognized the opportunity in the industry for very high growth," Sackett said.
As an energy retailer, Sperian purchases energy from producers and resells it to consumers in states that have deregulated energy markets including Pennsylvania, Illinois, Ohio, Maryland, New York and New Jersey.
"It was an opportunity to provide a service level for customers that may not have been available before," Sackett said.
In recent months, Sackett said, Sperian has been getting better deals on energy.
"There has been a large decrease in the price of natural gas, which has been in our favor and our customer's favor," Sackett said. "We're hoping the trend continues."
Sackett said he is keeping his focus on growing his five companies, but left room for the possibility of expansion.
"As a holding company, we are very opportunistic but today our eyes are on our current ventures."