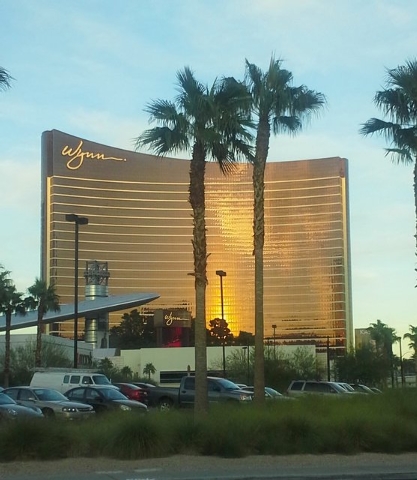 In previous columns, I have urged looking where you live when seeking good investments. But when hunting for the best in dividend-paying stocks, skip Las Vegas.
Yes, we do have some dividend-paying companies, but most of our public companies are focused on growth. That means reinvesting capital in new ventures, not rewarding investors via tax-favored dividends.
The exception is the Las Vegas Sands Corp. (ticker: LVS, New York Stock Exchange), which is paying $2.60 per share. The stock has been trading around $60, making the dividend about 4.3 percent. That's good in a world where the yield on a 10-year Treasury bill is in minus territory. It's great if you're Sheldon Adelson, chairman and CEO. He owns more than 65 million shares. Do the math. That's roughly $170 million in dividends a year on the $3.9 billion position. Adelson and his family control 432 million shares, more than $1 billion in dividends alone each year.
Down the street, Steve Wynn is doing well, just not by comparison. Wynn Resorts Ltd. (ticker: WYNN, Nasdaq) is trading near $157 per share and is paying $6 per share as a dividend. That's a respectable rate of about 3.8 percent. Wynn owns a bit more than 10 million shares so he's having to make due on $60 million a year in dividends.
For the rest of us, the hunt for dividends means looking for the highest rate, certainly, but also looking at the company's dividend history and its prospects for paying dividends in the future.
One good place to look for companies like that is in the world of REITS — real estate investment trusts.
I am familiar with a company named Realty Income (ticker: O) that trades on the New York Stock Exchange. It pays a monthly dividend and has raised that dividend every quarter for the past 10 years. It is not a Las Vegas company, but it owns 22 properties in Nevada, eight of which are in Las Vegas. The stock has been bid up in recent months. Its 12-month low was $29.44 but today it's trading around $53. That's brought the dividend down to a good-but-not-great rate of about 4 percent. So much of investing is in the timing and this bargain may be gone.
Another REIT worth exploring is UMH Properties (ticker: UMH, NYSE), a Freehold, N.J, company that owns more than 80 manufactured home parks. It's paying a dividend of about 7 percent and its portfolio includes investments of about $60 million in other REITs.
If you're interested in buying a stock for its dividend, check the price it has been trading for over the past few months. If it is at its high point, you may want to wait for the price to drop, thus improving the yield. Also, check if it is about to go ex-dividend. Stock prices usually drop an amount equal to the dividend. Smart shoppers can often get a price advantage greater than the dividend.
Naturally, the potential gain goes up with the risk. If you're willing to chase higher dividends, look at Dallas-based Capstead Mortgage Corp. (ticker: CMO, NYSE), which is paying about 11 percent. New York-based Two Harbors Investment Corp. (ticker: TWO, NYSE) paid 10 percent in 2014 and Hatteras Financial Corp. (ticker: HTS, NYSE) of Winston-Salem, N.C., paid 11 percent last year. Search Google for real estate investment trusts to find more. But don't lose sight of the risks involved. We've all seen what a real estate meltdown can do.
John Glushko is a retired stockbroker, a private investor and author of books and articles on investing. He lives in Las Vegas. His column will appear occasionally.