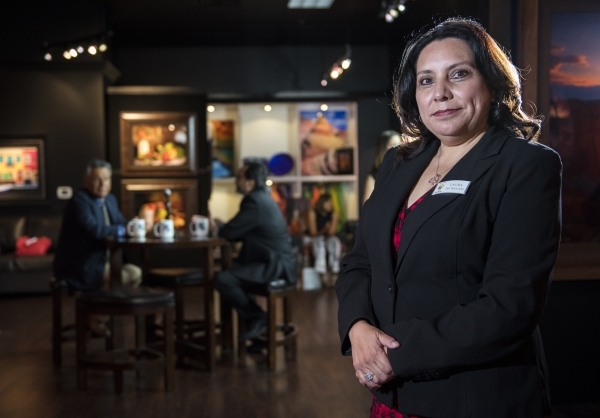 Although she has worked in the temporary and permanent employment business for almost a decade, Laura Nowlan found herself wanting something more than working 40 hours a week for someone else.
So, she and her business partner, Yadira Barbarin, took a chance and opened their own agency in a modest office near the Las Vegas Motor Speedway in North Las Vegas. As president and co-owner of See Us Now Staffing, Nowlan turned to Accion Nevada for startup funding.
Two loans later, her business is up and running, and the partners are looking for new office space.
"The $2,000 loan allowed us to get our workmen's compensation insurance in place," Nowlan said. "That was the biggest hurdle for us before we could open for business."
See Us Now is an employment agency that specializes in finding job opportunities for veterans, employment within the convention services business and direct hire for certain executive positions.
"We are proud of what we've done in less than a year," Nowlan said. "I don't know what our biggest challenge has been. If I think about it, we are located at the speedway, which is about four miles from the nearest bus stop, which makes it hard for some people who need jobs to get to us."
She said they're trying to figure out how to move into their own building with better access to public transportation. What started out as small business is now a company doing more than $500,000 this year in gross revenue.
Nowlan has been a client of Accion Nevada since October. Nowlan started with a small loan of $2,000 and then applied for and received a $12,000 loan, which is well below Accion's maximum of $1 million.
Accion's average loan size nationwide is $8,263.
Looking to open her business, Nowlan was eager to work with the nonprofit organization. She was able to secure her first loan with her credit cards.
"They worked very quickly," Nowlan said. "We found out within 24 to 48 hours if we had received our loan. It was very easy and simple to provide them with the documents they requested."
Accion says it offers character-based business loans at fair market rates with quick turnaround times.
The Albuquerque, N.M.-based microlender began operations in Nevada in June 2014 after it raised $135,000 in operational capital and $500,000 in lending capital. Banks that helped with the initial fundraising effort included Wells Fargo, Bank of America and Nevada State Bank.
According to the company, its growing loan portfolio allowed the nonprofit to increase individual loan limits to as much as $1 million. The nonprofit lender has issued 105 loans in Nevada totaling more than $1 million. On average, each of the 102 small businesses received a loan of about $9,700.
The company has written off about 4.7 percent of the dollars lent over the past decade.
Accion Nevada is a lender certified by the U.S. Department of Treasury as a Community Development Financial Institution. The certification means Accion Nevada is a financial institution that provides credit and financial services to underserved market and populations.
Accion Nevada also competes for business with Clearinghouse CDFI and the Nevada Microenterprise Initiative
"We expect to increase our loan amounts in Nevada as we continue to expand our business," said Marisa Barrera, director of development and strategy with Accion in Albuquerque. "Our interest in expanding into Nevada last year was due to our research showing a state with one of the highest increases in entrepreneurs. We've wanted to do business here for some time."
Accion Nevada has created or sustained some 255 jobs since last year.
Erin McDermott, Accion Nevada's market manager and regional lending officer, acknowledged the number of loans made in Nevada was modest so far, but she said "part of it is getting the word out that we are doing businesses here."
"I get approached by startups every day," McDermott said. "I'm confident that are loan volume throughout Nevada will continue to increase."
Accion was founded in Albuquerque in 1994 and since then has made over 8,464 loans totaling $71 million to some 5,683 small businesses in Nevada, Texas, Arizona, Colorado and New Mexico.
Nowlan admitted it was a "big leap" to start her own business, but she is confident the risk and the Accion Nevada loans are paying off. She said the business has paid off the $2,000 loan but has yet to pay off the $12,000 loan.
Nowlan said the $12,000 loan allowed her to hire three part-time employees and one full-time employee to handle the demand for workers. She said those additional employees and the business they've generated were expected to increase gross sales to more than $1 million next year.
"I've had so much fun," she said. "I love what I do, so it has been very rewarding. I've been lucky. I feel very blessed when it comes to the success of our company."
Accion Nevada's business plan focuses on veteran and women-owned businesses, startup business loans, loans for child care, salon and spas, as well as restaurant and food industry businesses. The company also seeks out Native America business, minority-owned companies and green business loans.
Accion Nevada offers training and other support services to entrepreneurs who want to start or expand a small business. Last year, the lender issued 1,239 loans for $12.3 million in the five states where it operates.
According to its annual report, Accion served 2,034 businesses in 2013, had an active portfolio at year-end of $18.4 million, with an average loan size of $9,948, and 1.4 percent of all dollars loaned were written off.