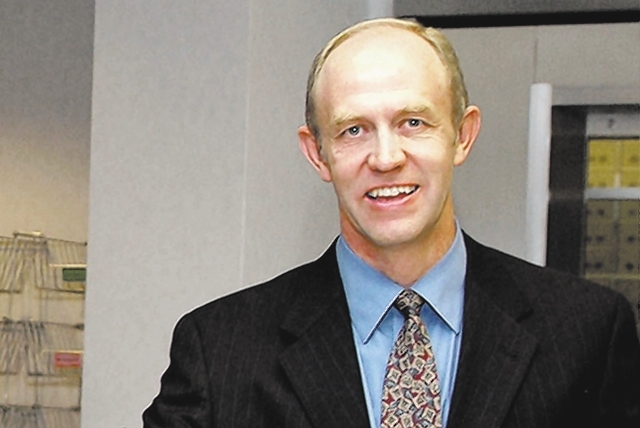 If you lived here 30 years ago, Las Vegas was a small town by comparison. There was relatively nothing outside the beltway, UNLV basketball was the most popular team in town, and gaming played an even larger role in our economy.
Today, Clark County is home to 2 million people, and credit unions have moved beyond passbooks and hand ledger entries.
"Las Vegas was about 500,000 residents when we first arrived," said Wayne Tew, Clark County Credit Union's CEO since 1986. "We were a small town by comparison."
As Clark County's population has grown, however, the number of credit unions has declined from 33 in 1986 to about 13 in 2014.
Now, Tew says, it seems it's the right time to step down as leader of the credit union he guided through good times and bad times. His retirement has been set for the end of August.
"I can't say I'm retiring," Tew told the Las Vegas Business Press. "There are other things I want to do once I step aside."
When the credit union was looking for a new president in 1986, it was a stagnant business with $33 million in assets and 14,000 members, mostly county and hospital workers.
At the time, Clark County Credit Union had three branches and things looked bad. The credit union was struggling with low net worth and high loan losses.
Since Tew has been president, the credit union has resolved problems and expanded. Current assets are $550 million with 34,000 members and five branches.
When asked about some of his significant achievements over his 29-year career, Tew spoke of his pride of guiding the credit union through the Great Recession.
"I was going to leave prior to the recession," Tew said. "Then it hit, and I told the board I would stay on until we were out of this mess."
He said that by 2009, the credit union had high loan defaults and two years of net losses. The credit union ended 2014 with a net worth ratio of 11.77 percent and recorded net income of nearly $12.3 million for the year.
"Now our balance sheet is in very good health," Tew said. "It will be an orderly transition. I'm happy that we are in very good and sound financial health."
Tew attributed the credit union's success to its board of directors and audit committee, as well the company's employees.
Clark County Credit Union returned to its bonus dividend program, which was suspended in 2008 because of the economy. This year's bonus dividend was $2.7 million to almost 34,000 members.
Each bonus will average $79 per member, with the highest single bonus totaling just more than $10,000. Clark County Credit Union's first bonus was paid out in 2001 on the company's 50th anniversary.
"It feels good to be able to give our members a dividend after so many years," Tew said.
Tew also spoke about today's financial industry. "We larger today than we've ever been," he said, "making our business more complex than ever before."
He said credit unions and banks are dealing with changes in technology and more regulations. Tew explained that when he first joined the credit union "everything was done with typewriters."
He said technology has been good for the industry because it creates efficiencies. Those efficiencies mean the credit union is unlikely to expand its branch network.
"We don't feel the need to have a bigger footprint," Tew said.
He understood that the trend with banks and credit unions is to merge and get even larger.
Tew said he is pleased the credit union is still locally owned and described the credit union as "a Clark County organization, with a pretty stable membership group."
"Remember credit unions are different," Tew said. "Growth is good, but it doesn't have to be overly aggressive."
Clark County Credit Union's strategic plan includes reaching the billion-dollar asset mark as one of its top goals.
Tew said Clark County Credit Union has begun the search for its next leader. He said there are several internal candidates but declined to comment on who might replace him.
"I really don't know what I'm going to do," Tew said. "I have a few ideas. My wife is a member of the Clark County School Board, so I'm not going anywhere."
Whose Bank App Is Best?
Mobile banking apps have become the norm for financial institutions, but not all apps are the same. So, Charlottesville, Va.-based SNL Kagan ranked the nation's top bank apps by features.
Among the list of the top 37, eight do business in Nevada, including City National Bank and Nevada State Bank.
According to the survey, the six most prominent mobile app features were present in 100 percent of the bank apps. Those features are viewing account balance, viewing recent activity, transferring money between accounts, paying bills and locating a branch or automated teller machine.
City National's app also includes mortgage account information, mobile check deposit and mobile alerts. Nevada State Bank's app also offered mortgage account information but included mobile check deposit and a customer service feature.