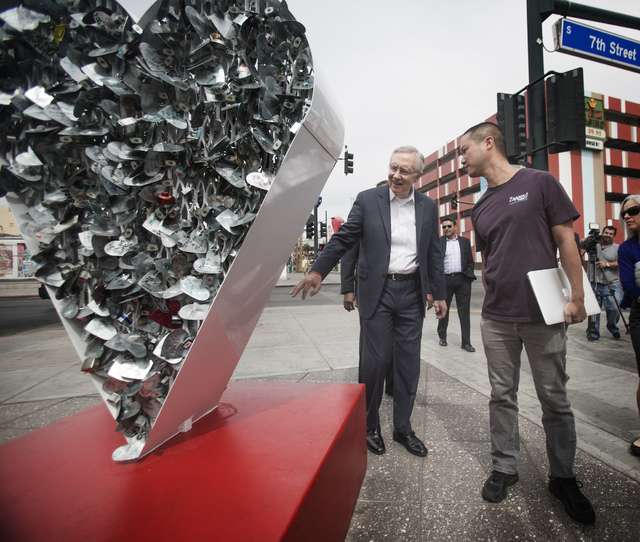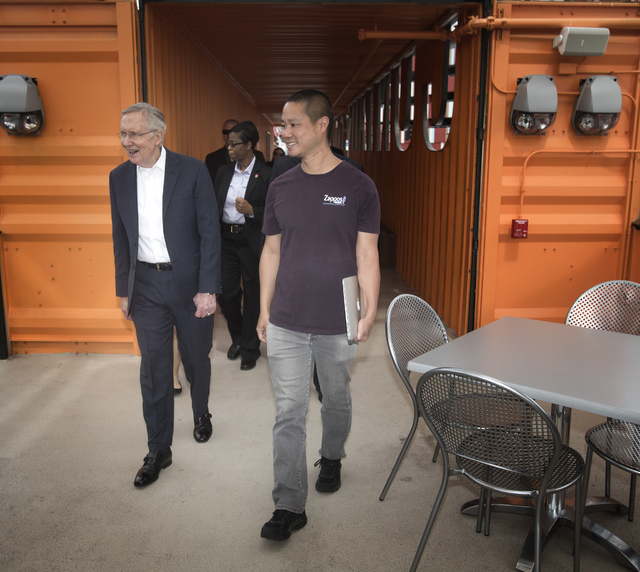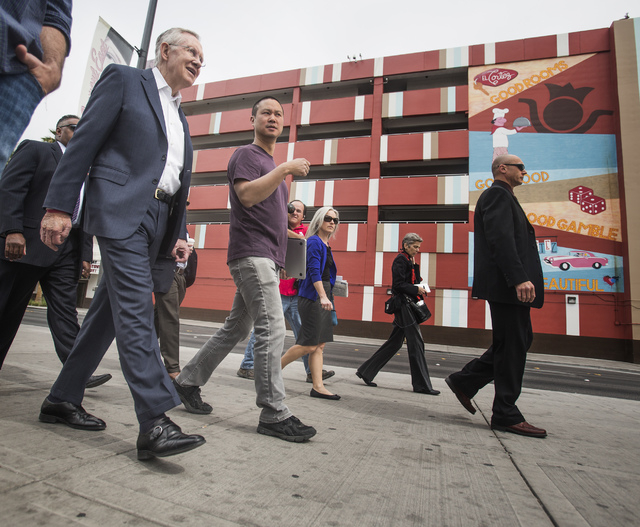 The business community celebrates Tony Hsieh for his entrepreneurial success and often praises the risks investors took to back his online retailer, Zappos.com. Well-known local venture capital firms such as Coloma Ventures and Vegas Tech Fund have cultivated reputations for risk after investing millions of dollars in startup firms.
Whether those investments are successful or not is often lost within a story line of a risky investment in a technology company that is paying massive returns. The reality of venture capital in Southern Nevada looks very different.
Behind Zappos and Fandeavor there are many many more venture-backed startups that have failed. And beyond Coloma Ventures and Vegas Tech Fund, venture capital firms number just over a dozen in Southern Nevada.
"Let's remind people again what the goal of venture capital is," said Robert Lind, managing director of the strategic-advisory firm Berkshire Bridge Capital LLC in Las Vegas. "It's not just about making an investment or making money. It's about making good investments that are monetized."
One of those companies that failed to monetize its modest investment last year was Factorli Inc. The Las Vegas-based company was a manufacturing plant for hardware startups.
Factorli raised $10 million from an undisclosed firm and Vegas Tech Fund, but closed its doors in August, not long after receiving the startup investment.
Vegas Tech Fund was also involved in two other local investments last year. Launch Key Inc., an authentication platform raised $3.8 million from a mix of investor including Vegas Tech Fund.
Also, Wedgies, a web application that provides a social media polling service to collect and gather real-time feedback from audiences, raised $700,000 from Vegas Tech Fund, the Battle Born Venture Fund and several other investors.
Movieline Group Inc., a software developer, raised some $3.2 million, and Playstudios Inc., a video-game-based marketing platform lead by former Wynn Resort executive Andrew Pascal, raised $20 million.
Vegas Tech Fund and Battle Born Venture Fund were the only two firms to make investments last year in local companies, according to a recent report based on Money Tree data.
On its website, Vegas Tech Fund describes itself as a seed stage investment fund and community catalyst focused on investing in teams solving compelling problems in innovative ways and who are committed to building a vibrant tech community in downtown Las Vegas.
The fund's four partners include Hsieh, CEO of Zappos.com, and Zach Ware founder of WorkinProgress and Project 100.
Battle Born Venture Fund is Nevada's venture capital program overseen by the Governor's Office of Economic Development. The program looks for "seed stage" opportunities with the goal of leveraging initial $5 million grant into an economic impact of $40 million over five years.
The fund was launched in August 2013. In its 2014 annual report, Battle Born Venture Fund said besides its investment in Wedgies, it has invested in Las Vegas-based Fandeavor and TransWorld Health in Reno.
The report didn't include the amount invested by Battle Born Venture Fund in the three businesses.
Lind said he was pleased that there is a lot of interest, but asked again how many monetizations of companies have we had in Southern Nevada?
"Not enough to capture the attention of large venture capitalists in Silicon Valley, Boston and New York," Lind said.
If investments made by Vegas Tech Fund, Battle Born Ventures and other venture capitalists pay off, then Las Vegas should be a more attractive region for venture capital in the years to come, but for 2014, the city ranked 61st out of 160 cities for venture capital investment, according to the MoneyTree report.
The report, conducted by PricewaterhouseCoopers and the National Venture Capital Association, and based on data from Thomson Reuters, showed that Las Vegas have five venture capital deals in the last year totaling $37.72 million.
That's a dramatic increase in terms of dollars invested year-over-year. In 2013, three Las Vegas companies garnered $9.6 million in venture capital funds.
Keep those figures in context. Other regional cities landing on the MoneyTree list included Denver at 15th with $480 million in venture capital investment, and Phoenix at 26th with $243 million.
Lind said it's not all a struggle to get national attention for what's happening in Southern Nevada. Lind pointed out that the research going on at the Cleveland Clinic Lou Ruvo Center for Brain Health and the growth at Switch could be beneficial for the entire state.
Also getting national attention is the growth of hydroponics in Southern Nevada, which is allowing indoor agriculture to flourish in the desert.
Both venture capitalists and private investors are taking this industry seriously, he said.
"It's a really solid growth opportunity," Lind said. "But, when we have monetization of one of these investments that's when the news will reach other investors."
So, while venture capital investment is modest, but growing slowly in Nevada, Lind said what's really holding us back is the lack of corporate venture capital.
Corporate venture capital is the investment of corporate funds directly in external start-ups.
Intel Capital, the investment arm of the technology giant, announced late last year it was investing in 16 startups. Intel has been in the investment business for more than 20 years, and has invested in more than 1,300 companies worldwide.
Even companies as diverse as 7-Eleven, Visa, Citigroup and BMW are getting into the corporate venture investing business. The reason is simple, they are looking for quicker, cheaper and better sources on innovation than traditional research and development.
"We don't have any corporations that have venture capital arms," Lind said. "To my knowledge, Wynn Resorts or MGM Resorts don't have corporate venture capital divisions."
According to the online business listing website Manta, there are 15 venture capital companies in Las Vegas. None of those listed are used to invest Las Vegas-based corporate funds.
Pitch Book, a data and technology provider for the private equity and venture capital market, said 166 corporate venture capital fund completed at least one deal last year. The total invested was $15 billion in 2014.
These same businesses realized $31 billion in exits last year, according to Pitch Book.
"If we had corporations that had venture capital arms, they would look to make investments close by," Lind explained.
Lind said the idea of the Nevada Capital Investment Corp. "is fantastic," but people have to be prepared for losses from early investments before they start seeing returns on investments.
The state run fund oversees the Silver State Opportunity Fund, which has $50 million of capital dedicated to attracting business to Nevada and is managed by Hamilton Lane.
He also said NevadaPERS still sends its money to venture firms in California to be invested.
Lind wasn't saying it was a problem, instead he said he would like to see some sort of breakthrough in Nevada "where we create our own venture and growth funds."