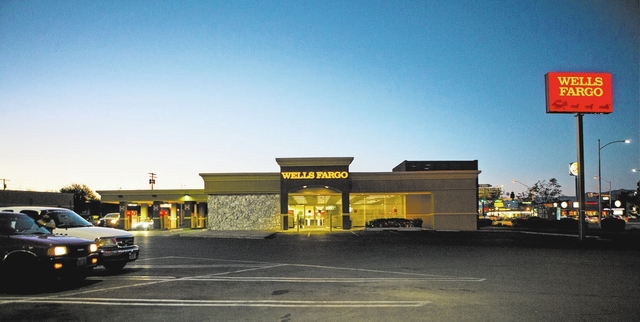 Wells Fargo said it has reimbursed nearly 3,200 accounts in Nevada suspected of being fraudulently set up, but consumer advocates and lawyers continue to criticize the banking giant for blocking customers' attempts to file a class-action lawsuit.
The controversy over Wells Fargo employees creating 2 million unauthorized credit card and banking accounts for the bank's customers to meet sales quotas has re-erupted on the national scene this month. Wells Fargo is fighting lawsuits of customers by using a clause in their customer agreements with the bank to force them into private arbitration instead.
Wells Fargo reported it's not aware of any Nevada customers seeking arbitration to settle any dispute. Utah-based attorney Zane Christensen, meanwhile, said a Las Vegas woman contacted him and will be part of his lawsuit seeking class-action status he has filed in federal court. He did not name the woman and said she wasn't available for an interview at this time.
Christensen said Wells Fargo is dismissing a universally accepted exception that customers can't be forced into arbitration for fraudulent accounts. There are about 30 similar lawsuits nationwide that are seeking class-action status that allows customers to band together, he said.
Customers not only have dealt with fees from the sham accounts, but it might have damaged their credit scores, Christensen said. That affects their ability to secure loans and hikes interest rates they pay, he said.
"We believe this will better serve justice than forced arbitration, when customers may not be able to hire expert witnesses to show how their credit was harmed and how much damage they received," Christensen said. "That violates their due process."
Wells Fargo, however, said customers are being made whole, and if someone still has a concern he can pursue a complaint through small claims court.
"We're working hard to address any damage that might have happened," said Michael King, vice president of corporate communications for Wells Fargo Southwest region. "If arbitration doesn't work for them, there are far better inexpensive ways to go through the grievance process. Nothing blocks the customer from going through small claims court, but arbitration is faster and cheaper than any litigation."
Wells Fargo reviewed its 2.34 million accounts in Nevada and suspected as many as 53,675, or 2.3 percent, might have been unauthorized, King said.
"It doesn't mean that they were, but we could not tell," King said. "The customer may have moved on, and there was no way to contact them."
That ultimately led to the conclusion that 3,193 of those accounts had fees that were charged. Wells Fargo refunded those account about $25 each, King said.
"One is too many," King said. "We regret that this happened, and we're continuing to do everything we can to make it right," King said. "We want to make sure every customer is made whole."
Customers can go into bank branches to see if they've been harmed, King said. They can also go to wellsfargo.com/commitment to check their accounts, he said.
Moniza Moazez, the communications director for the Nevada Attorney General's Office, said the office is prohibited by statute from commenting on the number of complaints it has received on any matter.
"Our office is monitoring the federal investigation," Moazez said. "However, per our office policy, our office cannot confirm or deny the existence of any state-level investigation."
Michele Johnson, CEO of the Financial Guidance Center that helps Nevada residents with financial issues, said her office has received no complaints over the Wells Fargo accounts.
"I have no doubt that some of our clients had to be affected, but I know Wells is making a concerted effort to fix everything," Johnson said. "Maybe they're pacifying folks."
The criticism of Wells Fargo on a national level, however, is not easing up.
Lauren Saunders, associate director of the Washington, D.C.-based National Consumer Law Center, said that in forced arbitration, consumers lose their right to argue before an impartial judge and jury. She said banks hire private arbitrators who earn a living off of bank fees to decide the dispute behind closed doors, and consumers can't appeal.
The Consumer Finance Protection Bureau has proposed a rule that prohibits forced arbitration clauses prohibiting consumers from banking together in class actions, Saunders said.
"Class actions are critical to consumer rights because, in many cases, individual damages are too small to justify the time and expense of hiring an attorney," Saunders said. "Enabling courts to order wrongdoers to repay all of their victims also deters businesses from considering predatory or illegal behavior."
The NCLC also backs a bill introduced in Congress that would prevent banks from blocking victims of bank fraud from going to court, Saunders said.
Jean Sternlight, director of the Saltman Center for Conflict Resolution at UNLV, said Wells Fargo is doing what many companies attempt as a way to insulate themselves from class action cases. They inoculate themselves by sending clauses to customers in the mail or by posting them online.
"It's become more prevalent and gotten the attention of the Consumer Financial Protection Bureau that's poised to issue a regulation that prevents companies from doing this in a financial consumer context," Sternlight said. "The question is with the recent election (of Donald Trump as president) will they get around to issuing this regulation before it's prevented from going into effect."
Sternlight suggested there aren't more complaints because consumers might not know they're victimized or don't think it's worthwhile to pursue because the money might not be great. In addition, lawyers might not want to represent them because the amount of damages may not be worth the lawyer's time, she said.
"Personally I also don't believe that an arbitration clause meant to cover a valid account should also be extended to cover a fraudulent account that could not have been contemplated by the customer," Sternlight said.