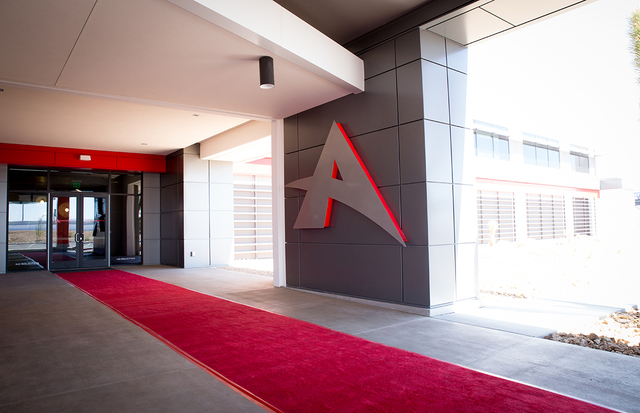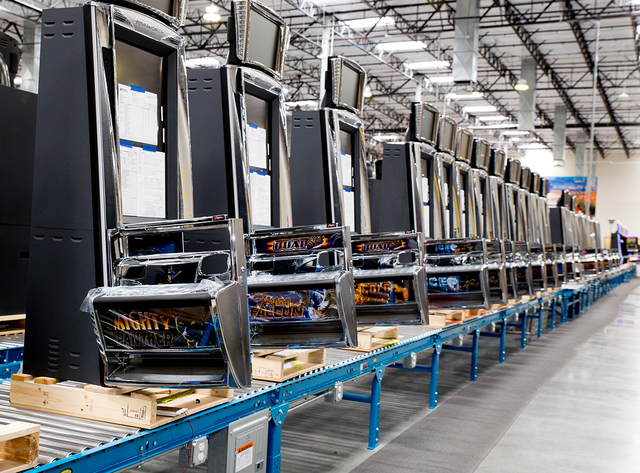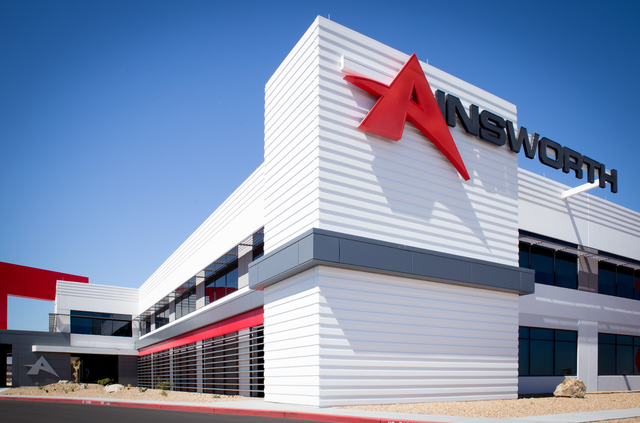 Ainsworth Gaming Technology, the fifth-largest gaming manufacturer in the United States, is expanding its North American headquarters in Las Vegas as part of its commitment to Southern Nevada and to growing its share of the marketplace.
The new facility at 5800 Rafael Rivera Way, near Jones Boulevard and the 215 Beltway, is more than 291,000 square feet of space and cost $40 million to build.
Ainsworth designs and manufactures slot machines, including many of the titles featured at Las Vegas casinos. The games are distributed from the new facility throughout the U.S., Canada and Latin America.
"Our manufacturing floor, which is massive and producing thousands of games a year, is totally lit by skylights," said Mike Trask, Ainsworth's director of marketing.
"All summer during the day, when you walk in, it's totally naturally lit. It's a very cool thing. The floor is as bright as day and it doesn't require that power usage. … It was built with an eye for natural lights with huge glass windows and a very open floor plan. It definitely gives the building an interesting feel."
The large building with the bright floor is symbolic of Ainsworth's dedication to growing in Southern Nevada. Trask said airline passengers would even be able to see "Ainsworth" written on top of the building while in flight.
Trask said the building was needed because the company has been growing rapidly since it debuted in North America more than eight years ago.
The warehouse floor has been custom-designed to help Ainsworth better provide for its customers.
At the moment, Ainsworth has a lead time of two to four weeks to get a game manufactured and sent to customers anywhere in the country. Trask said the company hopes to cut down on that time.
On a local level, Trask hopes it shows Ainsworth's commitment to Las Vegas.
"We love to do business here, and we love to be a part of this community that has been amazing for us," he said. "Our employees live, work and go to school in Southern Nevada, and it's very exciting for them to have a state-of-the-art facility to call their home away from home.
"I've lived in Vegas for 10 years and have no plans to leave. We are providing great jobs for the workforce. It's also home to game designers, computer programmers, graphic artists, engineers, marketing and executives in a highly skilled workforce that is vital to Las Vegas' growth."
Another reason for the new building is that Ainsworth has started its first U.S.-based game development team, which is scheduled to release 20 new games in the next 12 months.
Trask said the company has hired a team that will be responsible for imagining slot machines from the ground up. The team includes mathematicians, who build the math; artists and animators, who build graphics; engineers, who put it all together; and computer programmers, who are very vital to the process of building a slot machine.
The company employs 200 residents with plans to add more local workers, said Trask. He said the new facility, which includes a gym, table tennis tables and a high-end cafeteria, will help in recruiting other highly skilled workers to Ainsworth.
"There was a need for space for faster manufacturing, and a need to house additional game developers, tech folk, engineers and other very highly skilled workers," Trask said. "There is some space for expansion for the future. We have a great future in this industry and we have a great future in Las Vegas. The building is symbolic of that growth."
Ainsworth's growth over the past eight years has been a model for handling economic adversity. As many companies struggled during the Great Recession, Ainsworth grew its share of slot machines in North America from zero percent to 5 percent.
"We did it by adding products that performed," Trask said. "Our games have been built with some unique math models behind the game. Our games tend to be more volatile than others so it's going to have a different type of player than some of our competitors. We are very good in the high-denomination market. What has been amazing for us is our products perform. At the end of the day, it's what our casino partners are looking for."
But what does Trask mean when he says Ainsworth's games are more volatile?
"Volatility is a slot term, and to explain it, there are games where you put in $20 and you are betting 40 cents to a dollar, and you are going to get lots of little wins," he said.
"Our math tends to be more highly volatile, meaning you will not see as many small little wins but more of the huge wins. In Vegas, the payback percentage will be around 92 to 93 percent. If $93 is coming back, it could 93 $1 wins or one $93 win.
"The players who choose our games are those people who are more interested in the big win as opposed to the time-on-device type of player, who is looking for a social endeavor. Our math tends to work really well in high-denomination environments."