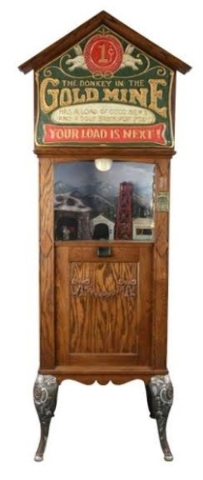 Morphy Auctions, a collectibles auction house, is having a two-day sales event at the end of January. It's a 1,600-lot auction with pieces ranging from antique arcade, vending and gambling machines to vintage jukeboxes, soda fountain collectibles and fine antiques.
According to Larry DeBaugh, Morphy's coin-op and gambling expert, "This auction just might be the finest and most well-rounded coin-op sale we have ever put together. The 25¢ Mills Roulette Floor Model is absolutely amazing and one of the rarest and outstanding machines we have had the pleasure of handling. Other highlights include fine examples from Roovers, ESCO, Amusement Machine Co, Watling, Caille, and Charles Fey & Sons, among many other manufacturers."
There will be more than 125 coin-op gaming machines available for purchase on the weekend of Jan. 30-31. Some of the examples include a 5 cent Mills Duplex Upright Floor Wheel Slot Machine and a Multi-Coin Mills Double Dewey Slot Machine with Music. Those machines are estimated to be worth $60,000 to $80,000. There are also machines that range in the hundreds of thousands.
Collectors looking for vintage vending machines might spend upwards of $30,000 on items such as 1 cent Standard Gum Machine Blinkey Eye Gum Vendor.
There is also a selection of diecast toys, artwork, character items, gambling and general antiques available, along with many other items.
Morphy Auctions is headquartered in Denver, Pa. The Las Vegas office at 4520 Arville St. is open Monday through Friday from 9 a.m. to 4 p.m. There is more information on its website, www.morphyauctions.com.
Las Vegas Market adds tenants
The Las Vegas Market is widening its furniture category with new showroom additions, relocations and expansions.
"With the addition of new tenants as well as significant expansions and renewals, we're seeing more breadth and depth being showcased throughout the category," said Ryan Mahoney, vice president of furniture leasing for Las Vegas Market. "Manufacturers see the value of having a strong presence here and are making long-term commitments — they are seeing the benefits, seeing the right buyers."
New collections are Nathaniel Home, Cilek, Rize/Mantua Manufacturing, TC Home, Mandiri and several others.
The 400,000- square-foot space will also welcome expansions and relocations by New Classic Home Furnishings, Crosley Brands, Ekornes, Meya International and several others.
The Las Vegas Market offers two markets each year. Retailers and designers can shop the market's furniture, mattresses, lighting, decorative accessories, floor coverings, home textiles, tabletops, general gifts and more.
For more information on the show, visitors can head to www.lasvegasmarket.com.
Red Carpet event benefits children
Canon U.S.A. is holding its 17th annual Red Carpet Reception Jan. 7 at the Bellagio to benefit the National Center for Missing & Exploited Children. The fundraiser is from 6:30 to 7 p.m., with the reception continuing until 10 p.m.
The fundraiser will be emceed by Richard Burgi from Desperate Housewives. John Walsh of "The Hunt With John Walsh," a weekly investigative documentary series aired on CNN, is expected to attend.
Other celebrities expected include World Series champion Roger Clemens and actors Chris McDonald from the Good Wife and Danny Masterson of Men at Work.
The event will be followed the next day by the NCMEC Celebrity Golf Tournament to also raise funds for child safety. Tee off is at 9 a.m. at the TPC Golf Course in Las Vegas.