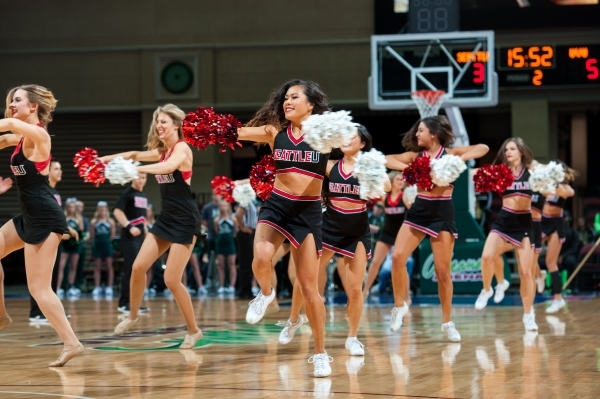 For more than 50 years, Las Vegas' main claim to fame in sports was as host to some of the biggest and most famous boxing matches in the history of the sport. In the past decade, that claim to fame was joined by the fast-growing sport of mixed martial arts.
But both of those sports have been knocked out by college basketball as Las Vegas' new number-one sport to host. For the third year in a row, Las Vegas is hosting four of the 31 conference basketball tournaments, more than any other city or metropolitan area in the country.
The Mountain West Conference (MWC), Pacific-12 Conference, Western Athletic Conference (WAC) and West Coast Conference (WCC) all call Las Vegas home to their postseason tournaments.
Las Vegas' position as a college tournament host made national news in February when the MWC petitioned the National Collegiate Athletic Association (NCAA) to lift its longtime ban on hosting national championship events in cities where gambling is legal. If lifted, Las Vegas could soon host championship basketball, hockey, tennis, wrestling as well as several other sports.
If this petition is accepted and Las Vegas can host national championship games, the city will feel an economic impact similar to that of postseason basketball conference tournaments.
"Our studies show that our average conference tournament attendee stays four to five nights, and 70 percent of the fans come from outside of Las Vegas," says Dan Butterly, senior associate commissioner and director of basketball championships for the MWC, which has had its postseason tournament in Las Vegas since 2000. "We host 20 games during the six-day span and 96 percent of our fans come from the western region, so it definitely has become a large regional showcase for the city."
That showcase is spearheaded by Las Vegas Events, which works directly with the MWC, Pac-12 and WCC to help host and market the tournaments. Although the events are held in March, all four conferences begin marketing the postseason conferences during all televised games as soon as the season begins in October. This has led to a continuous increase in attendance over the last decade, including newcomers like the WAC which moved to Las Vegas in 2011 and the Pac-12 tournament that moved to Las Vegas 2013.
"It is not just about the revenue the games bring in, it is about the customized experiences for the fans, staff and alumni that brings in revenue all over in Las Vegas," says Pat Christenson, president of Las Vegas Events. "The branding of Las Vegas as a conference championship city is a six-month campaign that yields great results for all parties involved."
Full hotels
Even for those not interested in sports, or who hardly travel to the Strip, it is hard to ignore the buzz (and basketballs) in the air during the first two weeks in March. The hotels have the numbers to prove that March Madness is actually a very happy time for hoteliers.
"The Orleans Hotel has sold out at some point during the dates of our tournament every year since we have been in Las Vegas," says Hope Shuler, spokesperson for the WAC. "We like that Las Vegas is a neutral site and that all of our 14 teams agree on the excitement the city brings to its alumni and fan base."
The WCC proudly boasts fact that theirs is the only conference tournament played in Las Vegas with no competing tournament. In fact, because of the tournament's scheduling before the major conference tournaments and its tendency for late-night games, WCC games often are the only live sporting events on television screens in millions of homes, bars and restaurants across the country, giving even more branding and visibility to Las Vegas. The tournament has also developed a cult-like following among nightshift workers and college students, two demographics who tend to be awake at all hours of the night.
"We have an overall attendance of 32,000 and 86 percent are from outside of Las Vegas," says Lynn Holzman, commissioner of the WCC, which holds both its men's and women's tournament in Las Vegas. "Many of our schools are faith-based, and since we do not host games on Sundays, it allows our attendees to provide a large economic benefit to restaurants, churches and other entertainment options on and around the Strip."
Holzman states that WCC's research has found that 70 percent of their tournament attendees spend disposable income with retailers, while 60 percent participate in casino play, 50 percent enjoy sightseeing and tours and 47 percent attend a show or entertainment programming.
"Everything in Las Vegas is bigger and better, so it makes sense for us to host both tournaments in the city," says Holzman. "All of our games are televised on ESPN and BYUTV, so we are providing the maximum exposure for our sponsors, too."

Community first
Although the conference tournaments are only temporary visitors in Las Vegas, they all aim to provide community outreach and assistance to non-profit organizations that will provide memories that will last their fans a lifetime.
The WCC hosts a large block party at the Orleans Arena on March 4 and invites 700 underprivileged children from Las Vegas and Clark County to experience the fanfare, cheerleaders, alumni and overall atmosphere of a major college sports event.
"Our kids' day block party has developed into a popular annual event," says Holzman. "Along with the fan experience, we show them the importance of integrating exercise in their daily routines, which they will take with them long after the games are over."
Charity starts at the feet for the MWC, which works closely with the Goodie Two Shoes non-profit organization to provide 500 new shoes and socks to children during its tournament, and the conference also works with several veterans' charities to provide free tickets to veterans, as well as to veteran's families who have lost a loved one in war.
The WAC begins a partnership with Special Olympics Nevada this year, and for the second consecutive year has a presence in local schools through the Read to Succeed event. In Read to Succeed, WAC student-athletes go to two Las Vegas elementary schools to discuss how reading has enhanced their lives, read a portion of a basketball-related book and distribute free books to the elementary school students. The WAC has also worked with the Boys and Girls Club and the Girl Scouts during the tournament's time in Las Vegas.
"Our sponsors really like the exposure we get in Las Vegas, and we get to make a positive impact in the community at the same time," says Shuler. "We love that our alumni, staff, students and fans make Las Vegas their home for the week. Any city that can attract four postseason conference tournaments has to be doing something right."